Crack Team of US Cybersecurity Experts Building the Amazon of Cybersecurity
PUBLISHED: 24-01-2018 12:00 p.m.
Cybercrime has emerged as a continuous threat to global economies and national security. So much so, that it now generates more money than the illicit drug trade. In fact, the global cost of data breaches is rising rapidly — anticipated to reach US$2.1 trillion by 2019 , according to Juniper Research . That's almost four times more than the cost of breaches in 2015. We are being robbed blind; as governments, businesses, non-profits and individuals.
This form of computer-directed crime has evolved from what was primarily an issue for government and major corporations, into a significant everyday assault to small to medium size enterprises and their long term viability.
The impact on small and mid-sized businesses — especially vulnerable targets because they lack the cyber risk expertise — tends to be the most severe. US tech group Aberdeen Group determined that small and mid-sized businesses are at higher risk of a single data breach.
Companies with fewer than 1000 employees have a 90% chance of having a data breach costing US$216,000+.
On top of the financial cost, it's a problem that can't be ignored if a business wants to survive.
Where a larger organisation is likely to be better equipped to deal with the fiscal fallout, smaller businesses are more often unprepared to deal with such threats — many don't even have a dedicated IT team, or employ a CIO or CISO. And even if they wanted to hire the talent, there is not enough to go around for the foreseeable future. It's a major issue that results in six out of ten small businesses closing after a breach.
One of the main problems is that without an extensive knowledge of cybersecurity and the solutions available, a company will struggle to figure the best way forward to protect its business, customers and business partners.
But with threat comes opportunity, which has seen cybersecurity emerge as one of the largest and fastest growing markets in the tech space. Over the next five years, global cybersecurity spending is predicted to exceed US$1 trillion, and by 2021 US$6 trillion worth of cyber-crime damages is expected each year. That means opportunities for investors too.
Today's newly-listed ASX junior has developed a ground breaking marketplace of cybersecurity solutions; a one stop shop for meeting cyber business risk head on.
Although it should be noted that as a newly listed ASX stock it remains speculative and investors should seek professional financial advice if considering this stock for their portfolio.
The company has developed an online business to business (B2B) marketplace billed as the first online cyber security exchange that drastically simplifies cybersecurity decision making. It not only matches companies with specific tools, services and best practices, it helps them understand risks, gaps and trends regarding cybercrime, fraud prevention and mitigation, whilst linking them instantly with a Cyber Advisor.
This online marketplace brings together a multitude of cybersecurity solution providers to help businesses identify and purchase the most appropriate cybersecurity solutions for their individual circumstances.
Companies are matched to specific and affordable technology and services that can prevent revenue and or reputation loss. While it's still early days, the company already has over 200 cybersecurity solution vendors on its books. To add vendors and provide a greater selection for customers, it is partnering with major companies to bring customers to its cyber exchange. In addition it has lead generation contracts with more than 50 cybersecurity companies and has worked with the US Department of Homeland Security and the US Department of Energy.
The company is led by a team of former US government and Federal Industry cyber and global risk experts, including the former deputy director of US Naval Intelligence Terry Roberts, as well as the Technical Director from TASC and ManTech, Luis Cruz-Rivera.
Ms Roberts has over 30 years of experience as a US national security and cyber intelligence professional including as a US Naval Intelligence Officer, a Department of Defence Senior Executive and as a Cyber Engineering, Architecture and Analytics industry executive.
Ms Roberts was the TASC VP (a US$1.3 billion Defence Industrial Base Company), for Cyber Engineering and Analytics across the US Government, running all Cyber/IT, Financial and Business Analytics cross cutting, innovative, technical services.
We will look at the team in more detail shortly, however for investors cybersecurity is certainly an industry worth having exposure to. With WhiteHawk, the potential is to reach a percentage of the global cybersecurity market via its online exchange and scalable business model.
Introducing,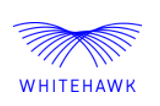 WhiteHawk (ASX:WHK) has created an online exchange of cybersecurity service providers and a patented algorithm that matches companies to their most suited providers. Its B2B digital cybersecurity exchange is the first of its kind, with strong potential for market domination.
WHK's cybersecurity marketplace offers online access to tailored learning, smart buying and connections to the best products, services, insights and trends industry wide. It's a machine learning, scalable online approach to matching customers to effective and affordable cybersecurity solutions.
The video below explains cyber security, WHK's business and how it can help find suitable business solutions.
The company listed on the ASX on Wednesday after completing a Prospectus raising that closed in November — just 24 hours after opening. With a target of $4 million, the company raised $4.5 million with oversubscriptions of $500,000 accepted.
WhiteHawk was founded in 2015 by the former deputy head of US naval intelligence, Terry Roberts with the goal: 'to empower a fearless internet'. The company has extensive expertise and partnerships in machine learning and data analytics, cyber market management, strategy and brand awareness.
World class management team
WHK founder and chief executive, Terry Roberts formally served in the US Naval intelligence, during which time she addressed areas and compiled assessments regarding the migration of ISP aboard ships.
Roberts' expertise in this area was recognised as she was appointed to the position of Deputy of Naval Intelligence. This involved the management of more than 20,000 intelligence and information warfare military and civilian professionals. At that stage the resources, technologies and programs supporting these initiatives were valued in the order of US$5 billion.
However, Roberts' passion lay in the world of cyber, prompting her to accept the role of an Executive Director of Carnegie Mellon Software Engineering Institute.
In this role she led the technical body of work for the entire US Interagency, with a special focus on leveraging and capabilities, and establishing the Emerging Technologies Centre and Cyber Intelligence Consortium.
In founding the WhiteHawk business, Roberts has established the first cybersecurity Online Exchange, enabling all businesses (especially mid-sized and small companies) to have continuous online access to tailored learning, smart buying, and connections to the best products, services, insights, and trends industry wide.
Roberts is more than qualified for the position of Chief Executive, with her personal awards including the Office of the Secretary of Defense Medal for Exceptional Civilian Service; the Navy Senior Civilian Award of Distinction, the NGA Personal Medallion for Excellence; the Coast Guard Distinguished Public Service Award; the Director of Central Intelligence National Intelligence Certificate of Distinction; the National Intelligence Reform Medal; and the National Intelligence Meritorious Unit Citation.
Terry Roberts was featured in a YouTube Talk, 'Expectation of privacy in the Digital AGE'. In the hour long video, linked below, Roberts spoke on the expectation of privacy in the digital age demonstrating her extensive industry awareness.
Alongside Roberts, the Executive Team includes:
CTO Luis Cruz-Rivera, who has over ten years' experience as a serial entrepreneur and has been an innovator and technical visionary across the US government and commercial sectors, architecting data driven solutions and baking in cyber resilience;

CIO Antonio Crespo, a career cybersecurity consultant to Fortune 500 companies with a background in cyber engineering and technical management;

Recently-hired Director of Product Development, Soo Kim, a senior technical director with depth in software engineering, architecture and testing, previously of Accenture and HP.

So what has prompted the rise of cyber solutions businesses?
The need for cybersecurity
Cybercrime is a real and growing threat to businesses of all sizes. The average cost of a data breach is rising too. In 2016, the cost of a data breach to a company rose by 6% to reach an average of $4 million.
Some of the major breaches to hit the headlines in recent years include global information solutions company, Equifax, ride-share company, Uber, and one of the world's largest accounting firms, Deloitte.
The Equifax breach involved a hack that exposed 143 million customers' personal information. It is thought to have revealed the names, Social Security numbers, birth dates and addresses of almost half the US population, along with credit card numbers of 209,000 consumers and the personal identifying information of 182,000. Another 694,000 people in the UK were also thought to be affected, with that estimate still rising.
Deloitte was hit by a cyber-attack in September last year. The attack compromised Deloitte's global email server and could have been going on unnoticed for months. The hackers are suspected to have gained details from the organisation's blue-chip clients, including usernames, passwords, personal details and even confidential emails detailing private plans and documents.
Uber suffered a breach in 2016 that left names, email addresses and mobile phone numbers of 57 million customers exposed, and 600,000 drivers had their names and licence details compromised.
So, as you can see there is a huge need for cyber security solutions and a large market opportunity that goes with that.
However, how much of this market WHK can tap into remains to be seen, so investors should take a cautious approach to their investment decision with regard to this stock.
MIT Technological Review identified the types of cyber threats to expect this year: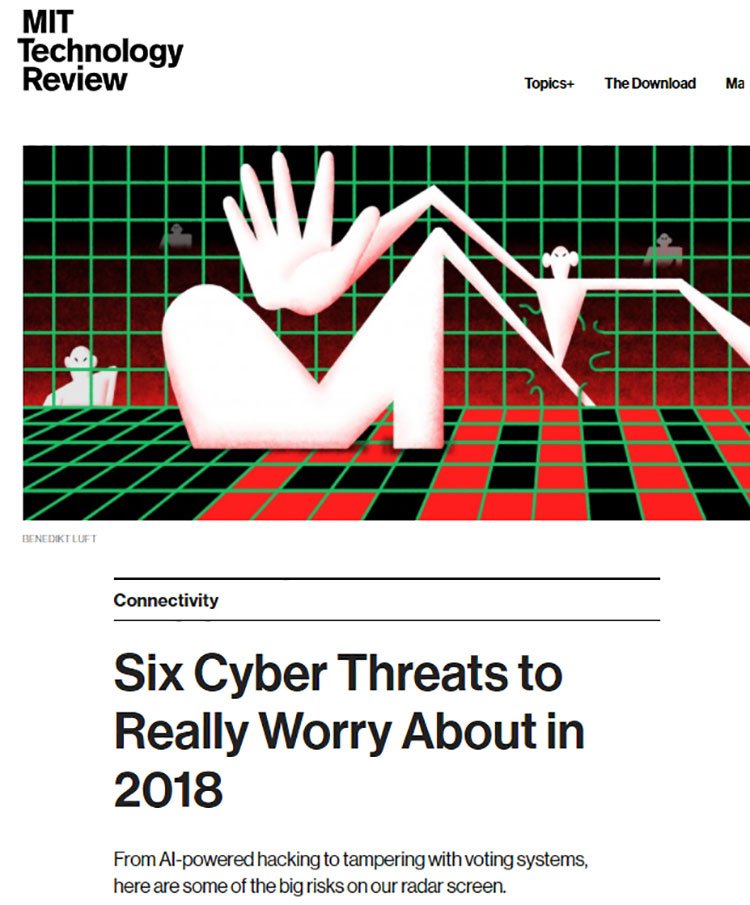 The article identifies further huge data breaches as the number one threat, but that's far from the full extent. The other identified threats are ransomware in the cloud, the weaponisation of AI, cyber-physical attacks, mining cryptocurrencies, and further hacking of elections.
Demand will be further lifted for cybersecurity solutions as governments worldwide are legislating heightened cyber regulations.
Australian cybersecurity
Locally, 82% of Australian corporate CEOs rate cyber-security as one of their top three risks, suggesting there's a receptive market for a risk-identifying, transparent marketplace.
In November, the Sydney Morning Herald reported one of Australia's largest ever data breaches. Sensitive personal information of close to 50,000 Australians and 5000 federal public servants was exposed online.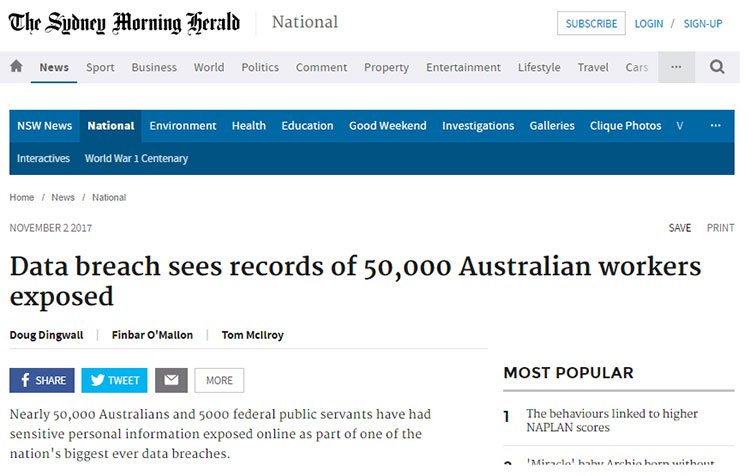 This is believed to be the second largest data breach in Australia, only eclipsed by a 2016 leak of 550,000 blood donors' personal information.
Recent data breaches really bring home the need for improved cyber security.
Further to that, Australian defence industry minister, Christopher Pyne warned businesses that they risk losing government contracts if their protection levels against cyber-attacks are inadequate. This comes in the wake of an extensive 30 gigabyte hack of confidential data from an unnamed defence department contractor.
Smaller companies with government contracts and little in the way of cybersecurity expertise will now have to demonstrate that their security measures are effective. While the same can be said for larger corporations, small and mid-sized businesses have fewer options for determining what they actually require to remain protected.
Here's WHK CEO, Terry Roberts, talking about cybersecurity threats facing Australian businesses specifically:
While business of all sizes are recognising the importance of having effective cybersecurity, implementing it is not always straight forward. Consider that in 2016, venture capital firms invested US$3.1 billion in a record 279 cybersecurity startups.
There are now thousands of cybersecurity provides for business, including small unequipped business, to filter through to arrive at a suitable solution.
So how can a small business find appropriate cybersecurity solutions when it must wade through this: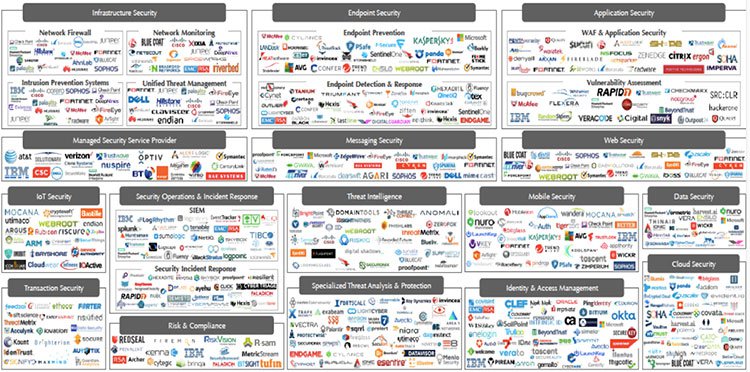 This is where WHK and it's the first ever online cybersecurity exchange becomes really valuable.
WHK delivers first cybersecurity marketplace
WHK offers an online marketplace of cybersecurity service providers along with a patented algorithm that matches companies to specific and affordable technology and services that can prevent revenue or reputation loss.
WHK's platform offers businesses of all sizes a one-stop-shop where they can instantly talk with a cyber advisor and get matched to specific tools, services and best practices.
The platform also helps businesses gain an understanding of business cyber risks and keep up with online crime and fraud trends, targeting their business sector as well as fraud prevention and mitigation practices.
The platform includes a decision support system that's based on adaptive reasoning. It employs a dynamic rules-based analysis engine for categorising, selecting, scoring, and ranking that turns big data and search algorithm on its head.
The company built its online platform with: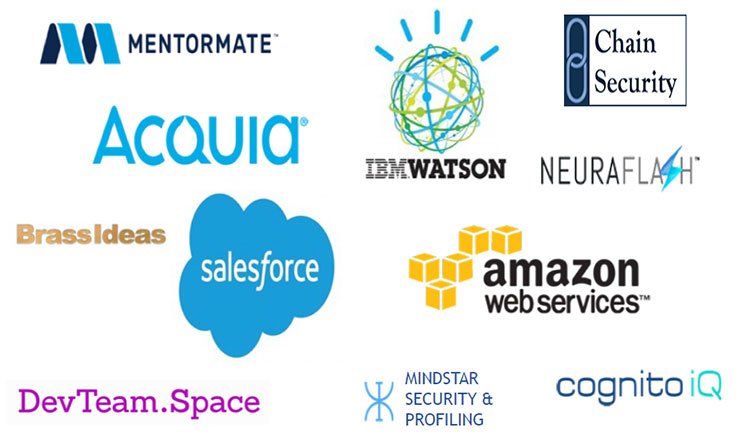 Here is WHK's the patent protected decision engine: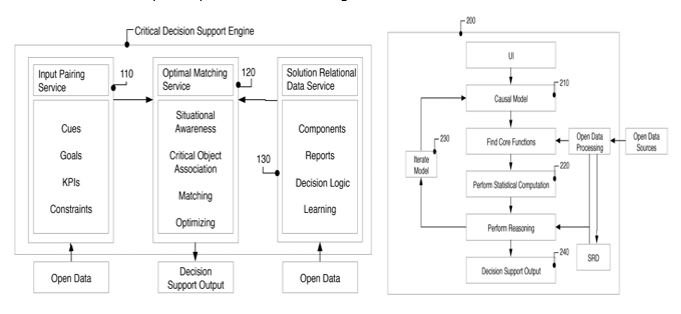 Steps for customers are firstly to get assessed via a short online questionnaire: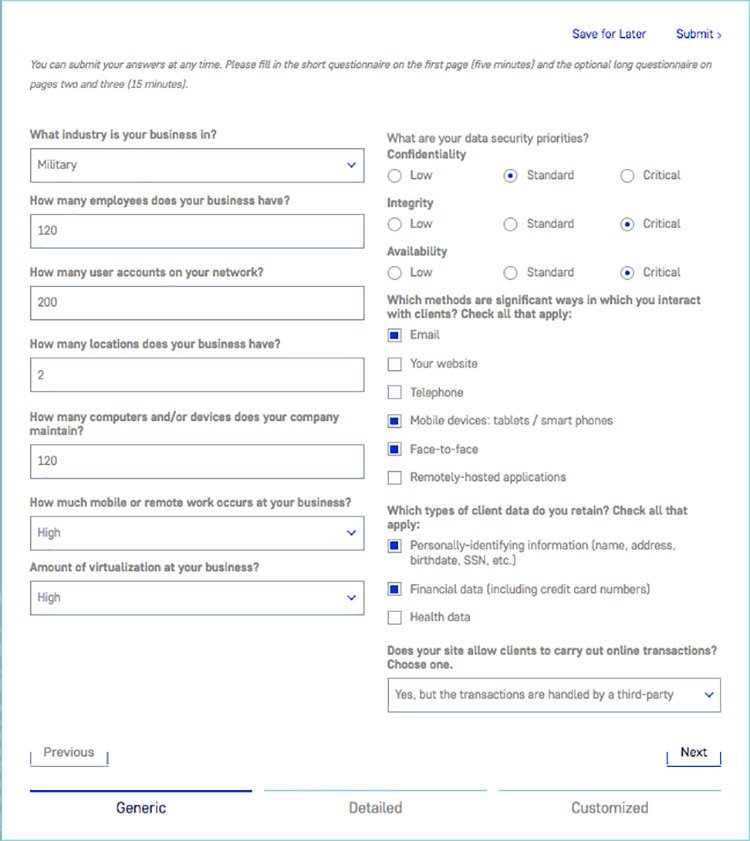 They will then be matched to the specific tools, services and best practices for their individual situation.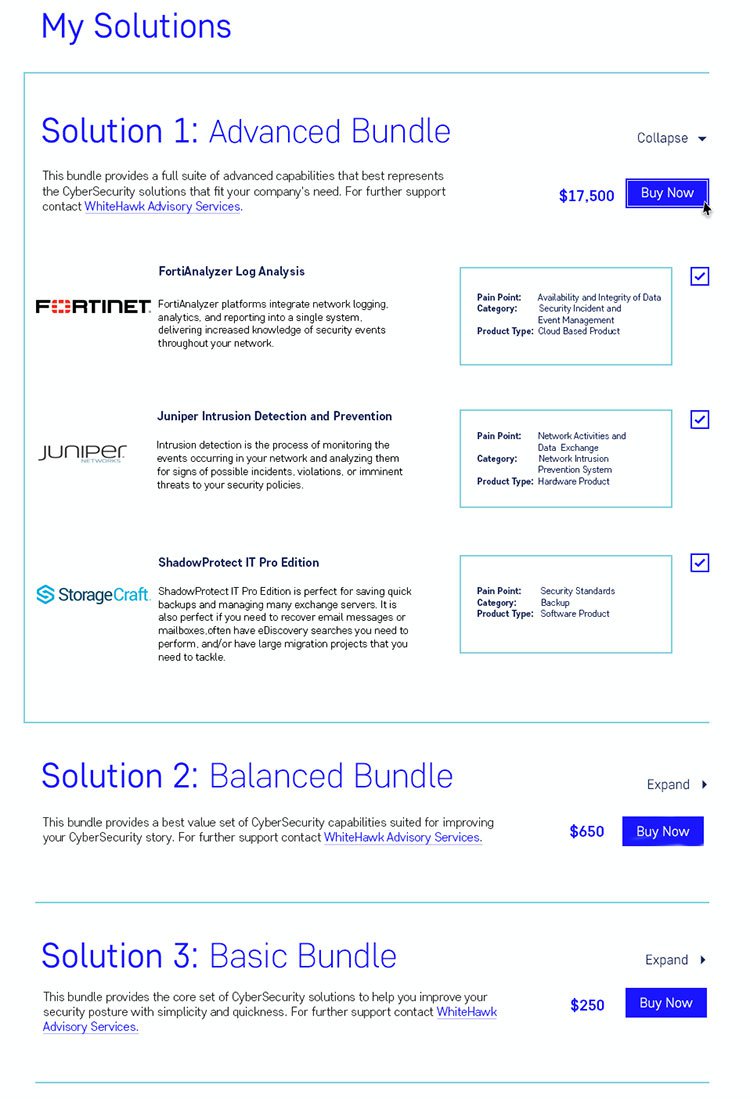 Customers will then be presented with a selection of appropriate solutions: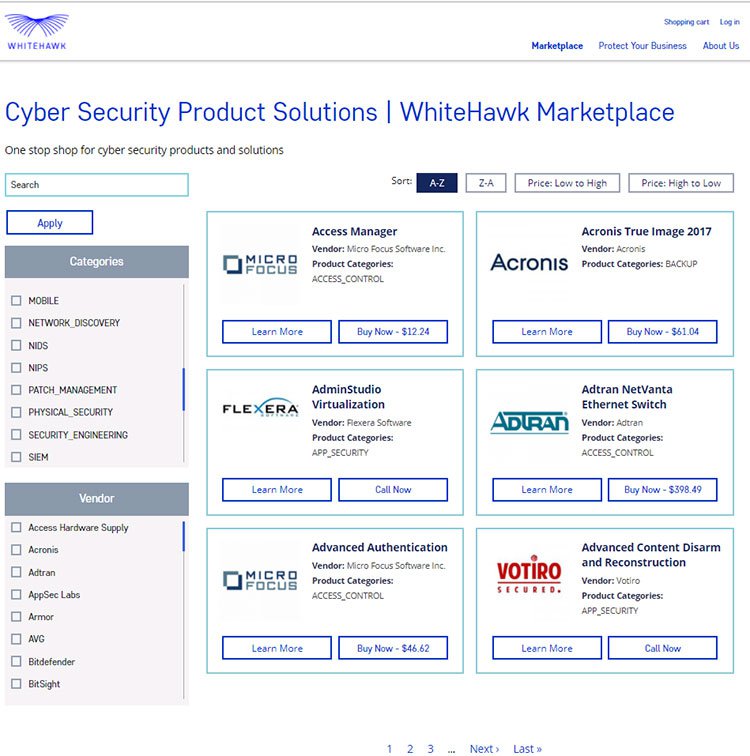 To date, WHK has over 200 vendors on board, offering over 500 unique products and services. These are available for purchase either directly online or with help from cyber analyst.
Customer number are rising too as WHK secures further partnerships and attracts increased market interest.
Major partnerships secured
WHK formed relationship with the US Department of Homeland Security and the US Department of Energy soon after it began operating in 2015. Since then, the list of big-name partnerships has only grown.
WHK's contract with the Department of Homeland Security (DHS) National Protection and Programs Directorate (NPPD) in partnership with multi-national defense industrial group, BAE Systems is for four years.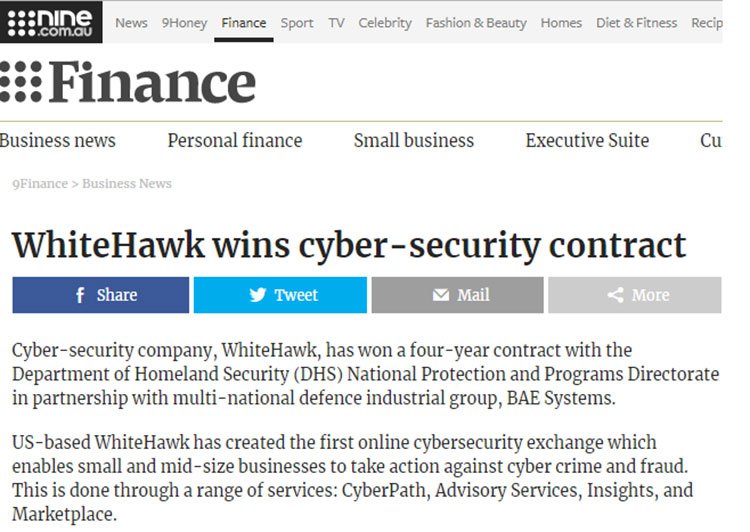 BAE Systems provides intelligence and security services to manage big data, delivering a broad range of solutions and services including intelligence analysis, cyber operations, IT, and systems development. Partnering with BAE Systems on this important DHS contract demonstrates the capability and regard in which WHK is held in the cyber-security industry.
WHK also has an agreement to provide support for the US Federal Information Security Modernization Act (FISMA) 2014 requirements via a partnership with the US Department of Homeland Security (DHS) in partnership with BAE Systems. This is a five year contract for over US$1 million in revenue to WHK.
To drive site visits and sales, WHK is developing its affinity partner channels. These include partnerships with Fortune 1000 companies — Accenture, Capital One, BAE, and Citi Bank. WHK also has deals with FireEye, IBM Watson, Salesforce, and Palo Alto Networks.
WHK's partnership with US$50 billion-capped Capital One (NYSE:COF) involves WHK providing cyber advisory and innovation expertise. It is a 12-month contract for up to US$250,000 in revenue to WHK with Option extensions.
Although it only just listed on the ASX, WHK is already generating revenues via its advisory services, including contracts with government organisations.
Cyber Risk Advisory Services
Cyber risk profiles and proof of concept scorecards are already being conducted across all business sectors, while the deliverables have been designed, tested, and augmented for automation.
From here, WHK plan to automate NIST assessment and content generation to populate deliverables, provide federal and industrial base self-assessment certifications, as well as sharing a toolset questionnaire to determine product interoperability.
This quarter WHK is heavily focused on marketing. It is now executing phase 2 of a 360 approach to online marketing and sales with Strategic Partners Brass Ideas and Marketing Mojo.
To drive organic site visits and online purchases, WHK has established channel partnership with BitSight Technologies to target Insurance Industry and Defense Industrial Base. WHK also used the holiday period to test drive email marketing campaigns to target MSBs.
WhiteHawk on the ASX
With WhiteHawk being a US-based company, operating primarily (at least to begin with) in the US, you might be wondering why it decided to list on the ASX. There are a few reasons for this.
Firstly, as explained by the company's CTO, Luis Cruz-Rivera, WHK sees Australia as a growing entrepreneurial hub that can support its growth as an international cyber security partner to a diverse set of industries and companies.
As a global business platform, being listed in Australia provides us a vibrant opportunity to raise capital, open new geographical markets, and accelerate its capability to bring cutting edge technology and talent to support companies small to large.
In fact the ASX's transparency, clear regulations and business networks resonate with WhiteHawk's view that resilience is built on clarity and that security is a team sport.
Another part of the decisions was due to the company's relationship with Viaticus Capital, the group that brought WHK to the market.
Viaticus has a track record of extracting great ideas out of US government agencies and transforming them into public companies, available to investors on the ASX. These include speciality chemical development company Alexium International Group (ASX:AJX)., as well as counter drone technology developer Department 13 (ASX:D13) — each of which were born out of US government agencies.
Savvy Australian investors may also recognise some similarities between WhiteHawk and another innovative tech startup — the now US$12.2 billion capped Atlassian Corp. (NASDAQ:TEAM). Atlassian offers an exchange platform of developer tools to be used on their website.
Of course, WHK has some way to go to hit the heights of Atlassian and investors should seek professional financial advice if considering this stock for their portfolio.
The Australian enterprise software company has more than doubled its market cap since listing on the NASDAQ just over two years ago in December 2015 as millions of global users rely on the company's software solutions every day.
Having only listed on the ASX, WHK is still some way from being a household name in Australia like Atlassian, yet it has all the foundations required for long term viability and success.
Led by Terry Roberts, a 35-year veteran of the US national security and cyber intelligence community, including as a former Deputy Director US Naval Intelligence, a Department of Defence Senior Executive, and an Executive at the Carnegie Mellon Software Engineering Institute.
What makes WHK particularly attractive as an investment is that being an online marketplace, you are exposed to the growth of the wider market — not just the fortunes of a single cybersecurity provider. Add to that the fact that WHK is already generating revenues from advisory work, while it rolls out its cybersecurity marketplace for which it already has hundreds of vendors signed up.
These early revenues makes it fairly unique in the ASX small cap space and speaks to the quality and expertise of the management team. This will act as somewhat of a safety net as WHK continues to grow its marketplace, signing new vendors and partnering with further some big name organisations to bring in customers.
Even at this early stage, WHK looks to be primed to capitalise on its patented technology and market leading position as the only marketplace for cybersecurity solutions. And it's all available to investors right here on the ASX.
---