Countdown to Global Launch: ZIP to Target 10 Million Subscribers on Back of $5M Cash Injection
PUBLISHED: 18-11-2014 22:39 p.m.
The end of the year is fast approaching, but for Ziptel (ASX:ZIP), December is when it will all begin. In just weeks ZIP is launching its potentially revolutionary app ZipT into the $1.7 trillion global telecoms market – and the company has just raised A$5M from Aussie and international institutions to help it acquire between 10 and 15 million paid subscribers to kick start its success. ZIP now has $8M cash on hand. A commercialisation strategy pinpointing subscriber acquisition has just been released. ZipT places low-cost calls with clear voice signal regardless of network speed while conserving data use. 1.9 billion people in the world still use 2G networks – and the hundreds of millions of others in 3G and 4G environments struggle with expensive roaming charges, poor connections and data allowances that evaporate far too quickly. ZipT can solve all of those problems – and when it launches into 120 countries in December, with subscribers on board, this revolutionary app could grow fast... perhaps making ZIP the next billion dollar telco... ZIP is making all of the right moves to bring that about – it's secured a distribution deal with AirLoyal, one of India's largest mobile advertisers to pull in a million subscribers, and its founders have embarked on a road show to demonstrate the app's technology to investors ahead of December's global launch. ZIP is making its run up now to hurl ZipT onto the world stage – and as long-term investors at The Next Tech Stock we're counting down the days...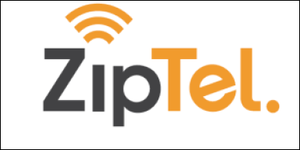 We first dialled in our investment with ZIP last month when we released this article – $1.7 Trillion Telco Market: ASX Tech Company Weeks Away From Global App Launch – which explains the company's products and plans in great detail. Since the release of that article ZIP has risen over 160%: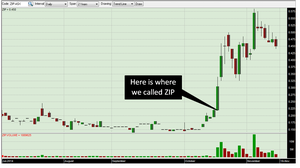 Source: Etrade Australia
The past performance of this product is not and should not be taken as an indication of future performance. Caution should be exercised in assessing past performance. This product, like all other financial products, is subject to market forces and unpredictable events that may adversely affect future performance. This research note from Australian stockbroker Patersons Securities explains ZIP's ambitions: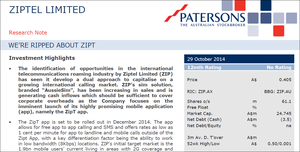 We are now anticipating the global product launch, just weeks away now – December 2014. This video offers a perfect explanation of what ZipT does :
The ZipT app encrypts and compresses the data of every call it makes into as little as six kilobytes per second (kps), far lower than the minimum of 50kps needed by services like Skype – which was bought for $8.5BN by Microsoft in 2011... This very low compression allows ZipT to send clear voice signals over any phone or internet connection, even in a low bandwidth environment. This means users in a 2G network can call a person in a 4G network and vice versa with no loss of voice quality, while using up to 80% less data than rival services like Skype and Viber.
With ZipT only one end of the call needs the app, its costs are set on a dynamic scale and the whole thing can be topped up online.
Global telecoms are worth $1.7 trillion and ZIP could scoop up customers everywhere with this technology
ZipT can target the 1.9BN people around the world still using 2G phones and internet networks, as well as more advanced nations with 3G and 4G networks.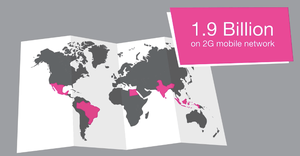 ZipT can compete with Voice Over Internet (VOIP) services like Skype and Viber, take on pre-paid international calling services to 2G networks like Lebara, and provide remote communications for mining camps and ships. By raising $5M from institutional investors, ZIP has created a war chest to help it draw in up to 10 million paid subscribers, and by partnering up with one of India's largest mobile advertisers it's securing a foothold into one of the world's largest phone markets. In this article, The Next Tech Stock is going to run you through all the latest developments as time continues to tick down to the global launch of ZipT. Let's get dialling! ZIP cashed up for global launch of ZipT The ZipT app will launch globally in December to markets in 120 nations, and to support its rollout, ZIP recently held a share placement that raised A$5M from institutional investors: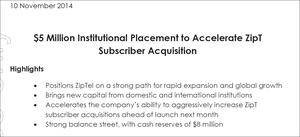 The placement of 11,904,761 shares was completed at $0.42c a share, increasing ZIP's cash reserves to around $8M.
Fourteen new institutions are now ZIP shareholders and long-term holders.
Major shareholder K2 Asset Management participated in the raising to maintain its 16.3% holding in ZIP. So ZIP is cashed up for the global launch of ZipT – but the money won't just sit in the bank account for a rainy day. ZIP wants to make it rain paid subscribers!
First 10 million, then the world
ZIP's website is promoting a 'founding membership' programme that aims to have 50,000 users sign up before the app's launch in December: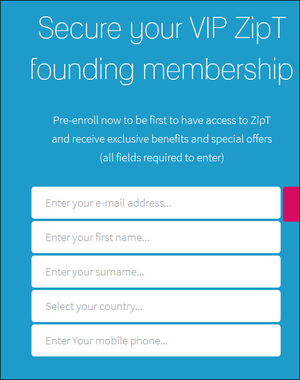 But it's not stopping at 50,000 – ZIP's ambition is to have millions of users sign up. ZIP has budgeted $3.6M to acquire the first 5.6 million users of ZipT, with over $300,000 allocated for social media marketing. ZIP's six month target is one million users, then scalable targets rising to 10 million and then up to 50 million in the first year of operation.
So how will ZIP get all those subscribers?
To start with it's working hand in hand with Mpire Media , a Western Australia advertising and software group run by the $60M net worth tech entrepreneur Zhenya Tsventenko. It has a vast network of global affiliates and this marketing agreement will see Mpire work to draw in one million paid subscribers.

Mpire will run an advertising and marketing push in 120 countries around the world so ZipT will have maximum exposure when it launches and beyond. If this app spreads like wild fire and goes viral, the potential to further increase subscriber numbers will also dramatically increase... Fifty million users is ZIP's next target – and the company has just done a deal that could make even that number seem conservative...
ZIP dials into India's gigantic mobile market
India is a nation that runs on mobile phones – it's number two on the list of countries with the most mobile phone use:

There are nearly one billion mobile phones in use in India – 180 million of them are smart phones – 220 million people use mobile internet, and up to 70% of phone users are in a 2G environment, the minimum requirement for ZipT's crystal clear communications technology. It would make a lot of sense for ZIP to target India's phone market...

ZIP has secured a distribution agreement with AirLoyal, a leading Indian mobile advertising firm that will promote the app across India and South East Asia's enormous mobile markets. The deal will see AirLoyal distribute ZipT across its user base and deliver up to one million paid subscribers, as well as continue to promote the app amongst India's tech-savvy population. AirLoyal operates the Ladooo mobile platform, which has millions of users and 30 global brands as clients including Amazon, FlipKart and TicketGoose.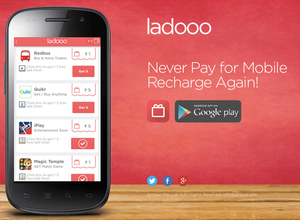 Between the agreement with Mpire and AirLoyal, ZIP says it has the potential to acquire up to 5 million paid subscribers for ZipT within 12 months. Add the $5M cash injection into the mix and you can see why ZIP has its sights set very high – with extra advertising, promotions and marketing (and maybe even some more distribution agreements), between 10 and 15 million paid subscribers could be possible – and then it's onward to 50 million and beyond.
ZIP on the road and in the news
These two blokes have been very busy:

ZIP's co-founders Bert Mondello and Keaton Wallace have been holding live demonstrations of the ZipT app for investors in a roadshow that hit Melbourne and Sydney. You can see the new investor presentation that went with this roadshow. The Next Tech Stock also received a demonstration of ZipT and we were blown away. Three calls were made in a low bandwidth environment, one on Skype one on Viber and one on ZipT. The ZipT call was crystal clear – while the Skype and Viber calls were left in the dust! All of this activity in the lead up to the global launch of ZipT in December is generating a lot of market buzz for ZIP, and its story is getting a lot of play in the media. Here's a write up in The Australian , the nation's broadsheet: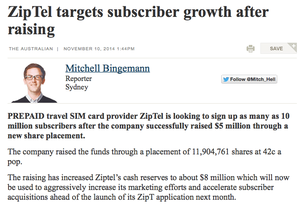 The ZIP team also got a very positive write up on smartcompany.com.au: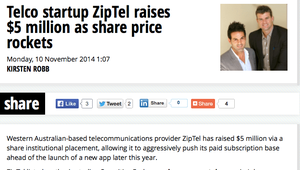 Here are some of the best quotes from Keaton Wallace: "It may seem as though it's happened overnight on the ASX, but it hasn't happened overnight for us. It has taken four years and a huge amount of time and effort." "There is recognition we have a global proposition here. It's not product for small market, it's a product targeting everyone in the world with a smartphone." Couldn't have said it better ourselves!
Dialling the world in December
In just a few short weeks December will be upon us and ZIP will be launching its ZipT telecoms app on the global market. The team have spent four long years getting this launch ready and now the moment has arrived. ZIP has developed an innovative and scalable product – ZipT – to take on the world's $1.7 trillion dollar telecoms sector. It's pulled in a combined $10M through two successful capital raises, and secured two distribution agreements to give ZipT a huge base of paid subscribers and marketing support. The only thing left to do is to hit the start button. At The Next Tech Stock we are counting down the days and will be keeping a sharp eye out for any news from ZIP on a date for the global launch of ZipT. After that, we're sure ZIP will be ringing in the New Year in more ways than one!
---