WhiteHawk Ltd
(ASX:WHK)
WhiteHawk (ASX:WHK), the ASX-listed junior providing the world's first online security exchange, continues to partner with major companies to bring customers to its cyber exchange.
Thus far, WHK has more than 50 cybersecurity companies on the books, and has also worked with the US Department of Homeland Security and the US Department of Energy.
WHK is looking to tap the rapidly growing global cybersecurity market via its online exchange and scalable business model, and could prove to be a wise decision for investors looking for a strong entry point into this market. 
WHK is creating the first global online cyber security exchange to assist small and medium businesses in managing cyber security threats.
It is certainly a necessary service as a massive 81% of businesses have suffered a cyber-attack in the past 12 month, while 22% of business have had to cease operations due to ransomware.
The information in this email should not be the only trigger for your investment decision. Click on the link below for a more in-depth and informed examination of the company. We strongly recommend you seek professional financial advice whenever making financial investment decisions.
Given the uptake of its cyber-solution so far, WHK is looking to further cement its place in the industry and recently appointed Antonio Crespo as Chief Information Officer to help it do so.
Crespo is a career cybersecurity consultant to Fortune 500 companies. He will join two other high-level appointments including Soo Kim the former Director of Product Development from Accenture Federal Services and James Beach who has worked with Microsoft and US Departments of Treasury and Defense.
WHK looks to be continuing its rapid growth and now has all the pieces in place to globally scale.
Read on below for more on WhiteHawk Ltd...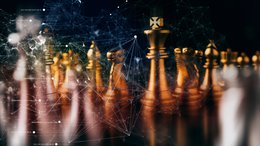 WhiteHawk Wins US Federal Government Cybersecurity Contract Worth up to US$5.9M
Jul 28, 2020
WhiteHawk (ASX: WHK) announced it has been contracted by a key US federal government Chief Information Security Officer (CISO) to implement its Cyber Risk Radar. The annual Software as a Service (SaaS) contract, will see WhiteHawk generate total of up to US$1.18 million (A$1.65M) for each year of the contract.