Dawine Ltd. ( ASX:DW8 )
The Chinese have rapidly developed a taste for Australian wine (and why wouldn't they!).
As such there has been a 40% growth in sales of Australian wine in China in just 12 months.
The Chinese palette has changed so much that wine sales are now worth more than half a billion dollars, compared to ten years ago when they were worth just $27 million.
One recently ASX listed online wine distributor – with sommelier like expertise of Chinese drinking habits – intends to leverage this growing opportunity through a custom e-commerce online wine market for Chinese consumers.
The company wants to serve the thirsty 70-80 million wine drinkers expected in China by 2020 – and capture the rest of the market as it matures like a fine Shiraz.
This $11.7M capped company is certainly well on its way to doing so, following a $3M capital injection on the back of its recent ASX listing.
Through its platform, this ASX stock is also tapping into a burgeoning Chinese e-commerce market expected to become a $1.1 trillion industry by 2020.
One of China's leading online wine sales vendors has seen quadruple growth year on year, indicating that wine and 'made easy to purchase' technology go together like Cabernet and Shiraz.
Now, today's company is putting itself in the mix.
The information on this page should not be the only trigger for your investment decision. Click on the links below for a more in-depth and informed examination of the company. We strongly recommend you seek professional financial advice whenever making financial investment decisions.
So, it's bottoms up for Chinese wine drinkers as they will now get to experience some of the best exclusive wines from Australia, France, and the rest of the world, delivered to their door.
All of this via one $11.7M capped company's online enterprise offering that could uncork this rapidly growing market.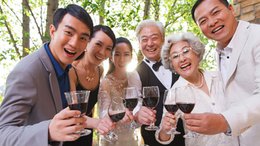 Cheers! ASX Stock Uncorking China's Fast Growing Wine Market
Mar 9, 2017
We all know Australians love a drink. It used to be beer that was the staple of the great Australian barbeque, but that has slowly been usurped by wine – which is now drunk by 45.1% of the population compared with 37.6% who still love to blow the froth off the top of an amber ale.