Alexium International Group Ltd
(ASX:AJX)
Industrial Tech
| Our Entry Price $ | Current Price $ | Current Return | Highest Price $ | Highest Return |
| --- | --- | --- | --- | --- |
| $ 0.052 | $ 0.054 | 4% | $ 0.100 | 92% |
Overview
ASX-listed chemicals company Alexium International (ASX:AJX) specialises in the manufacturer of flame-retardant chemical compounds for application onto synthetic materials. It develops environmentally-friendly flame retardant chemistries for many fabrics, including synthetic-rich fabrics, in the textile industry. It also creates custom solutions that yield "exceptional FR (flame retardant) performance and provide any other fabric characteristics that are required for end-use application. Alexium currently sells three series of chemistries that can be customised depending on the material it will be bonded onto.
Why we have invested...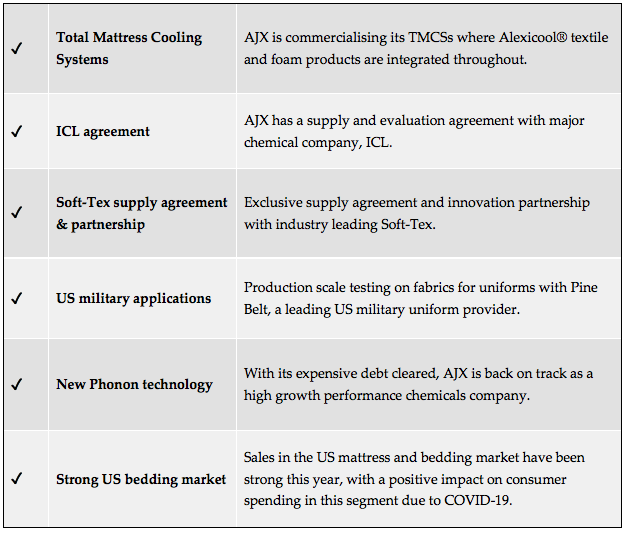 Research Reports
31 July 2020: "Multiple pathways to success in huge addressable market"
Our Latest Articles on Alexium International Group Ltd