CL8 Accelerates Growth: 265% Increase for UberX Rentals
PUBLISHED: 20-04-2017 09:38 a.m.
Collaborate Corporation (ASX:CL8) looks to be experiencing more momentum than a Subaru rally car on a flat track to the finish line.
There are several reasons for this, most notably is the acceptance of the sharing economy as a new way to do business and live life in general – think industry leaders Uber and Airbnb, which are now household names.
With that widespread acceptance, CL8 will be looking to profit from its suite of tech platforms that create trust between individuals and make it possible for the sharing economy to flourish.
Following rapid growth of the company's DriveMyCar platform, a platform that allows the renting out of underutilised cars, CL8 is approaching that all important milestone of cash flow positivity.
Just like Uber and Airbnb, CL8 doesn't own any physical assets that it makes money from.
CL8 owns the IP and technology platforms to enable the sharing of underutilised assets, and clips the ticket every time.
CL8's DriveMyCar platform services an underutilised market niche – it's not a ride sharing platform like Uber, nor a rental company like Avis that facilitates rental for a few days; rather DriveMyCar's sweet spot is P2P car sharing for periods of 4 days to 1 year.
And it appears to be working, with average rental time of 38 days, and gross revenue of $550 for CL8 on each transaction.
We have been tracking CL8 for quite some time. The company first came to our attention in 2015. However, it wasn't until late last year that this company really kicked its collaborative (aka sharing) economy products and services into gear.
It was at this time CL8 started focusing on doing deals for DriveMyCar with much bigger companies including Subaru, Aon and Uber amongst many other well-known brands.
The reason: to grow and grow FAST.
CL8 has made a strong start to the year with 90% quarterly growth; DriveMyCar has substantially increased bookings and delivered the highest quarterly and monthly revenue figures in the company's lifespan to date.
Now before we go too far, we should note that this is an early stage tech stock, and investors should seek professional financial advice if considering for their portfolio.
The following numbers really drive home just how focused CL8 is with regard to fast tracking its position:
90% increase in Net Rental Days Booked for the March Quarter to over 20,000 days.
77% increase in Net Rental Days booked in March compared to February.
13% increase in gross revenue for the March quarter, with more to come for June.
265% increase in Net Rental Days booked for UberX.
Here is a company with no debt, and a significant amount of cash coming in from 172 million options exercisable at 2c/share expiring on 30 th April. Over one third of this option tranche is currently underwritten, for proceeds totalling $1.26 million. If all remaining options are exercised, the company will receive approximately $2.975 million, before costs.
Suffice to say, CL8 is in a stronger cash position to chase significant opportunities for additional strategic partnerships across all of its business sharing platforms – and given its cash position, the market is still not factoring in the value of this company's assets, as its currently capped at less than $11M.
We're here to give you the latest diagnostic on this tech-innovator, with an eye for hasty near-term expansion: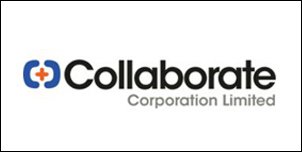 Collaborate Corporation
ASX:CL8
Collaborate (ASX:CL8) is all about leveraging the power of the sharing economy, to make every day experiences just that little bit easier for consumers.
Most would argue the sharing economy is the way of the future.
Take these statistics for instance:
81% of people agree it is less expensive to share goods than own them
57% agree access is the new ownership
83% agree it makes life more convenient and efficient
43% agree owning is a burden
So with sharing becoming mainstream and peer to peer businesses on the rise, there's no doubt that if you can offer a cheaper way to temporarily rent items and also a way to make money from renting items you own, you could capture the attention of a lot of people whose needs are not currently satisfied or demand a more efficient experience.
Just to give you an idea of how this new economy has blossomed, have a look at the players to have arisen over the last few years and their lofty valuations: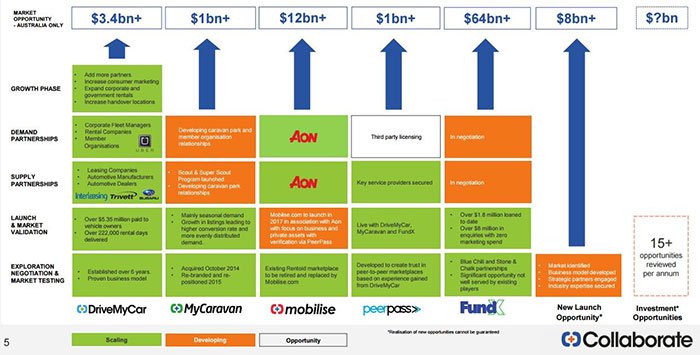 So where does CL8 sit?
Of course, CL8 has some way to go to reach the above levels, and its early days, but what is clear is that CL8 presents a distinct opportunity for leverage in the P2P economy on the ASX – albeit a speculative one.
Recent deals may well have put it on the fast track. You can follow the evolution of the CL8 story in our recent articles:
In these past articles, we have focused on CL8's range of tech platforms including DriveMyCar, MyCaravan, PeerPass and Mobilise, examining the ideas and innovation prospects behind this company's market strategy, particularly how it is focused on turning idle assets into revenue.
In our most recent article , we looked at CL8's new deal with Subaru and how this deal would impact the growth of its ride-sharing fleet. Since that article was released, regular readers would likely have observed a 40% share price gain in CL8: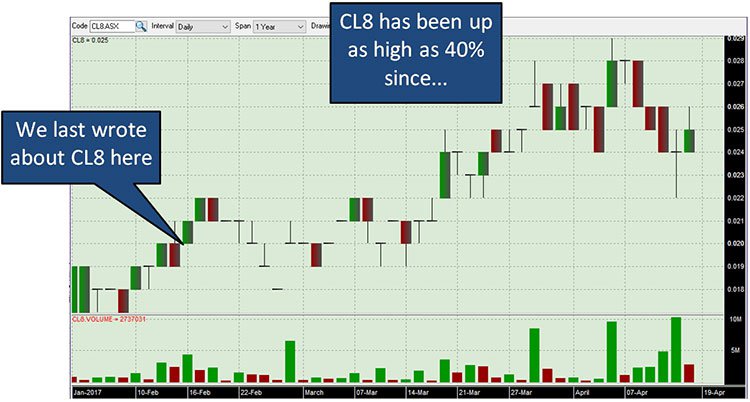 The past performance of this product is not and should not be taken as an indication of future performance. Caution should be exercised in assessing past performance. This product, like all other financial products, is subject to market forces and unpredictable events that may adversely affect future performance.
Since that deal was struck with Subaru, every single Subaru has been utilised on the DriveMyCar platform, a sure sign that the model is working.
With CL8 building up to a cash flow positive position, there may yet be more gains to be realised in this stock.
And it's not just us that likes this story. Wise Owl analyst Simon Herrmann released a report in early April, with a 6 cent valuation – that's 140% more than today's current $0.25 share price:

Of course, analyst valuations are based on a number of assumptions, so don't use this as the only thing you base an investment on – always base an investment on a range of information sources, and your own personal circumstances.
So the question is: How much and how quickly is this company building and what is behind its growth?
The first stop on this inspection, are welcome increases in key business metrics
We realise it's still a bit early in CL8's journey, but already its latest announcements show that this collaborative upstart is starting to accumulate the necessary ingredients to become cash flow positive in the near future.
Take a look at the headline figures CL8 posted last month: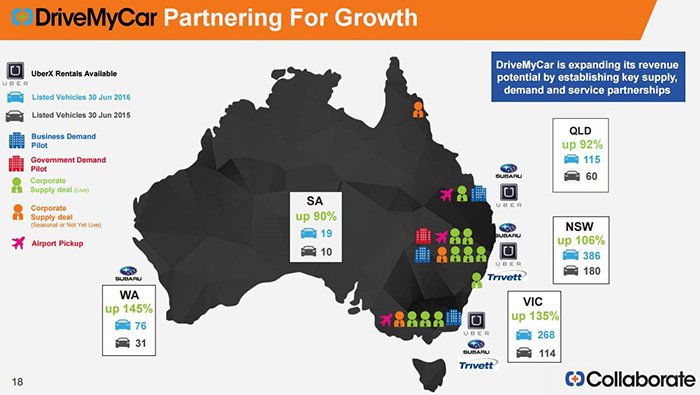 Followed up by some of the details behind CL8's recent successes:

All in all, CL8 reported its highest ever quarterly numbers for rental transaction value, gross revenue, net rental days and overall vehicle rentals for DriveMyCar.
At the same time, continued revenue generation at this pace is no guarantee for CL8. The company is still an early stage play, and investors should do their own due diligence on the company before choosing to invest.
Combined with key partnerships with global players like Uber, Subaru, Aon, McMillan Shakespeare, Trivett, Midas... and closer to home, Wilson Parking and Park & Fly, CL8 has worked hard to meet its objectives.
It has been an upward trajectory for CL8, which has been reflected in this last quarterly's numbers and CL8 is expecting further upward trajectory through new and bigger partnerships.
Making friends and collaborating
Setting the example it wants to see, CL8 is collaborating with a range of giant companies in the hope of sharing in the broad-based sales and revenues being generated through a whole range of brands.
On this front, CL8 continues to sign up partners in the key market.
A couple of months back, CL8's DriveMyCar brand secured a strategic agreement with billion-dollar giant Orix, the largest fleet management group in the Asia Pacific.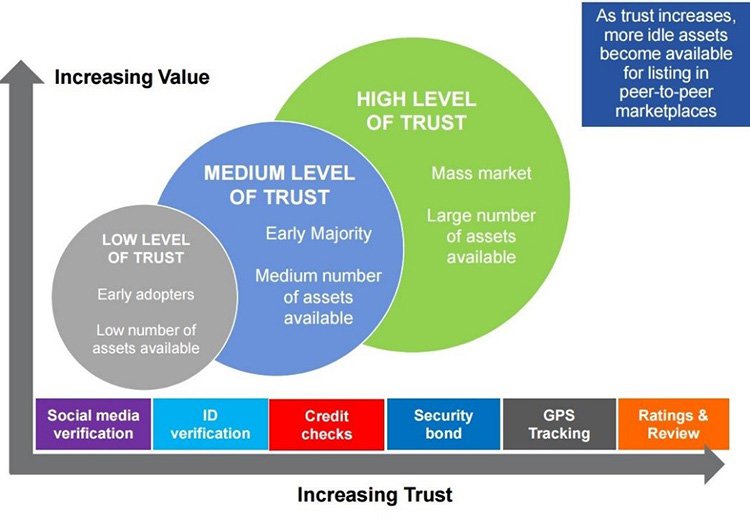 The deal is likely to improve DriveMyCar's sales potential from private and corporate markets, as well as increase vehicle supply in key locations, whilst giving ORIX a new revenue stream.
The deal is a key notch on CL8's partner bed-post as it offers greater market exposure, clientele, brand awareness and so on. Growing a healthy ecosystem of regular customers and strong repeat business takes time, but, when momentum is finally generated, it can be incredibly engaging and can create exceptional brand loyalty.
As a quirky young upstart, CL8 is snuggling up rather nicely with this way of thinking.
CL8's Uber and Subaru partnerships are about to drive home
The car-focused side of CL8's business – DriveMyCar, is the company's flagship platform.
Through the latest deal with Subaru, CL8 has developed a unique experiential marketing package with Subaru (Australia) resulting in 101 Subaru Impreza 2017 model vehicles being added to its fleet.
The deal represents an increase of over 20% based on existing fleet numbers and the addition of these vehicles equates to a value of over $2.2 million.
Under the company's business model, the vehicles are available for both private rentals and UberX rentals, which means UberX drivers will expand marketing awareness for CL8 and Subaru as both drivers and passengers experience the vehicle's features.
Commercially this deal has the potential to generate significant income for DriveMyCar.
The vehicles became available for rental in mid-March, 2017 in Sydney, Melbourne and Brisbane from a price of $199 per week. By late March all the 101 vehicles had been booked.
When you do the calculations, these vehicles could actually result in almost a 50% increase in rental transaction values (and revenues) and contributed to the rapid growth experienced in the March Quarter.
According to news reports, the popularity of both CL8's car-sharing initiative(s), as well as its broader approach to finding new revenue streams from existing resources – looks like a win-win for everyone involved.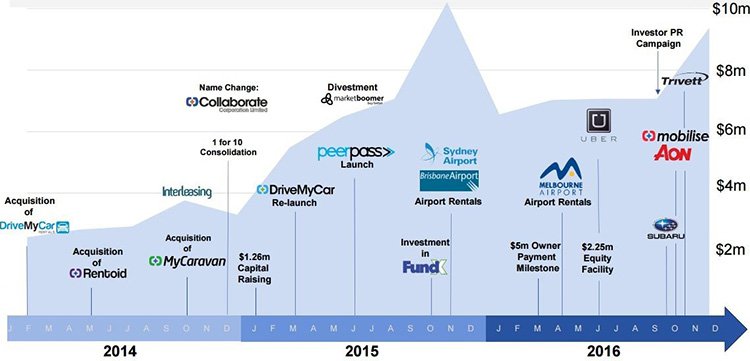 At the same time, there is no guarantee an investment in CL8 will turn out successful. Consider your own risk profile and personal circumstances before investing in speculative tech stocks like CL8.
Convenience and Collaboration
Technology is changing everything.
Macroeconomically speaking, technology has created the "sharing economy." This new economic principle has evolved and grown exponentially over the past several years, primarily the result of reliable high-speed Internet and handheld mobile devices.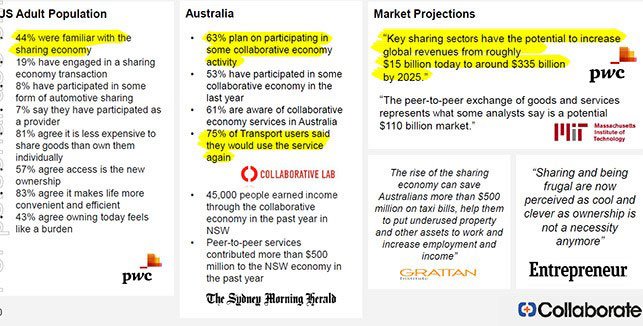 The flagship of this new economy is Uber, an online transportation network company pioneering digital innovation and new-age business thinking — with operations in more than 500 cities worldwide. Uber provides a software app for mobile devices that connects consumers with drivers who use their own cars to transport passengers from point A to point B for a fare.
However, the effect and counter-effect of the example set by Uber is to liberate how businesses charge consumers, and how consumers can become businesses.
Enter CL8 and its peer to peer, trust-based marketplaces.
With fast growth occurring with every deal CL8 makes in this sharing space, particularly with its DriveMyCar platform and service offering, CL8 is really taking the collaborative economy by the scruff of the neck and is currently exceeding all expectations.
---