Cashed Up VN8 One Step Closer to Commercialising World First Communications Tool
PUBLISHED: 24-10-2018 10:19 a.m.
It's a remarkable time to be alive. You can access information on any topic from a device in your pocket, catch a ride in a self-driving car or deliver a pizza with a drone.
But something as simple as video conferencing is still a battle.
Does the following scenario seem familiar?
"Good morning everyone, it's a pleasure to be speaking to you today. Have we got everyone on board?
Alright to kick us off, can Frank walk us through this presentation? Frank, you ready?
...
Looks like we've lost Frank. Stand by everyone."
You twiddle your thumbs for the next ten minutes as the conference host scrambles to troubleshoot on the fly, leading to an unproductive meeting and your time being wasted.
Thankfully, that scenario looks set to change.
ASX tech junior, Vonex Ltd (ASX:VN8) is developing a world-first means of seamlessly linking voice calls and messages across multiple platforms and devices.
The company's one stop communication aggregator app, Oper8tor, utilises VN8's patented call blast technology as a key point of difference in targeting both consumer and communication technology providers. Once fully developed, Oper8tor will consist of: Oper8tor Conference, Oper8tor Message and Oper8tor Voice each may be commercialised on a standalone basis.
And now, in what could be a significant catalyst for VN8, the company has identified its first piece of the development as opportunity to commercialise its technology through the teleconferencing service industry.
VN8's Oper8tor Conference platform, which is set to solve the issue of time delays and technical trouble when multiple parties seek to communicate using differing technologies, removing all complexity, is now in the first iteration of beta testing.
This is a key milestone for VN8, as beta testing paves the way for a soft launch of Oper8tor into the European market. Oper8tor Conference is just the first aspect of the final multi-social media platform, which will feature four commercialised pillars moving forward: Conference, Message, Voice and Video.
The company has also recently signed a key partnership deal with CounterPath Corp (NASDAQ:CPAH | TSX:PATH) — an award-winning North American VoIP supplier.
Debt free and with more than $4 million cash in the bank, now's time to take a closer look at why this intriguing tech play could be a potential addition to your watch list.
All the latest from,

Before we delve into Oper8tor, it's worth reflecting on our previous VN8 article: Revenue-Making Telecom Looks to Capture $7B SME Market.
Since listing in June, the ambitious telco has made strong progress across all its core divisions, which are as follows:

Telecom/Retail
VN8's retail offshoot reported $7 million in revenue for the 2018 financial year, a 15% rise on the prior year that was largely attributed to the recent launch of the National Broadband Network (NBN).
Vonex offers one of the most competitive NBN packages on the open market, providing an unlimited internet plan at an attractive price point for consumers.
An example of the theoretical savings can be found below.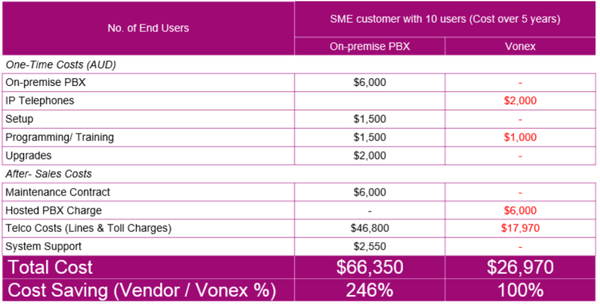 The company hit 24,000 registered active PBX users on August 20 2018 and is adding an additional 500 new users per month.
Those numbers seem to have the brokers interested.
VN8 a 'Speculative Buy'
In a September 26 research paper, State One Stockbrocking set a 12-month price target of $0.28 for VN8 — a 115% premium to the company's 13 cent share price. The broker forecast a six fold increase in revenue by 2022 to $45 million.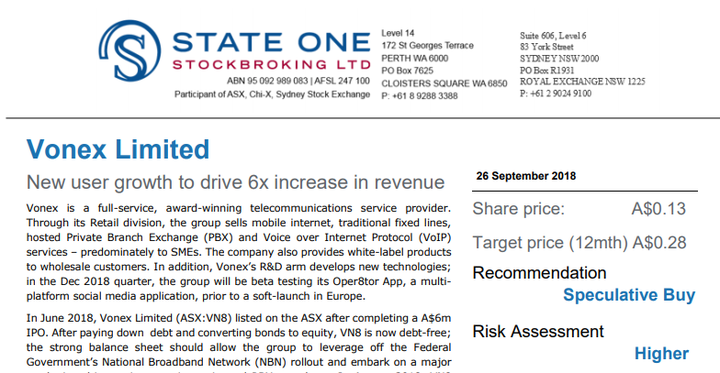 The company's growing retail division was the main factor behind State One's 'Speculative Buy' recommendation and in particular saw potential in the social media app Oper8tor.
The price target factored in the continued expansion of VN8's PBX users, which State One projected would increase to 2000 new users per month by June 2019.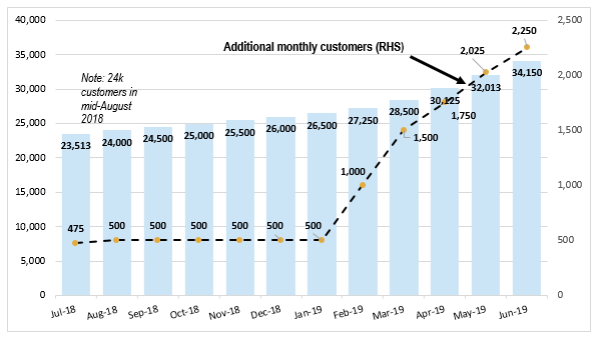 Vonex Wholesale
The wholesale division is comprised of the company's VoIP and PBX features. This division reported $1.09 million in revenue for the 2018 financial year, a 13% rise on the prior year.
These are offerings geared towards small to medium businesses (SMEs), providing its client base with a phone system that utilises cloud services instead of existing infrastructure (phone box terminal) that is built into the office.
Its current PBX system possesses 132 intuitive features such as:
Being able to execute calls via the same internal system (via an extension number) across countries.

Switching a call (push) that began on a desk phone to a mobile device via the push of a button.

Re-routing several numbers to one handset.

Receiving voicemail as an email.

In short, the company replaces the antiquated infrastructure of the landline network and replaces it with its cloud based implementation, while reducing overheads for SME clients.
While the company's wholesale arm is relatively small in comparison to its telecom offshoot ($1.1M in revenue for FY18), that looks set to change.
On August 2, 2018 the company signed a marketing and partnership agreement with North American VoIP supplier CounterPath Corp (NASDAQ:CPAH | TSX:PATH), which will see the dual listed supplier act in an advisory role for VN8.
Under the agreement, VN8 will be able to white label CounterPath's enterprise and service solutions and sell under its own label, with both parties working together to expand customer growth in Australia.
The highly promising development was recently covered on Finfeed.com: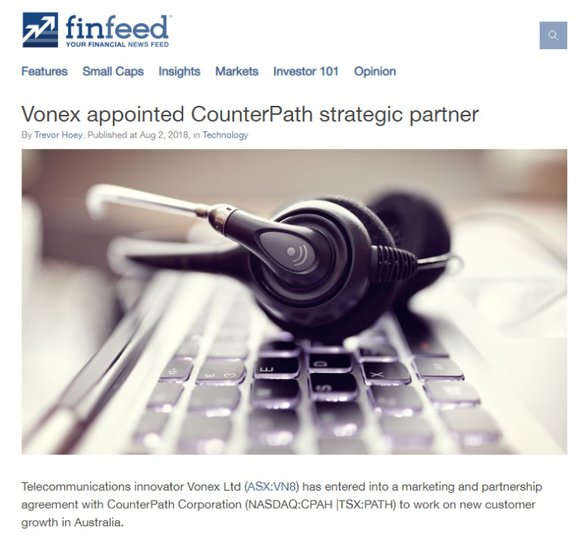 The agreement is a major win for VN8, which has an initial order for 10,000 licenses of the CounterPath suite to pass onto existing Australian customers.
VN8's third (and perhaps most important) division — the software engineering arm — is where the true magic happens. This leads us to the company's flagship app, Oper8tor...
There's a lot to like about Oper8tor
VN8's Oper8tor Conference platform is set to re-define our experience online, by offering a dynamic yet surprisingly straight forward solution: centralisation.
The one stop aggregation app is made up of four components: Oper8tor Conference, Oper8tor Voice, Oper8tor Message and Oper8tor Video.
Oper8tor is built on the WebRTC framework, an ingenious open source solution supported by Chrome, Firefox, Opera, Android and iOS.
Here's some of the team pictured with a couple of VIP visitors to the Melbourne development office: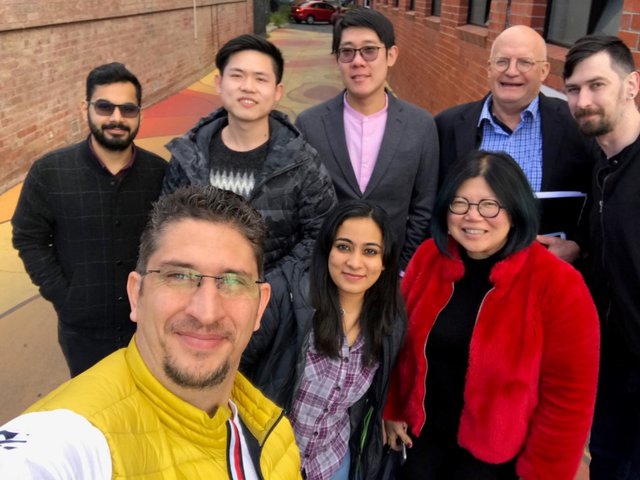 WebRTC provides web browsers and apps with real-time communication by utilising application programming interfaces (APIs).
In simple terms, this allows users to communicate cross platform and in real time without the need to install plugins or cumbersome software.
Oper8tor is the first app of its kind in the world and is protected under patent.
VN8's software development team is a strong advocate for agile development, so Oper8tor's user experience will continue to evolve and improve over time.
Here is the agile board in action with the company's lead developer Tim taking the reins: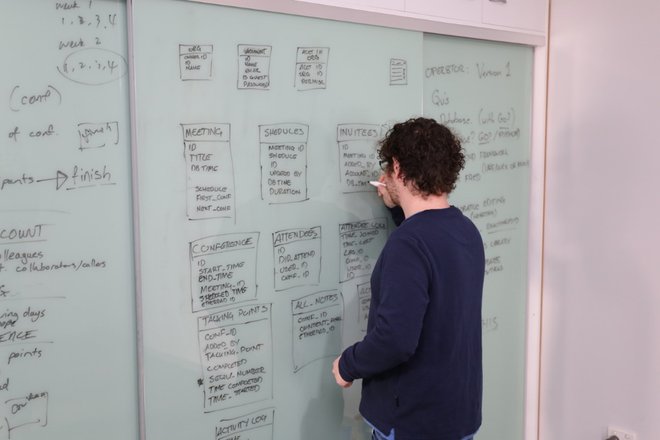 For the purposes of this article, we'll take a closer look at Conference and Voice and Message functionality which will form the foundation of Oper8tor's minimum viable product (MVP) launch in Europe in early 2019.
The fourth and final component, Oper8tor Video, will release after the launch of the MVP.
Oper8tor Conference
VN8 is now conducting its initial wave of beta testing on Oper8tor Conference.
VN8 has been prepared for a 5000-strong test base to undertake testing and provide feedback, which will allow the company to audit and polish its current backend code, collect crucial user data and perform bug fixes. Beta testing is a crucial step in the development process because each stream of Oper8tor utilises the same framework.
But how is Oper8tor any different to the plethora of existing conferencing platforms available?
Oper8tor Conference separates itself from established conferencing platforms such as Skype and Zoom by solving problems they can't.
When you take a second to analyse the current work flow of remote-meetings, the entire process is flawed. Most platforms facilitate video or audio connections only, and leave you to tackle the other logistics that come with remote-calls.
As a result, meeting times are often set up via a third party calendar and participants are then expected to track outcomes in a separate word or google doc (or even worse by feverishly scribbling down notes which are often lost).
Follow up objectives are usually sent to all participants via email, but by the time that email filters through to your inbox, there's a good chance you've forgotten much of the meeting already.
Objectively, every single step is a recipe for failure: something could go wrong at any moment and lead to a loss of productivity and reduced organisational engagement.
VN8 has identified this issue and has left no code unturned in its pursuit to overhaul this jarring work flow.
As a result, Oper8tor Conference can do the following:
Manage, schedule and track all participants in browser/app.

Simplify the sign up process for users.

Remember your device, meaning you only need to 'log in' once per device you use.

Allow the conference operator to pull every participant into the call via the push of a button (no more delays or excuses for slack users).

Users may create real time collaboration notes to other participants in the platform.

Simply put: Oper8tor Conference is the digital Swiss army knife your organisation needs.
To set up a conference, meeting organisers enter the details of every participant into the platform's clean UI. From here the organiser may schedule future calls for the group (regular conference call).
Once this is done the organiser sends invites to users, which generates a shadow account for each invitee.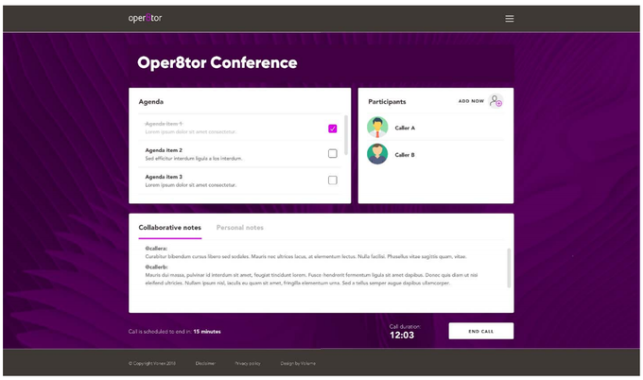 This is particularly important as it will reduce stress for non tech savvy individuals: there's no need for any user to manually sign up to the platform, it's all done for you.
Account details are auto generated by the platform's unique algorithm, with the event PIN emailed to each user.
The concept of a PIN is nothing new, but that hasn't stopped VN8 finding ways to improve this process. It has deployed a simple four digit PIN logic into its Oper8tor Conference platform, a system and algorithm that can facilitate over 10 million conference calls using their inbound ID.
In the event of an ongoing conference (e.g. scheduled for once per week), there is no need for participants to re-enter their PIN unless accessing the call from another device. Simply hop onto the platform and away you go.
If the above wasn't enough to make you reconsider your default conferencing platform, Oper8tor Conference takes it one step further.
There's nothing worse than slack co-workers who are routinely ten minutes late or experience 'tech problems'. To remedy this, VN8 allows organisers to 'escalate' or pull every single participant into a call at once.
This feature is a powerful tool for multiple parties working on a project across different countries or time zones, which is an inefficient and arduous task. No longer will video meetings between departments or different time zones lead to screen induced migraines and restless nights.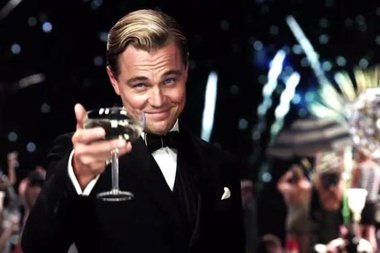 The range of tangible solutions are further complemented by VN8's exceptional real time collaboration tools, which may be the most impressive aspect of Oper8tor Conference.
As touched on earlier, a consistent challenge faced by any group executing a remote-call is taking notes.
We've all been there: you're trying to listen and type at the same time – smashing your keyboard profusely – only to be thwarted by another participant who cuts over the top to ask something else.
That won't be an issue under Oper8tor Conference.
With each user's comments or questions tracked in a different colour. These may be time stamped by the user to correlate with a certain question or discussion. In addition, participants may send private notes to the conference organiser or to themselves within the platform.
The best part? All of this can be referenced back to any time by any participant, thanks to Oper8tor's dynamic recording function. Each comment or question will appear as it did in real time.
If you're having trouble getting your head around what this ultimately looks like, a similar UI example can be found via the popular music sharing medium Soundcloud:

Considering the exceptional quality of life improvements Conference brings to the video conferencing scene, VN8 is well placed to make a sizeable dent in the burgeoning global video conferencing market, which was valued at US$4.98 billion in 2017.
But just in case that wasn't impressive enough, there's more...
Oper8tor Voice
Oper8tor Voice ties into Conference's real time collaboration tools to effortlessly transcribe conversations on the fly.
The important component is similar to Dragon and Windows Speech Recognition (current leader voice-to-text software) with the obvious advantage of being self-contained within the Oper8tor platform.
Oper8tor Message
As of June 1, there are over two billion people that use social media and over 60 social media platforms available. Facebook, Instagram, Viber, Telegram, WhatsApp, SnapChat, WeChat, LinkedIn, Skype, Zoom. The list goes on.
The industry was valued at US$33.8 billion last year, with the US accounting for US$9.4 billion alone.
If you happen to have multiple social media accounts (and most of us do), the mental energy required to stay on top of what's happening across these platforms is enough to make your phone melt.
Enter Oper8tor Message.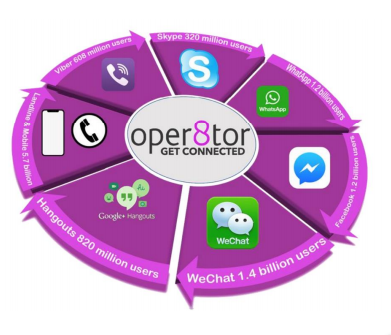 Message, just like Conference, has one core focus: centralisation.
Why toggle between numerous accounts at a time, when Message can aggregate them into one location?
Oper8tor Message will instantly sync all of your friends into one standard communication line. That means your messages and calls, regardless of what platform they are on, will be re-routed to Oper8tor Message.
This platform has extensive real world application and holds potential to drive legitimate disruption in the social media sector. Thanks to Message, users will be able to ping their connections on every single platform and medium they use at once.
Besides centralising all of your contacts in one easy to use location, Message has the added benefit of freeing up storage space and reducing processing demand on any device.
Now in the alpha (pre-beta) stage of development, Message will be the next Oper8tor component to undergo extensive QA and user testing when Conference is finalised.
As demonstrated in the video below by VN8 Founder and CTO Angus Parker, the core functionality of OPer8tor Voice is already working.
VN8 primed to make an impact
With CounterPath on board and the first wave of beta testing now underway, it's an opportune time to familiarise yourself with VN8.
Capped at just $20.4 million, and trading at $0.12 per share, the company's highly promising news flow combined with its strong debt free balance sheet means there's a lot to like about this emerging tech play.
It remains to be seen whether it can drive wide scale adoption of Oper8tor, but with its MVP soft launch pegged for early next year, it's going to be one hell of a ride.
Strap yourself in.
---