Can this ASX Junior Clean up in $15B Bioplastics Market?
PUBLISHED: 07-11-2018 10:03 a.m.
Texas is a big state — 695,662 sq. kilometres to be exact. Double that and you have an idea of how big the Pacific Trash Vortex is.
Simply put, the Pacific Trash Vortex is a pile of floating rubbish — mainly plastic — that's collected in the North Pacific Ocean, and it is devastating marine ecosystems.
The toxic effect on marine life is just one of the many damaging consequences of plastic's emergence in modern society. Plastics release harmful chemicals into soil that can seep into groundwater, cause dangerous levels of methane gas, it can be ingested by wildlife leading to poisoning or starvation. It's a global problem that desperately requires a solution.
Driven by heightened awareness around the environmental impacts of traditional plastics, bioplastics is one market set to experience huge growth going forward.
The global bioplastics market is already worth US$15 billion, yet it makes up less than 1% of the total plastic produced each year. By 2021, bioplastics production is set to grow by more than 50% to over six million tonnes per annum say peak industry body European Bioplastics.
As you can imagine, this still emerging market for bioplastics is opening up a lot of opportunities for producers of the environmentally friendly material.
Today's company is at the forefront in bringing bioplastic compostable films and resins into the mainstream to replace the widespread use of traditional petroleum based plastics.
It's producing a compostable film product line and developing a world-first breathable compostable film product line to meet a presently unmet need.­
The company is growing its business across three product areas: sustainable films used in packaging products for coffee, air pockets, nappies and other hygiene products; sustainable resins for biodegradable and compostable packaging; and waste management products to divert organic waste such as food away from landfill.
It has adopted a strategic focus on the high margin compostable resin corner of the market, and is developing a world-first breathable compostable film product line for the hygiene and medical markets.
The company operates an established business, meaning it is well ahead of any potential new entrants to the market. It has existing manufacturing plants, distribution channels, and partnerships with name brand businesses.
Having begun operations at a greenfield Malaysian bioplastic resin manufacturing plant in July of 2018, it is expanding faster than ever, ramping up the production of the higher margin biodegradable, compostable and hybrid resins that can be used to make sustainable hygiene and other packaging materials.
The new 30,000sq ft. facility is ideally located close to Malaysia's largest port, and will provide the company with additional capacity and sales to meet the growing global demand for bioplastics. This is part of the company's strategy of expanding further in the key markets of Malaysia, China and the US, where it already has strong foundations.
This is an established cleantech business, positioned in the rapidly growing global market for environmentally friendly bioplastic resins. And its biodegradable resin is seeing huge demand growth, as evidenced by the sharp rise in revenues in its bioplastic resin division — up 300% in the last FY.
Trading at just over 6 cents per share and capped at $17.4 million, today's company offers significant upside potential. And we don't say that lightly — this is the only business in operation that has the technical ability to turn compostable bioplastic resin into film at commercial levels.
With growing negative press around environmental damage caused by traditional plastics, the pressure is on to find environmentally friendly alternatives. And that's paying off for today's ASX tech junior.
Introducing,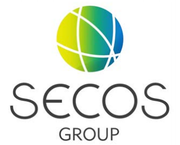 SECOS Group (ASX:SES) is a leading global producer of eco-friendly bioplastic materials from its proprietary bio-based resin technology. It's developing a world-first breathable compostable film product line that provides future opportunity to meet a presently unmet need in this market segment.
Based in Melbourne, SECOS holds a strong patent portfolio, supplying its biodegradable resins, packaging products and high-quality cast films to a blue-chip global customer base.
Along with its Melbourne headquarters and Global Application Development Centre, SECOS has a Product Development Centre and manufacturing plant for resins and finished products in Nanjing, China, with manufacturing plants for high quality cast films in Melbourne and in Kuala Lumpur, Malaysia.
SECOS also supplies resin to other manufacturers, and itself makes sustainable films and components for third party hygiene conversion in to products such as nappies, incontinence pads and feminine pads. These compostable resins are made with renewable content, using patented technology to achieve its customers' key performance requirements. The company supplies these bioplastic resins to manufacturers and works with its customers explaining how to use them in their manufacturing operations.
Through its Cardia Bioplastics line, SECOS also manufactures its own sustainable waste management products and biodegradable plastic bags, including dog waste bags, garden bags, and kitchen tidy and bin liners. Many of Cardia's finished bag products are being exported to the US and Australia's local government councils and pet supply companies.
Additionally, the company manufactures traditional plastic films for use in nappies and other hygiene products through its Stellar Films division. However the focus going forward is squarely on the higher margin bioplastics division, particularly compostable resins, with the Stellar Films Australian business currently undergoing a strategic review.
The company continues to take steps to cut operating costs and improve gross margins, via a number of cost reduction and efficiency improvement initiatives that are already paying off with some sharp improvements over the three years since the group was formed.
Going forward, SECOS see growth coming from three product areas:
Sustainable films – used in packaging products such as nappies and other hygiene products.
Sustainable resins – which support the move to earth friendly packaging.
Waste management – where compostability of plastics forms a key role in the diversion of organic food waste away from landfill.
Again, this is an extremely lucrative market to be in. Here's a visual representation of the forecast growth in the bioplastic-packaging market alone, which is forecast to be worth US$35 billion by 2025: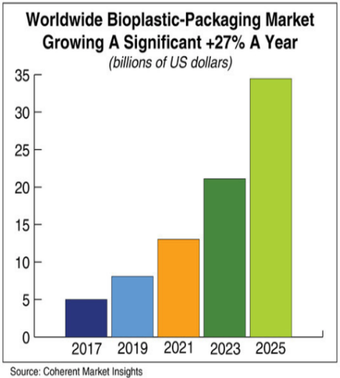 Eco-friendly changes are underway
The damage caused by plastics is certainly entering mainstream consciousness. It was certainly hard to miss the uproar over the Coles/Woolies removal of single use plastic bags from their stores earlier this year.
However, the decision to change over to thicker, multiple use (yet still traditional plastic) bags isn't a long term solution. The bags seem to be rarely used more than once and because they are thicker, take hundreds of years to break down.
The Greens are advocating for an outright ban on all single-use plastic bags. Plastic fresh food packaging, drink stirrers, straws and all single-use plastic bags would be banned under the Greens' policy — a step up from the Victorian state Government's proposed ban 'on some' plastic bags from next year.

SECOS' customers include Penrith council, with whom SECOS has a $1.5 million deal, as well as Albury-Wodonga who just renewed their annual orders worth $400,000-$500,000, with many other councils following by implementing their own waste diversion programmes. The councils are running out of land for tips, even with a sharp rise in tipping fees (as seen in the below chart), so instead they are issuing bio plastic bin liners to stop wheelie bins smelling in summer to support the diversion of food waste away from landfill sites.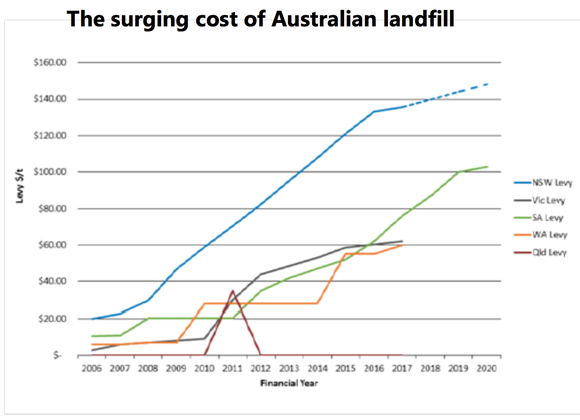 The compostable bags are used for food waste and can be disposed of in green bins. It is much cheaper to compost this waste than throw it away. Plus there's the issue of the toxic and dangerous methane gas created by landfill.
In the Melbourne suburb of Cranbourne, people in 400 houses were evacuated from their homes due to the risk of explosive levels of methane gas leaking into their homes. The flammable methane was leaking from a nearby landfill, which operated as a municipal tip until 2005.

Add to that China's ban on plastic waste imports that's putting pressure on Australia's landfill sites and forcing local councils to accelerate organic waste diversion programs.
This is far from just an Australian issue either, governments across the world are legislating against plastics. As well as in Australia, there are now bans on single-use plastic bags in Malaysia, Sri Lanka, Canada, China, the EU and USA with many local governments considering bans on the use of traditional plastics.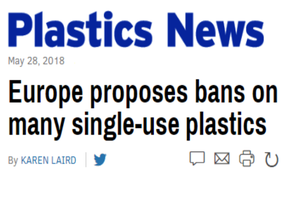 The move to eco-friendly pays off
Revenues, along with gross margins, have risen over the three years since the group was formed when Stellar Films and Cardia Bioplastics combined.
The company released its September quarter cash flow statement on October 31, and it highlighted some very positive developments.
Yet, it's only this past year that the company has realigned its primary focus on what is now the most lucrative slice of the business — its compostable resins and films.
Bioplastic sales for the quarter were up 39% on the prior year to $1.7 million, while cash flow improved by $0.5 million on the September 2017 quarter. However, the stand-out result was the growth in the company's bioplastic resin sales, which grew by 296% on year to $0.4 million.
Keep in mind that bioplastic resin production only began at SECOS' new Malaysian bioplastic plant in July of this year, with initial orders delivered to local customers during October after extensive product trial and qualification requirements were satisfied.
With growth like that, it's no surprise that SECOS is now ramping up production to meet the growing demand.
As you can see in the chart below, SECOS' bioplastic sales are growing at a rate of over 90% per year, making up an increasingly larger share of revenue generation. Bioplastic sales are estimated to hit $11.6 million in the 2019 financial year, taking total sales to $28 million that year.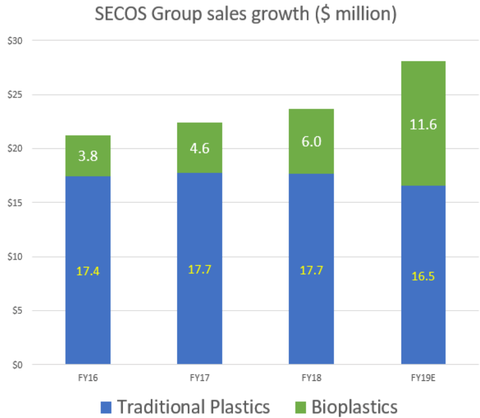 Clearly, bioplastics is where the company is anticipating strong growth going forward. That's backed up by the global move to more eco-friendly materials, and from the positive feedback that's coming in from SECOS' prospective packaging customers in the US, Europe and Asia.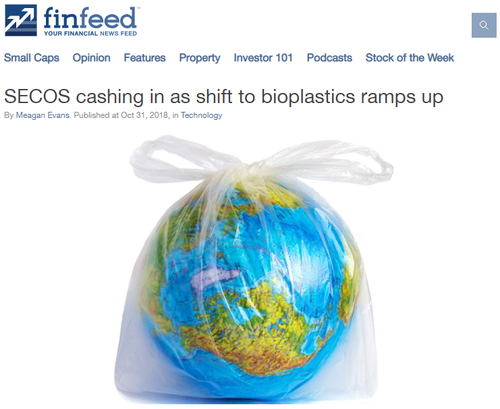 Another important trend to note is SES's gross margin and operating expenses. Its gross margin improved over the past three years from 6.7% in the 2016 financial year, to 11.2% in 2017, and 12.9% in 2018, as operating expenses were reduced from $6.0m, $5.6m, and $5.2m, respectively.
These figures should continue to improve as SECOS shifts the balance towards the higher margin bioplastics division, and especially the resins division.
SECOS also expects to benefit from an improved Nanjing plant, which it will run at a lower cost and higher capacity.
The company is concentrating on Organic Waste Diversion programs across Australia, NZ, Europe and USA, but also plans to grow domestic sales in China, with its newly appointed sales team to generate additional sales. It also wants to grow sales into emerging markets of India, South Africa, Middle East, UK and Spain and has appointed new distributors to identify opportunities.
Consumer demand continues to grow for compostable hygiene products, with feminine care and baby diaper products a key addressable market. SECOS is clearly taking steps to position itself to benefit from this major market as it shifts toward sustainable and bio-based solutions.
Malaysian bioplastic resin plant is ramping up production to meet growing demand
Having established a greenfield manufacturing plant in Malaysia back in July, the company is ramping up the production of the higher margin biodegradable, compostable and hybrid resins that can be used to make sustainable hygiene and packaging materials.
Malaysia is a global plastics and bioplastics manufacturing hub and this addition will see SECOS keep up with an extensive order pipeline from existing and new customers globally.
The new facility in Malaysia has been up and running since July. The resins-only plant is located in Telok Panglima Garang, a suburb of Kuala Lumpur, and will produce both bioplastic and compostable resins, with an initial capacity of 3,000 t/y. This newly commissioned plant has resin production capacity to drive resin sales sevenfold, from the current annual revenue run-rate of $1 million, to more than $7 million by June 2019.
And there's certainly no shortage of customers, with the company noting the strong forward order pipeline from existing customers. Then there's the more than ten potential new customers throughout Asia and the US that are currently trialling SECOS' resin in their manufacturing.
Notably, SECOS is the only bioplastics resin producer in Malaysia with BioNexus status, providing government incentives to promote growth.
Another not so obvious benefit here is that supplying bioplastic resin to US customers from Malaysia circumvents the recently-implemented 25% tariffs on Chinese goods.
The company is currently reviewing its Australian operations which could lead to greater use of the existing Malaysian and Chinese operations to improve productivity.
Major customers in high growth market
SECOS has an established blue-chip traditional hygiene film customer base in its Malaysian operations and can now offer these customers the unique opportunity to transition to bioplastic film sales.
The company also has a number of major customers in its other bioplastic products. SECOS sells its resin to a blue-chip customer base, including two of Malaysia's leading bag makers, with several additional large bag makers in the pipeline.
One of these leading Malaysian bag makers, Velson Packaging, is using commercial volumes of SECOS resins to supply compostable bags to a range of household-name international retail chains, including 7-Eleven, KFC, Chili's, SECOS Group (ASX:SES) LuLu and many more.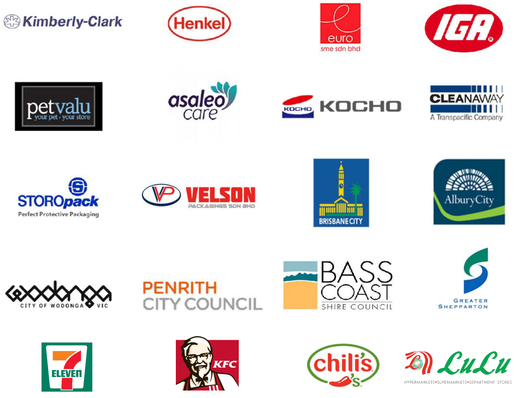 Other major users of SECOS' products include Walmart (NYSE:WMT), Pet Valu, and Henkel (ETR:HEN3), for its biohybrid films and resins. While customers for the company's compostable films and resins include Sealed Air (NYSE:SEE), Cleanaway Waste Management (ASX:CWY), Storopak, Breville (ASX:BRG), and Costco (NASDAQ:COST).
Strategic review of Stellar Films
With its focus squarely on the eco-friendly and high margin bioplastics divisions, SECOS is undertaking a strategic review of its Stellar Films Australian traditional plastic film division. The outcomes of this review are expected to significantly improve the company's performance by strengthening its focus on bioplastics while reducing exposure to underperforming traditional plastics, and drive significant fixed cost savings and improved margins across the wider business.
The company provided an update on the review on October 19, highlighting that SECOS can achieve significant operating and overhead cost savings by moving the company's current traditional plastic film production from its facility in Melbourne to the company's production facilities in Malaysia.
Based on the initial findings, the Board estimated this would result in it realising recurring cost savings of approximately A$1.0 million annually.
SECOS expects the review to result in improved performance by shifting away from low-margin, capital intensive product segments and boosting utilisation of its successful Malaysian and Chinese operations.
A Final Word
SECOS is developing a world-first breathable compostable film product line that provides future opportunity to meet a presently unmet need in this market segment.
It's opportunities like these — a company with all the pieces required for success, backed by exceptional growth prospects for the wider industry – that are worth consideration.
What's also reassuring is a high rate of management ownership — something that's always well received by shareholders. SECOS management team and staff own a 33.6% slice of the company, while over 21% of the shares are held by international (mainly US) investors attracted to the global opportunity that SECOS represents.
On offer is a unique opportunity to participate in a growing business in a newly emerging sector. With global bioplastic production still making up less than 1% of all plastic produced, it's hard to argue that this isn't a lucrative industry to be exposed to.
Fuelled by the global trend toward sustainable packaging and with its already impressive sales growth momentum and newly acquired Malaysian plant, the company seems to be attractively priced — at just 6 cents per share, with a $17.4 million market cap.
---