Breaking Revenue Records and Slashing Costs: Is NWZ Set to Take a Leading Position in the Global Media Revolution?
PUBLISHED: 11-03-2016 09:50 a.m.
News broadcasting will soon join the modern digital age in the same vein as most other industries and sectors.
Hoping to lead the way is Newzulu (ASX:NWZ) who have been busy over the last month, building partnerships and signing agreements that it hopes will increase revenues and revalue its stock.
Since we last connected with NWZ, it has pulled off a major coup and appointed the very well connected Charles Koones as an Independent Chairman in the USA to oversee its operations. Mr Koones was President and Publisher of media icon Variety and will assist NWZ to reach its sales and revenue goals.
It also further restructured its operations to deliver better growth and further reduce costs.
NWZ has been tweaking its operations for some time and it appears to be working...
Cash receipts are up 736% for the half year compared to the previous year, and revenue is up 518%
You can get the full run down of what NWZ has in store for investors straight from the Managing Director, Alex Hartman, in this video :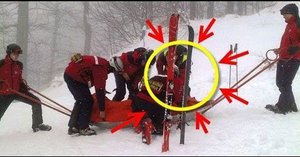 Since then, the company has signed a partnership with Spanish language media giant SWS and signed an agreement with Crowd Mobile (ASX:CM8) – who regular readers may be familiar with...
For investors, NWZ presents an early opportunity to back the growing demand for unique content that can only be provided by citizen journalists and crowds, and a possible ground floor entry level.
Services such as YouTube and Wikipedia have proven that when you hand the reigns of producing content to the masses, they often generate surprisingly popular and inventive media.
What this means for consumers is that prime time news bulletins will continue their evolution from a simple, linear bulletin that had to scripted and polished before going live on air...
...into a dynamic alternative that offers a broader range of content to suit different tastes and fancies within the news genre.
NWZ is fully committed to delivering the change people want to see, and its revenues are perking up nicely as a proof of concept.
However, this is still in its early stages of development and caution should be applied if considering NWZ for your portfolio.
We check in on:

OTCQX:NWZLY
In broad strokes, the past, present, future of news broadcasting looks a little like this: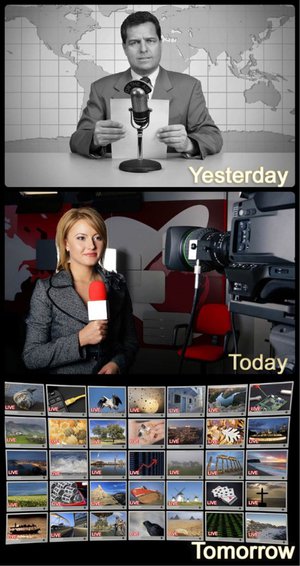 What's news for some is old news for others which is why choice and convenience are the key aspects for crowdsourcing pioneers like NWZ.
This trend is being witnessed in several sectors because the technology now allows for a mass adoption of digital devices such as phones and tablets that are HD, broadband and GPS capable.
The eye watering level of digital device adoption and subsequent inter-connectivity with other devices since the late 1990s has meant the average person can shoot 1080 video directly from their smartphone and seamlessly transmit that footage in real-time to anyone else with a smartphone, anywhere in the world.
In 1995, even international broadcasters with billion dollar budgets couldn't do that.
Whereas today, you the reader can give citizen journalism a go by downloading an app from an app store.
Wonders will never cease
The technological bells and whistles of tomorrow's world are already ringing and whistling today.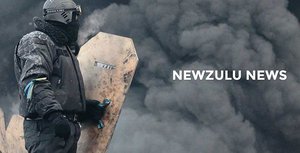 Today's smartphones can record and transmit HD content as standard
Could you have imagined being able to transmit HD-video in real-time even just five years ago?
Probably not.
And here's how one person can achieve what would otherwise be done by several people. It's all about the technology:

Ten years ago mobile phones started using colour screens.
While 15 years ago, the definition of a cutting-edge, state-of-the-art phone was this: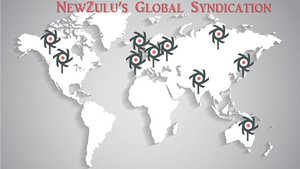 Technology has come on leaps and bounds and NWZ has joined the party by selling user-generated content into a gaping market currently short of crowdsourced content.
So with all that in mind, NWZ has put itself into a position to potentially dominate this emerging niche market by being the only ASX-listed company that's focused on crowdsourcing news content.
Although at the same time, there is no guarantee NWZ will be successful – so caution is advised and it's recommended that professional advice is sought with regard to this investment.
Globally, there appears to be very few other competitors.
Periscope is one example – it was purchased by Twitter for a reported US$100M and now has 10 million users – including Barcelona FC's Gerard Pique .
Here are some of the other contenders vying for the crowdsourcing crown...
...although as you can see, NWZ's overall package is comparatively better: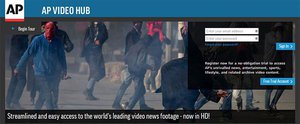 This is the sort of technological supremacy that will give NWZ more than a fighting chance to beat its rivals to this story.
NWZ wants to become a fully-fledged news agency that stands shoulder-to-shoulder with the world's big three: Associated Press (AP), Agence France Presse (AFP) and Reuters, with whom it already has partnerships.
The only difference being that NWZ sources news from crowds while its peers rely on reports, film crews and football field-sized editorial desks.
One of the more pleasing aspects for NWZ is that the sprawling digital revolution puts its own business operations on an organic growth path, inherently leveraged to more people using smartphones and sourcing more content directly from the scene of the action.
The following is an example of what driving NWZ forward.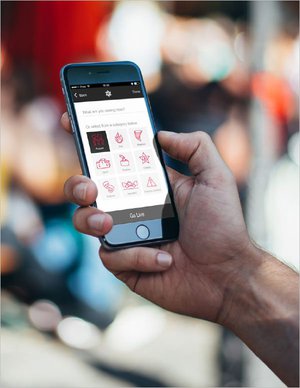 Now let's go through NWZ's business plan to see whether this crowdsourcing revolution has legs.
Starting with history
NWZ's history is rather intriguing in its own right.
We've been covering its exploits since mid-2015 when we published our article, ' Is this ASX Company the Future of Global News? '.
Since then, NWZ has been putting its business development wheels into traction by signing partnership deals, completing takeovers and building out a broad range of services it can offer – all based on content submitted by its horde of 37,000 professional journalists and 250,000+ affiliated users.
Here's a timeline of NWZ's development: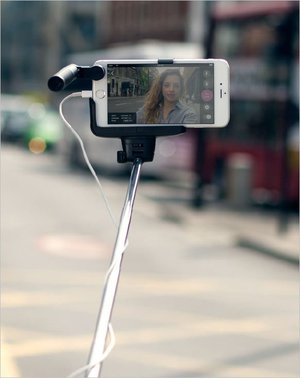 Over that time, NWZ has gone out on a limb as the only public crowdsourced news company.
It was a big risk, but it's now starting to pay off with early indications suggesting NWZ could achieve positive cash flow and start booking profits as early as this year.
Here are NWZ's financial metrics, in a condensed format showing a comparison between H2 2014 and H2 2015.

NWZ's revenues have grown substantially from $242k in 2014 to $1.5MN in 2015 – that's a 518% increase year-on-year.
Cash receipts over that time (not shown on table) rose 736% while its run-rate revenue is now $4.9MN per year, up 45%.
The above statement underlines NWZ's gradual transcendence from a loss-making business in the early stages of growth, to hopefully a profitable business in the long-term.
Results are improving each quarter, while costs and losses are gradually falling.
The improving results have been further bolstered by a range of cost-cutting measures implemented by its Board.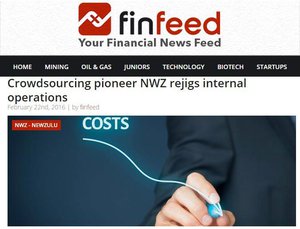 One key element for us here at The Next Tech Stock , was seeing NWZ Managing Director Alex Hartman voluntarily reduce his remuneration package alongside several other important business tweaks...
...if Management and Board figures are sacrificing their own personal stakes in order to help the business, it tends to be a positive sign that confidence and belief in the business is strong.
Let's take a look at NWZ's revenue model again, and also its component business units that are currently driving the business.

NWZ makes money from selling crowd-sourced news with a revenue share structure for all those involved.
NWZ also sells packaged news directly through partners such as Getty Images, VideoPlugger, AAP and Agencia EFE.
And soon, Australia's national broadcaster, the ABC, could be getting in on the crowd sourcing act, after a successful Australia Day trial of NWZ's potential.
Last but not least, NWZ also offers direct services to businesses that want to use crowd-sourced content in their advertising or PR material.
In order to roll out its services effectively and as far as possible, NWZ has created four divisions within its business:

NWZ boasts a community of 37,000 registered professional and amateur journalists, videographers and photographers that submit news stories as they break. As contributors send in their content, NWZ sells the content to interested partners and then splits revenues with the content providers.
You can find out a bit more about that via this interview with NWZ's Editor-in-Chief, Laura Placide.
NWZ's state of the art content validation technology, which NWZ acquired via acquisition of French company Citizenside in 2013, was developed in conjunction with French press agency, Agence France-Presse (AFP).

The Newzulu Platform is a web-based software for gathering, organising and broadcasting User Generated Content (UGC) at scale.
The Platform allows organisations to put together a UGC campaign within just a few minutes. Platform solutions range from embeddable widgets to full white level user-generated news community platforms, mobile apps or SDK.
At this stage, software licensing for the technology platform accounts for 60%-70% of NWZ's total revenue, so it's a valuable part of NWZ's revenue generating strategy going forward.
NWZ's platform clients include Fox, Hearst, CBC, Scientific American and Comcast.

Possibly NWZ's most exciting feature from an end-user's point of view is Newzulu Live.
The service allows anyone with a mobile phone to record and transmit live breaking news directly to NWZ's studio for direct retransmission or archiving to be sold at a later date.
Harnessing live mobile video for news outlets is what NWZ does best and it's proving to be a hit in NWZ's primary markets: the US, Canada, Europe, UK and Australia.

Since its launch in 2014, NWZ's Prime service has already produced cutting edge, crowd sourced video for notable names such as Nokia, Microsoft, Michelin and Essilor.
Prime represents a high value, tailored product offering aimed at corporates and large businesses that would like to use crowdsourced content for a wide range of practices including PR, advertising, marketing, internal training and sales tools for their broader operations.
In its latest actions, NWZ has plugged itself into yet more partner networks...
NWZ is continuing to push into new territories and market segments.
We've already seen NWZ heave its content into Russia , Australia , Jamaica , Italy and Latin America in recent months.
A recent deal signed with Crowd Mobile (ASX:CM8) will see the two ASX upstarts NWZ and CM8 collaborating to integrate the Crowd Experts Question & Answer (Q&A) service powered by CM8 into NWZ's current news application available on iOS and Android marketplaces.
CM8's Q&A service gives users the ability to put questions of their choice to experts on news and current affairs in exchange for a small fee. The answers provided are personalised with charges levied on "fee per question basis".
You can find out more about CM8 in our original Next Tech Stock article on the company New ASX Tech Company has the Answer?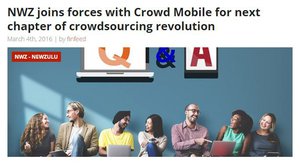 NWZ says that all questions will be answered in "near real-time" by NWZ's global community of freelance journalists and news subject matter experts, with NWZ and CM8 sharing revenues on a 80/20 split in NWZ's favour.
This deal again highlights the dynamic nature of the digital revolution where companies often synergise with each other on-the-fly as opportunities present themselves.
For NWZ, that means plenty of future partner opportunities, while for tech investors, it's just a great habitat for future catalysts.
Although any catalysts are speculative at this stage and caution must be applied of considering this stock for your portfolio.
From old news to news
News broadcasting is following other industries on the glorious march online, in search of e-commerce opportunities that are global rather than local.
NWZ is a first mover in the space, armed with proprietary technology and a database of content that is waiting to be properly catalogued, presented and sold.
NWZ's revenues are slowly climbing while its costs are being reigned in, as its strategy is rolled out and monetised. Importantly NWZ has established relationships with news agencies (Reuters, AP, AFP) who can share its content.
The online revolution is proving that as long you have the substance, you can deliver a substantial arsenal of content.
NWZ is currently delivering its content to over 37,000 people and the number is growing by the day.
One man who may know something about media, news and broadcasting is Mark Scott, current Managing Director of the ABC Broadcasting Corporation. He's held the post for 10 years and will move onto greener pastures later this year...
...but what does he think the future holds for media broadcasting?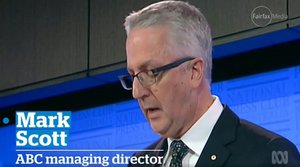 In a speech titled ' One Sure Bet: The Future of Public Broadcasting ' to the National Press Club in Canberra, Mr. Scott delivered a rude awakening to those expecting traditional news broadcasting to remain unchanged over the coming years.
His view is that fast broadband and the ubiquity of mobile devices will possibly/inevitably lead to the demise of several national newspapers, bring about smaller newsrooms and reduce advertising revenues for broadcasters.
If you have an interest in broadcasting per se, it's a speech Mr. Scott could have only given if he was already on his way out.
It underlies the fact that industries of all types have been smacked in the face by the digital revolution, so even the ABC has to adapt to survive.
Here are some of the highlights: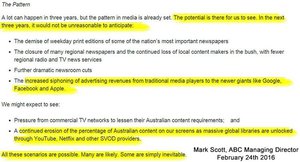 And how does he see the ABC making ends meet?
"The greatest challenge to the future of the ABC, ironically, comes from those who fund it on behalf of its owners. Today's Government [and] Future Governments," he says.
If there's one thing we're wary of here at The Next Tech Stock , is when someone or something pegs their future success on government intervention or financial support.
Australian solar panel salesmen know exactly how that feels, and it would seem national broadcasters are now following the same route.
Good luck with that.
But in the meantime, an ASX-listed modern alternative that stands on its own two feet on the global stage, while offering a new breed of content delivery, is standing by to take advantage.
Tune in.
---