ASX Tech Junior: Final Nail in the "Bricks & Mortar" Retail Coffin?
PUBLISHED: 11-06-2014 19:29 p.m.
Online retail spending in Australia has just passed $15 billion. $15BN – all of it spent with the click on a computer mouse or a tap on a smart phone or tablet – and that $15BN represents just under 7% of Australia's total retail sales. A good result – but nowhere near the level of e-commerce in the USA, Europe and Asia. There are predictions online sales could be worth $370BN in the states by 2017 and rise to $212BN throughout Europe by the end of 2014. In Asia, e-commerce is worth much more – $525BN – and rising! Just a few hundred kilometres down under, Australians have been a little slow in adapting to the idea of e-commerce. But that's changing rapidly – the push through the $15BN mark is a sign that Aussies young and old are embracing e-commerce more and more – and the markets and big name retailers are taking notice – and action. IBISWorld's annual report on Australia's e-commerce sector shows online sales growing at 24.1% between 2009 and 2014. PriceWaterhouseCoopers reckons online retail's revenue in Australia could hit $21.7BN by 2015 and keep rising to $27.5BN by 2017.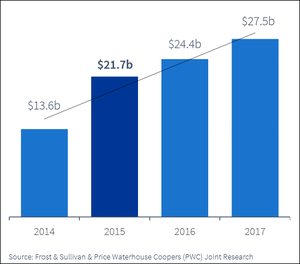 The National Australia Bank says domestic sales – rather than those brokered by overseas websites – now account for 74% of all online transactions in Australia. The gap between Australia's e-commerce spend and the rest of the developed world is huge – but instead of seeing an empty space, we see room to grow. Loads of it. E-commerce is the hot spot for retail growth in Australia. It's certainly possible that E-commerce's 7% of all sales in Australia could one day be 70% of all sales... Right now scores of conventional retailers are hustling hard, trying to position themselves to ride the rising wave of Aussie e-commerce spending, setting up websites for their inventory and digital pay walls. Good for them. But The Next Tech Stock has been alerted to a company that's got its sights set a lot higher. This company aims to build a retail empire totally dedicated to online shopping. It's just completed a spate of acquisitions of small and medium sized Australian online retailers covering consumer electronics, homewares, kitchenwares and even baby products! All the big ticket items that online shoppers click to buy again and again and again. These purchases have brought hundreds of thousands of customers into its orbit and millions of dollars in revenue onto its books. The next step is to bring them all together and create Australia's ultimate online department store – a one stop shop where online consumers can find anything and everything they want and buy it with the simple click of a button. An infinitely scalable digital department store. This isn't a start-up. This is an ASX listed, established company, with existing revenue, pursuing a clever strategy to evolve with the times and master them. At The Next Tech Stock we think the time has come for Australia's online shopping sector to go from the margin to the majority – and we're hopeful that the company we've just added to our portfolio as a long term hold is going to be one of the big players: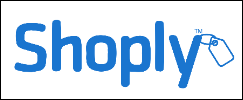 Are you an SHP investor and want to spread the word?
Get the message out there – make sure everyone knows about SHP and share this article by clicking the buttons below: [sd_share_article title="ASX Tech Junior: Final Nail in the "Bricks and Mortar" Retail Coffin?"] Shoply Limited (ASX:SHP) is an Australian online shopping and advertising company with a market cap of around $9M. Very soon, SHP will simply be known as a pure play online shopping business . SHP is no group of teenagers in their bedroom. The Board of Directors and Senior Management is highly experienced:
Domenic Carosa is on the Board – when Domenic was 25 he became Australia's youngest publicly listed CEO in Australian history. As a young whiz kid he built his company Destra to annual revenues over $100m, with Lachlan Murdoch as a shareholder. Now older and wiser, Domenic runs an investment fund, Future Capital – focused on high growth internet companies – like SHP.
CEO Simon Crean is a highly experienced in tech, including positions with Looksmart, Ericsson, destra, Mercury Mobility and most recently as Vice President (Product) at Effective Measure , a Silicon Valley backed company operating in 28 countries.
SHP is embracing online commerce lock, stock and barrel with a clever strategy of snapping up small and medium scale internet retailers in the growing Australian online market place. SHP is harnessing the existing customer bases of its online retail acquisitions with the aim of eventually combining them all under one roof – or website in this day and age! SHP owns ezydirect.com.au which supplies office technology, eljo.com.au which sells electronics and white goods, ohki.com.au which sells just about everything and wowbaby.com.au which of course sells baby products.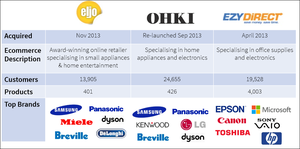 SHP just acquired warcom.com.au to add to their ever growing list of acquisitions:

Warcom.com.au sell IT supply equipment online – With this acquistion, SHP have added a further 55,000 customers to its total base. Warcom.com.au has annualised revenues of approximately $2M. Ezydirect.com.au can now be consolidated with Warcom.com.au to take an even bigger slice of the market... But the big news is that SHP has just paid $2.85M for an Australian online retailer who generated approximately $1M in EBITDA from a revenue of $12M in FY2013 – Your Home Depot: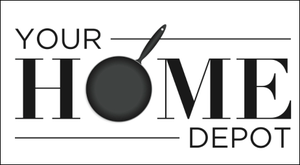 Your Home Depot is a bustling online business that sells everything you could possibly need in the modern kitchen. It focusses on high end kitchen products – hence the $12M in revenue from Australia's growing army of foodies who spend $2.3BN on homewares and home appliances!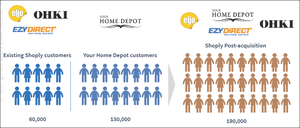 Your Home Depot was built up by a couple from Hong Kong who took it from a bricks and mortar shop to an online success story. But then they hit the ceiling. Growing an online business from medium to large is difficult. Enter SHP who was more than happy to buy the owners out and take Your Home Depot to the next level. The purchase brings $13M in revenue to SHP's books and gives them access to 130,000 customers. Add that to the revenues and customers bases it's already got with its other acquisitions and you can see the trend that's developing. Consolidation. Bringing them all together so it can dominate. With its existing stable of online retailers, SHP now has a finger in three of the four biggest pies in the online market. Homewares, electronics and recreation.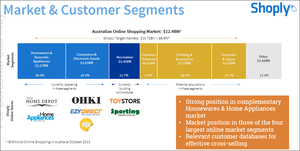 The goal right now is set these acquisitions up as a solid base. From there, SHP could branch out into other areas like cosmetics, groceries and liquor so it has total coverage of the digital market in Australia. Another plank of SHP's strategy is to acquire domain names – internet addresses – that it can use to funnel inventory from its new brands and branch out in new areas. This is the organic part of SHP's retail strategy, allowing the development of its own sites in addition to the ones it simply buys. All of this is being done so SHP can set up an online department store – shoply.com.au – where all of these brands come under the same umbrella. More on that later. In this article The Next Tech Stock is going to explain in detail: Ÿ The trends and factors driving Australia's growing e-commerce market; Ÿ SHP's acquisition and organic growth strategy; Ÿ SHP's plans to create Australia's ultimate online department store, and; Ÿ Who the competition is and how SHP stacks up. It's worth noting that the company has options (ASX:SHPO) to expire, excisable at 1.5 cents, on or before June 30 th , 2014. If these options are completely exercised, SHP stand to raise over $1.5 M. This can be added to approximate existing cash reserves, which as of the end of the last quarter stood at $2.84M .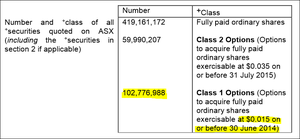 In the following section we will run you through why we have added SHP to our portfolio, as they lay out their vision for the future of Australia's e-commerce sector.
Get exposure to growing Aussie e-commerce
SHP's strategy is to use all of its online retail acquisitions, especially Your Home Depot, to establish a solid base of revenue and grow their online presence and sales. From there, SHP plans to acquire more and more online retail sites and add them to the mix, growing its customer base until it becomes a dominant online retail player. All of these websites will soon come under one roof – shoply.com.au.

The reason SHP can snap up so many quality online retailers for milk money is that it is a relatively easy process to get involved in online retail. You get products, set up a website and you're away. Simple. But it's not that easy to be a big success. Going from a small online retailer to a medium one takes hard work. Going from medium to large takes even more hard work – and a lot of investment. This is where SHP comes in. It's a company with revenue from its advertising business and a growing online retail wing. It can snap up the little success stories of the Australian internet and add them to its own tale.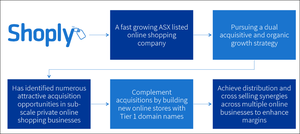 Australia is one of the last nations in the world with a highly developed economy that still has a largely untapped e-commerce sector. In Australia the sky is still the limit. It's a growing market, not an established one. Online retailers were probably popping champagne corks when NAB announced Australia's e-commerce spend went through $15BN. But they are keeping a few bottles on ice. $15BN is peanuts compared to the USA... IBISWorld reckons e-commerce down under is growing at a rate of 24.1% and is worth around $12BN – a little less than the $15BN the NAB is saying. No matter. The growth rate is what's important.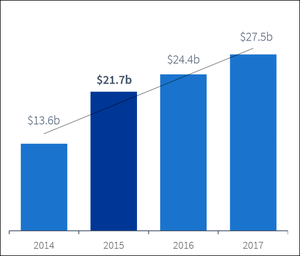 IBISWorld reckons there are over 38,000 businesses selling things online in Australia and more and more are joining the party with enterprise numbers growing at a rate of 16.3%. E-commerce is growing down under and growing fast. No wonder. Internet connections are on the up and up in Australia. Plus, IBIS says the younger demographics in Australia are more likely to spend their time and money online – and every day there are more and more young people entering the online retail space. NAB agrees. It says media, department stores and groceries are the major online spends in Australia and the market is being driven by people aged between 25 and 54.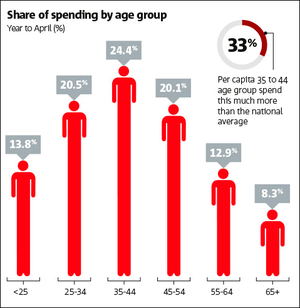 SHP's company acquisitions reflect this – it has electronics, home goods, baby products and kitchenware covered – the very sorts of things all of these demographics will buy – and increasingly buy online. But it's not just the young ones spending big online. Over 65s in Australia spend more than their children and grandchildren – notching up the fastest growth rate in online spending than any other demographic.

So it's not just a young person's game. Online is the future for everyone, and today's teenagers buying things online will one day be grandparents buying things online. SHP is determined to the one brokering the deal! Another factor in SHP's favour is its base of operations on the east coast of Australia. SHP is a Sydney and Melbourne focussed company in terms of its supply chain, warehousing and corporate leadership. Its online presence is national, but physically, it's an east coast company.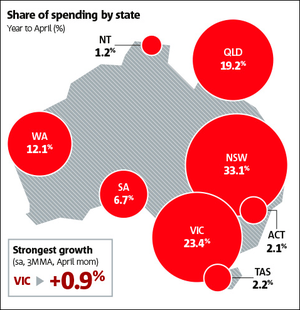 The vast majority of Australia's e-commerce sales are done in the east, especially in New South Wales, the most populous state in Australia where SHP expects to do lots if business. SHP has seen this wave of opportunity coming and is setting itself up for the long run. By pursuing its strategy of growth and acquisition while the Australian e-commerce sector is still relatively small, it's setting itself up as a pioneer online retailer. It's not the only one doing it either – check out all of this M&A activity down under: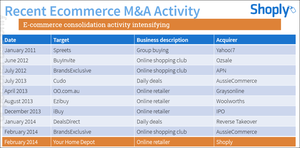 Yahoo!7, Woolworths, Ozsale, loads of major retailers are buying up online sales space. In ten years' time e-commerce could be the dominant form of retail in Australia with the old bricks and mortar department stores like David Jones struggling to compete with the massive online retailers who don't have to pay rent for a shop front. Now you can see the possibilities for SHP. In the next section we will dig into their tactics.
Our Track Record:
Did you see The Next Oil Rush article
on Tangiers Petroleum (ASX:TPT)? TPT has traded as high as 75% since:

Chart Source: Etrade.com.au
The past performance of this product is not and should not be taken as an indication of future performance. Caution should be exercised in assessing past performance. This product, like all other financial products, is subject to market forces and unpredictable events that may adversely affect future performance.
The Empire Shops Back
The big selling points of online shopping are ease and freedom. Instead of packing the kids into the car, driving to the shops and fighting your way through the crowds you can just open one of Shoply.com.au's online destinations and have a look. A click of the mouse here and there and the product is on its way to your door. Easy. The other advantage, freedom , is even better. Online you aren't limited by what the physical shops have in place. You can look for anything and find it – and as SHP brings more and more online retailers with all their different products under its digital roof it will be able to offer almost limitless freedom of choice to its online customers. Try getting that in a shopping centre! SHP's vision is to create Australia's ultimate online department store; something that will give the slow moving old bricks and mortar companies such as Myer and David Jones a real run for their money. It has a two-pronged approach to do this. Acquire up and coming online retail companies and absorb their user base and profit models. Then grow them.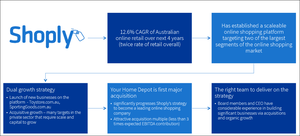 The crucial factor in making a profit in e-commerce is volume of sales . The margins on a lot of the goods for sale online are tight and competition is fierce. So the big battleground is volume, selling as much as you possibly can – something made easier if you have more than one place to sell your stuff from. That's why SHP is buying as many online retailers as it can – to absorb their volumes of sales, customers and inventory. SHP has snapped up five Australian online retailers in the past ten months plus a bunch of website domain names... judging by SHP's business model we would expect more to be announced over the coming months.
Your Home Depot
SHP paid $2.85M in cash for Your Home Depot's assets which includes a high turnover stock inventory, 130,000 customers and $13M in revenue.

Plus, it got Your Home Depot's supply chain infrastructure in New South Wales, Australia's most populous state, and the biggest state market for online shopping. We'll get into the logistics later. You can read all about the deal in SHP's corporate presentation. But the gist of it is Your Home Depot is a leading online retailer of kitchenware, homeware and home appliances founded in 2003 with over 3,000 items on sale. Most of the things it sells are high end. Check out the brands Your Home Depot offers: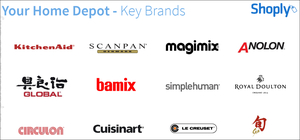 You will find those brands in upscale kitchens. Your Home Depot made a profit of $780K in FY2013 so you can see it's a lucrative market to target. Now have a look at what happens when you combine Your Home Depot's assets to SHP's.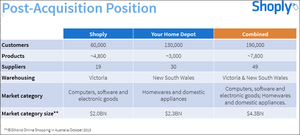 SHP just jumped from dealing in a $2BN market category to a $4.3BN one, doubling its number of suppliers, more than tripling its number of customers, and almost doubling the number of products on offer... The Your Home Depot acquisition is the icing on a cake SHP has been baking for the past 10 months. It's snapped up four small scale online retailers to build a solid base and with the addition of Your Home Depot it's got a big serving ready to go. In the next section let's take a quick look at the smaller pieces of the cake.
Our Track Record:
Did you see The Next Oil Rush article on Real Energy (ASX:RLE)? RLE has traded as high as 40% since: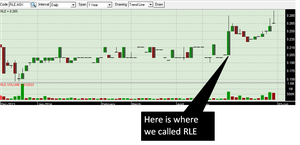 Chart Source: Etrade.com.au
The past performance of this product is not and should not be taken as an indication of future performance. Caution should be exercised in assessing past performance. This product, like all other financial products, is subject to market forces and unpredictable events that may adversely affect future performance.
Ezy Direct
Ezy Direct sells electronics and office equipment through its website ezydirect.com.au. Whatever you need for the office, Ezy Direct sells it, from printers to notebooks.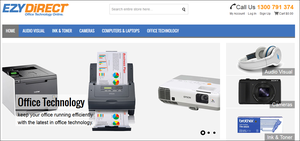 At the time of SHP's acquisition (prior to the company's name change) it had 16,000 items for sale, $450,000 in revenue for FY12 and 12,000 customers.
Ohki
Ohki is another electronics retailer but more focussed on home goods like televisions and kitchen appliances through its website ohki.com.au.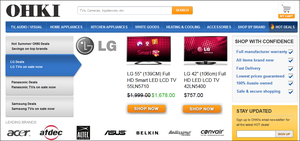 It had revenues of over $350,000 in FY12, along with 2,000 items for sale and over 30,000 people in its subscriber base. SHP picked it up in May last year prior to the company's name change.
Eljo
Eljo is an online retailer that also specialises in electronic goods – notice a trend here for SHP? It sells its items through its website eljo.com.au.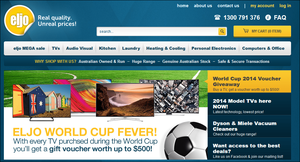 The revenues for Eljo are a step above the others though. $3.6M in FY12. SHP picked up this website up for $50,000 cash and $50,000 in shares.
Wow Baby
The last in SHP's series of online purchases (so far), Wow Baby, sells baby products at wowbaby.com.au .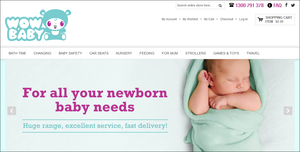 The purchase of wowbaby.com.au signals SHP's entrance into the recreational goods segment of the online market. The online baby products sector is worth over $315BN (IBISWorld figures) and the Wow Baby purchase will help SHP tap into it. But the Wow Baby deal also signals another aspect of online sales SHP is targeting – in the next section we will explain more...
Our Track Record:
Regular readers are well aware of The Next Oil Rush 'tip of the decade' – TSX:AOI – Back in February 2012 The Next Oil Rush called it at around CAD$1.8 and it has been as high as CAD$11.25 since – that's over 600%!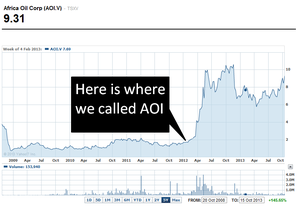 Chart Source: au.finance.yahoo.com
The past performance of this product is not and should not be taken as an indication of future performance. Caution should be exercised in assessing past performance. This product, like all other financial products, is subject to market forces and unpredictable events that may adversely affect future performance.
Tier one domain names
A domain name, in case you are a time traveller from the 1940s, is another term for a website address. Good domain names are worth big bucks. The most ever paid for one was $49M – carinsurance.com. They are so valuable that internet people sometimes buy them as investments. SHP has bought three very high quality domain names that it will use to funnel products and customers from its online retailers through. toystore.com.au is the first – this can utilise a lot of stock from Wow Baby. When it's ready SHP says it will use the supply chains and customer relationships it's established with Wow Baby to further leverage its play in the recreational goods sector of e-commerce and make toystore.com a huge online retail destination.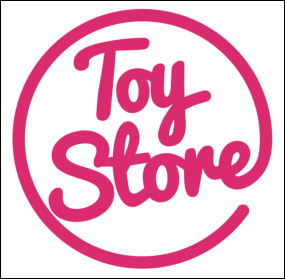 Another domain name is sportinggoods.com.au which will sell, you guessed it, sporting goods. Alongside toystore.com.au this domain name is a big part of SHP's strategy to get into the massive recreation sector in Australia. The next domain name is homeappliances.com.au.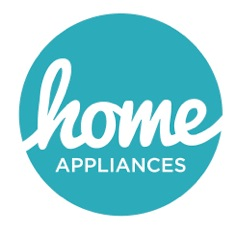 This is why SHP has been so carefully acquiring all of those electronics retailers. Your Home Depot, Eljo, Ezy Direct and Ohki each have inventory and customers who can be funnelled into this coming website.

The plan is to have homeappliances.com.au up and running as soon as possible so it can start generating revenue and help feed SHP's other ambitions. The key concept here is choice. Consumers love choice – having options – places to browse. But they also love easy choices. This is why SHP is pursuing a strategy of acquisition and consolidation. Someday soon it aims to have a network of websites and suppliers all connected to each other and all feeding into each other. Buy a food processor at homeappliances.com.au to make your own baby food and on the website you can find a link to toystore.com.au so you can buy a teddy bear. The Romans linked their empire with roads. The British linked theirs with ships. SHP plans to link its e-commerce empire together with websites – and the focus will be:
shoply.com.au
This is the ultimate goal of SHP's spate of acquisitions. Consolidation of all of these high quality assets into a one stop shop – shoply.com.au . The website as its stands right now is a landing page for SHP's two-pronged online business – online retail and online advertising. But in the future it will be a pure play online shopping store where all of its online brands, Ohki, Ezy Direct, Your Home Depot, Wow Baby, Eljo and soon many more will be available in one place.

This is like going to a department store – only it's online. SHP is steadily acquiring online retailers so it can cover all the products that a customer would want to buy. The viral power of e-commerce is almost scary. By viral, we mean one customer can quickly turn into ten customers and then a hundred and then a thousand in the blink of any eye. Remember, this is digital shopping. There's no car parks or crowds – just products and pricing – available to buy instantly. Over at The Next Start Up we're investing in a social commerce website called Alphatise that is built around the unsurpassed capability of the internet to grow business at supercharged speeds. SHP will be using every digital weapon at its disposal to get shoply.com.au noticed – advertising, social media, word of mouth, whatever works. Plus, it's got a customer base of 190,000 people already locked in. If each one of those customers tells just one person about a good purchase they made on shoply.com.au then the traffic will double. Two people and it triples. So on and so on. Word of mouth is the most effective form of persuasion on the planet.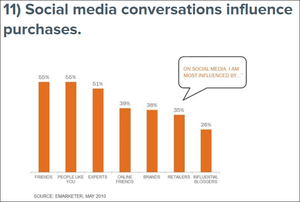 The potential scalability of SHP's websites is immense. Online retail lives or dies by web traffic just as bricks and mortar retail relies on footfall. The big advantage SHP has is that the ease and speed of the internet makes connecting customers to products so much easier. This brings us neatly to logistics. There are many well established bricks and mortar department stores in Australia and they are moving online – slowly. When they do they will be in competition with SHP – which has one great advantage. SHP is a pure play online retailer. It exists, for the most part, digitally. It's not tied down by a colossal supply chain or network of warehouses to stock all of its goods like David Jones or Harvey Norman are.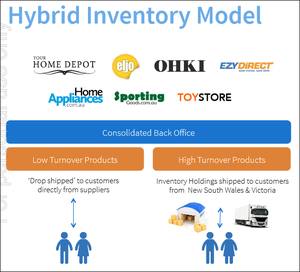 SHP is going to utilise what it calls a 'hybrid inventory model' where best-selling, high turnover products are purchased by the company and warehoused. Slower moving products are sourced on demand. This keeps overhead costs down while also ensuring SHP can fulfil the orders placed on shoply.com.au. We reckon this is a winning strategy- especially now SHP has acquired supply chains in both Victoria and New South Wales through its purchase of online retailers like Your Home Depot. By buying all of these companies SHP also got their backroom support networks: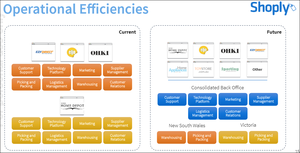 This is shake and bake stuff. Ready to go. The barriers to entering e-commerce are, for the most part, low. Anybody can set up a website. With some hard work and finesse you can attract customers. But like the philosopher Sun Tzu said 'the line between order and disorder lies in logistics.' This is a big reason The Next Tech Stock is backing SHP's strategy of acquiring online retailers and harnessing their strengths into a digital department store. It is giving special attention to its supply chain. One missed delivery, one failed sale because of a lack of stock, one hot product not on offer – that's the very thing that can kill an online retailer. But SHP's hybrid stock model reduces this risk. If it doesn't have it, it can generally get its hands on it pretty quickly. SHP is working hard to strengthen its relationships with existing suppliers and developing a wide-ranging network so it can meet the supply and demand that will be coming its way as it rolls out shoply.com.au and its other sites like homeappliances.com.au SHP investors are involved with a company that takes care of the little details as well as the big picture. As it moves to take full advantage of the upswing in Australian e-commerce this is a skill that should set it apart from the rest and allow it to compete at the highest levels. Speaking of that, in the next section we will take you through what else is in this space on the ASX...
Our Track Record:
Did you see The Next Oil Rush article on Swala Energy (ASX:SWE)? SWE has traded as high as 150% since:

Chart Source: Etrade.com.au
The past performance of this product is not and should not be taken as an indication of future performance. Caution should be exercised in assessing past performance. This product, like all other financial products, is subject to market forces and unpredictable events that may adversely affect future performance.
What's the competition like?
SHP has two main competitors operating in the same e-commerce space – Deals Direct (ASX:MNZ) and IBuy (ASX:IBY) . SHP is the minnow amongst these other two companies, for now at least. Let's get acquainted with the competitors. Deals Direct says it operates in the ' sweet spot ' of home and lifestyle goods with price tags over $50 (the more expensive ones) through its website dealsdirect.com.au – a very similar space to SHP's focus on home goods, kitchen, lifestyle and recreation. Like SHP, MNZ has a strong focus on its logistics with a seven day a week help desk operating in the Philippines and a delivery service that promises to get 80% of orders dispatched within 24 hours from its 20,000m2 warehouse in NSW or through its Hong Kong networks. MNZ is a benchmark for SHP. It sells the same kinds of things and delivers them in a similar sort of way. MNZ says it has 14,000 items on offer and an email subscriber base of more than 800,000 people with 350,000 customers. Like SHP, MNZ is pursuing a strategy of buying up existing online retailers and adding their inventory, customer lists and profits to its own. It recently bought the online clothing retailer TopBuy and absorbed 200,000 customers and $10M in revenue. It's paying off. After a restructuring in FY13, in the first half of FY14 MNZ has made $36.4M in revenue. In fact, all of its numbers are very healthy. But we're sticking with SHP – and here's why: It's capped at much less than MNZ and has similar potential. We see MNZ's success with a similar strategy of acquisition, consolidation and growth in the pure play e-commerce space as a sign that SHP is doing the right thing. MNZ is a little further down the road than SHP. 800,000 potential customers compared to 190,000 is a big difference. But it shows the growth that's possible for SHP from its current tiny market cap. As Australia's e-commerce market expands we're are hoping SHP grows with it. There's plenty of room for competition – and competition breeds success. A peer company SHP won't have to worry too much about competing directly with is IBuy – listed as ASX:IBY. IBY is focussed on the Asian market, not Australia. Little wonder considering how much the Asian e-commerce market is worth. IBY has a market cap of around $160M – much bigger than SHP's current $9M. The company grew to this size through something called Flash Sales – which are limited time only style deals online. It's a massive earner in Asia where e-commerce is a way of life. Most of IBY's sales are in South-East Asia with a lot of business in Hong Kong, Thailand, The Philippines, Malaysia and Indonesia. IBY has 7.4 million subscribers! It has eight big online retail brands under the one roof – plus it recently paid $18.5M to get a hold of flash sales business Living Social. IBY is a muscular company tightly focussed on flash sales to specific Asian markets. There's a lot SHP can learn from this e-commerce behemoth. SHP can take all the best bits of IBY's success, logistics, and acquisitions, and make them into something unique to the Australian market. You can see that e-commerce is the way of the future. And that it's raking in big dollars now. IBY and MNZ are good examples of what's possible in the pure play e-commerce space, but with SHP steadily building and coming off such a low base, we're hoping SHP can give them a run for their money.
Shoply's to-do list
In the last 10 months SHP has been very, very busy.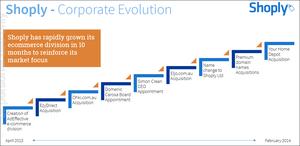 We're betting the next ten are going to be even busier! SHP has a number of acquisition deals in the works to add more online retailers to its shopping cart. We expect to see details – and numbers – very soon. In the coming months SHP will be doing all it can to get homeappliances.com.au up and running and working hard to grow the business being done by its five online retail brands, Ohki, Eljo, Wow Baby, Ezy Direct and Your Home Depot. With all these brands SHP can reach 190,000 customers right now. In the coming months its ambition is to make that number bigger and keep it growing. This is hugely important as it works toward launching its online department store, shoply.com.au, later this year. That will bring all of its brands under the one roof – so to speak – and customers will be snapping up bargains as fast as they can click. In the medium term SHP's goals are to launch toystore.com.au, homeappliances.com.au and sportinggoods.com.au – plus keep an eye out for more domain names it can snap up and expand into. Overall, growth is the keyword, growing the customer base, growing the profits and growing the market share. SHP has its work cut out but everything it's doing seems to be going according to plan. The Next Tech Stock will be investing in SHP as a long term hold and we are looking forward to seeing our early involvement with this company pay off. All of the big SHP catalysts are still near term works in progress. There is a lot of upside on the horizon. SHP is an established company evolving with the times and setting itself up to be a big player in Australia's e-commerce sector. Online shopping looks like it could be the dominant retail sector down under soon and SHP is perfectly placed to capitalise on its rise.
---