ASX Stock Pioneering Wearables Tech for Child Safety
PUBLISHED: 24-01-2020 10:31 a.m.
In 2019, global independent industry research body, Gartner, predicted that worldwide sales of wearable devices would increase 26% for the year, with an expected US$42 billion spent including US$16.2 billion on smartwatches. While by 2024, the global Wearable Devices Market is expected to exceed more than US$67 billion (A$97B).
Children will make up a significant proportion of this market, particularly in the smartwatch space, with overall sales expected to increase by A$10 billion to $27.4 billion between 2019 and 2021. Of these sales, 30% are expected to be for children aged 5 to 13.
One ASX tech innovator is tackling this niche market head on.
The company has designed and created SPACETALK, the most secure smartwatch for children on the market today. Impressively, the same designers who brought the world the Apple Watch were advisors on SPACETALK.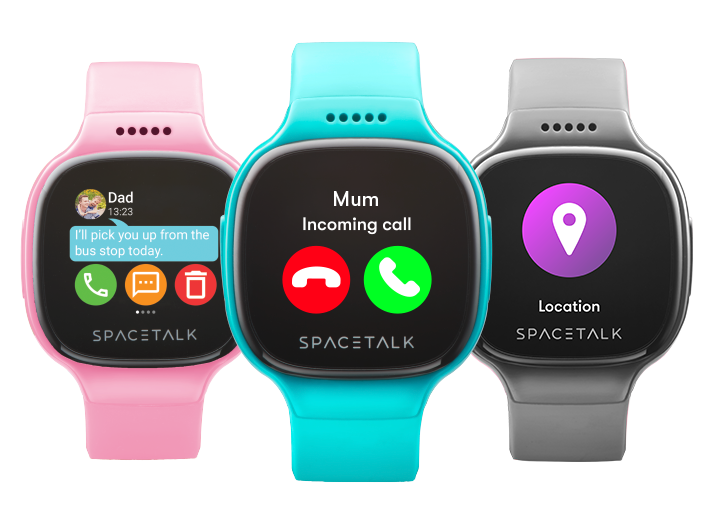 The smartwatch is sold in Australia, New Zealand and late last year launched in the UK. It is linked to the company's AllMyTribe app, which generates recurring revenues from A$5.99 per month subscriptions (£3.99 in the UK).
This number one ranked grossing navigation app in Australia and New Zealand brought in A$109,000 in December last year, up 300% from December 2018 and a 30% rise form the prior month of from November.
For the six months between July and December 2019 period, the AllMyTribe app brought in $500,000 – a 632% increase on the July-December period a year earlier and an enormous jump from total app fees of just $98,000 during the first half of 2019.
This is part of the reason Vocus Group founder and investor James Spenceley bought into the company's $5.5 million placement last September. Another reason was the product's ease of use, as Spenceley said, "As soon as I used it, I knew I had to invest." Spenceley has previously invested in Afterpay and Marley Spoon.
Such has been the uptake, that this $42 million capped company now sells its watch through 588 stores in Australia and 189 stores in New Zealand, while also distributing via its own e-commerce store and it has now entered the UK too.
Australasian sales have been exceptional.
After the successful launch of SPACETALK with Australia's largest home and entertainment retailer JB Hi-Fi (ASX:JBH), the company signed a further agreement with Leading Edge Computers in Australia, and a master supply agreement with New Zealand's largest telecommunications provider, SPARK.
Other sale agreements secured include Noel Leeming, Harvey Norman (ASX:HVN) and JB Hi-Fi retail stores in New Zealand, and leading supplier of office products in Australia, Officeworks.
We will break down the numbers shortly, suffice to say that revenues are expected to increase further not only as its share of the children's market increases, but also as it launches into new verticals including aged care, people with disabilities and field workers.
All of this adds up to the company approaching EBITDA breakeven. This would be an achievement given it is still in the early stages of its expansion.
SPACETALK represents an attractive opportunity for mobile network operators to responsibly acquire new customers at a low cost and at an early age.
Through SPACETALK, the company is on a dynamic growth trajectory and is continuing talks with leading telcos to adopt the technology.
Who is this rising Australian small cap star?
Introducing...

MGM Wireless

Share price: $0.29
Market capitalisation: $41.06 million
Here's why I like MGM Wireless...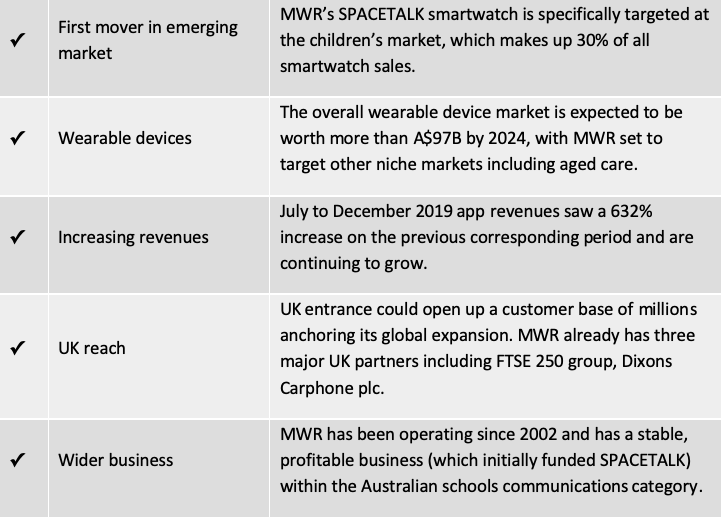 MGM has a proven record in device development
MGM Wireless (ASX:MWR) is a technology company designing, developing and commercialising a smartphone watch wearables device for children, and software for school communication and student absence management.
MGM Wireless built its track record as 'The School Community Engagement Experts' after discovering the application of SMS communication in schools.
It was so successful in this early stage, that it is one of the only start-up small cap tech companies to have paid dividends to shareholders.
The following video offers an in-depth, yet simple explanation into how its engagement technology works:
The company co-founders initially had an interest in the use of mobile phones as a business tool back in 2001.
"In 2001, the only thing mobile phones could do was make phone calls and send text messages," says MGM Wireless CEO and co-founder Mark Fortunatow. "So, we pursued the text-messaging avenue and developed various applications and platforms for businesses to use. Then, one day I had a chance meeting with a teacher and the idea came about to enter the school market.
"Back then schools were individually calling parents when their kids hadn't arrived at school as expected. So, we ended up entering that market. It's quite a long story with that because we didn't have the right products at the time. But we went into that market and it became a very successful business.
"It's extremely profitable, and, in fact, we funded the entire SPACETALK development process and even the first inventory run out of that business."
MGM Wireless is indeed recognised as a global leader and pioneer in socially responsible and technology-enabled school communication.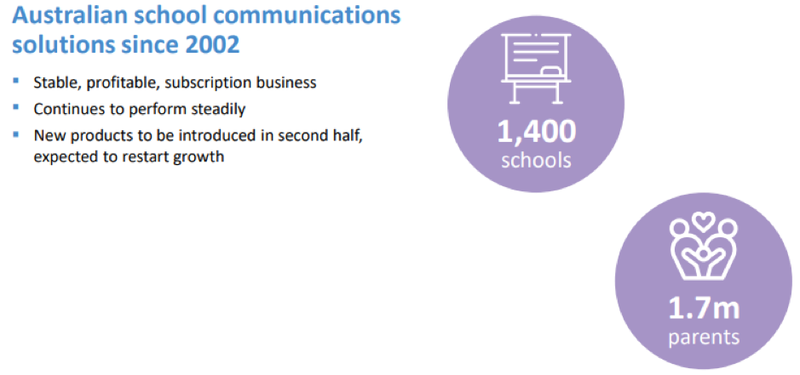 MGM Wireless school communication products include student absence notifications 'messageyou', absence analytics software 'Watchlists', school news and messaging app 'School Star', a content management and messaging platform for mobile school communication called Outreach+, and student attendance management solution 'RollMarker'.
Used by over 1,400 schools and 1.7 million parents, the company's school communication solutions empower schools to effectively communicate and engage parents and caregivers through SMS, mobile in-app and other means to improve student attendance and safety, while helping schools to reduce operating costs and increase parent engagement.
As a company that operates with children's safety in mind, it was a natural progression to move into the wearable space.
SPACETALK and AllMyTribe drive new growth
Through MGM Wireless' AllMyTribe division, the company has developed a children's all-in-one smartphone, watch and GPS device called SPACETALK, which allows two-way 3G phone calls and SMS messaging to a parent-controlled list of contacts.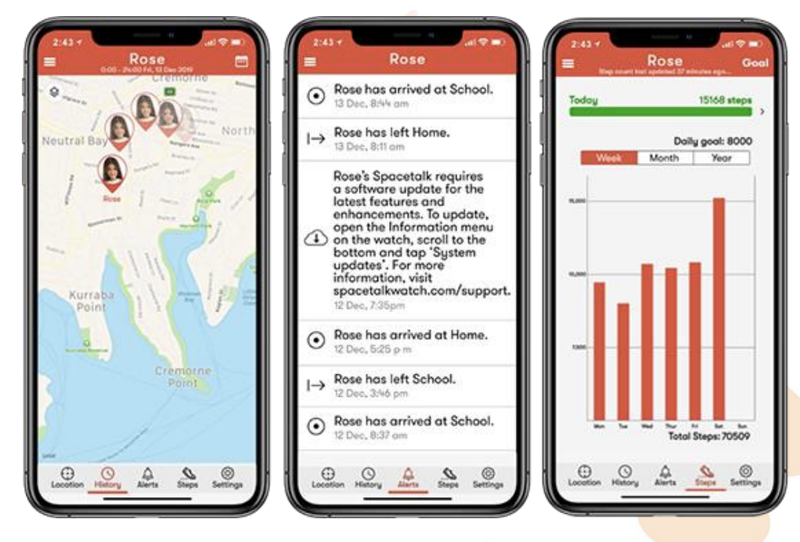 Here's how MGM Wireless through SPACETALK highlights the connection between parent and child.
In this interview with BDO Australia, Fortunatow explains how SPACETALK came about and its subsequent growth:
As way of fleshing that out, Fortunatow told Next Tech Stock, "The idea for SPACETALK came about when we were trying to solve a problem that parents had when they received a text message that their child hadn't arrived at school when expected. The very next question parents normally ask is: 'where are they?'
"We've been trying to solve that in various ways over the years. Then about six or seven years ago, the light bulb came on and we knew what we really needed was an all-in-one smartphone, watch and GPS device."
The only watch on the market was the Pebble watch, which subsequently went bust. It wasn't a phone, so to go from a smart device, like a fitness tracker to a phone was another dimension altogether.
Apple was yet to move into the space, so MGM Wireless was really a pioneer, but not without initial failures.
"We spent many years in development," Fortunatow says. "We built one version, but it didn't work to the reliability that we needed. We have a deep understanding of child safety and that parents buy these devices and use our systems to protect the safety of their child. So, we knew that the watch had to be super reliable as a phone. The first watch wasn't."
However, there was belief in the product. MGM Wireless was attracting high-end talent to the company whose presence vindicated the plan. An experienced engineer from Nokia joined and convinced other colleagues to get on board to build a workable product.
"The results we were getting in lab tests and that were subsequently backed up in field tests surrounding the reception and quality of SPACETALK were absolutely outstanding. It's actually higher than just about every smartphone on the market, which is a huge technological achievement."
An enormous selling point is the data security and privacy features built into the phone that feature in the school systems' technology. This has proved to be extremely important as most other watches on the market, especially the ones coming out of China have either no, or very poor, data security and privacy.
Features include GPS tracking to alert parents whenever children leave designated safe spaces, such as school or the home. Importantly, a key safety feature of SPACETALK is that it doesn't give children access to social media, apps, open internet, YouTube or other such services that can be dangerous to young children.
In addition, during school hours, the device can operate in 'School Mode' whereby all communication features are disabled to ensure children won't be distracted.
Given the safety aspect, it is little wonder the adoption of the product has been so swift.
Recurring revenues from the company's AllMyTribe app are growing exponentially, and in December subscriptions were generating $109,000 per month, compared with total app fees of $98,000 for a full six month period in the first half of fiscal 2019.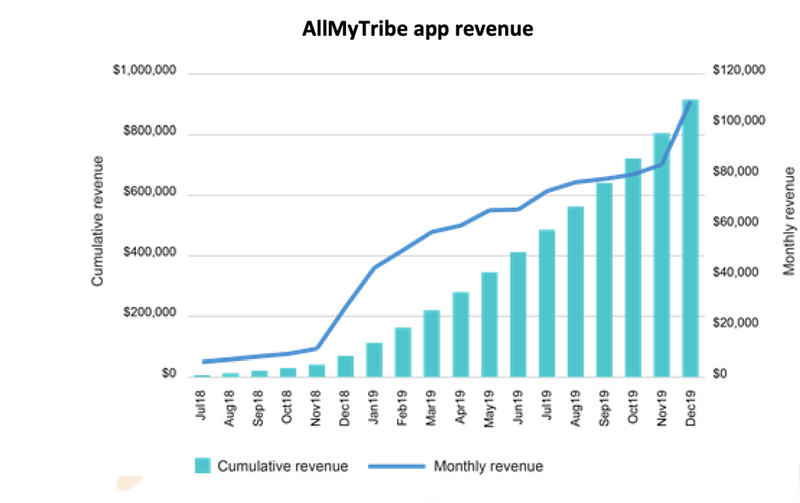 Fortunatow said of the rise in revenue: "App revenue grew 30% from November to December alone. App subscriptions provide high-quality recurring revenue for the Company, supplementing SPACETALK unit sales. They already make a significant contribution to our group revenues and they continue to grow.
"Our low churn rates demonstrate the strong ongoing daily utility SPACETALK provides to families. Over time, we will be introducing in-app purchase opportunities for health, fitness, diet, parenting, entertainment feature and other Internet of Things (IoT) capabilities to connect to home and other devices.
"AllMyTribe users love its simplicity and we improve and refine the app constantly with new features."
Capital performance
As you now know, MGM Wireless created the world's first SMS based Automated Student Absence Notification Solution and many other innovations since then, resulting in its shares increasing approximately 15-fold between 2003 and 2007.
While the company was knocked about by the global financial crisis, its re-emergence as a proven innovator in the technological space has been recognised over the last two years, resulting in its shares increasing by about 700% to reach a high of 49 cents in 2018.
As you can see in the following chart, despite being a roller-coaster ride for shareholders, an investment in MWR in 2001 (blue line) represents a capital gain of more than 300% based on today's share price, well above the S&P/ASX All Ordinaries gain of nearly 120% (orange line) over the same period.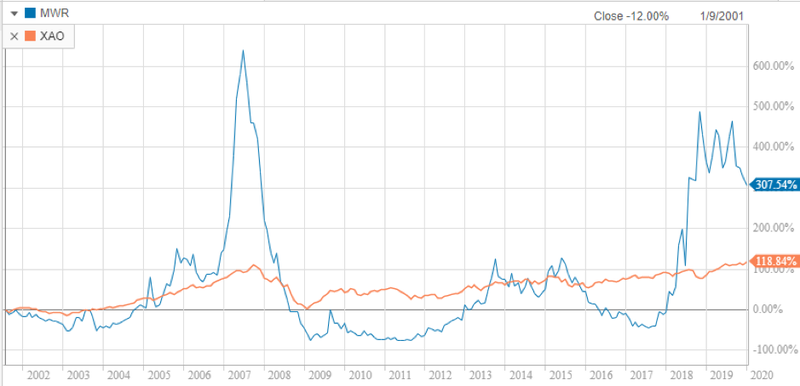 The valuation
A 14 January 2020 quantitative research report from Morningstar concluded a $0.39 share price was "Fair Value", representing a 34% premium to the current share price of $0.29.
MGM Wireless has created a new category in the smartwatch space. It has created a product that is profitable for telcos and retailers because they're not cannibalising any of their existing business.
In fact, SPACETALK is creating a brand new revenue opportunity for MGM's partners and this should only get bigger when it launches into the seniors market mid-year. This will help it achieve breakeven EBITDA, which it is close to reaching.
"Inevitably, they (telcos) are hungry for a product in this space where they can make money, and if they're not going to be in this space, then they're not going to stock any watch, let alone the best in the market, which is SPACETALK," Fortunatow says.
"If their competitors are in this space, then they have to join them just to keep up."
One other factor worth considering in determining future valuation is this is a business that could attract major players.
Fortunatow points to Apple, based on past history, as a company that could bolt on or buy up.
"One of the biggest industries in the world is the gaming industry. There's Nintendo. PlayStation. This industry is bigger than the movie industry, but Apple has not created its own gaming device. What it has done is create products that clip onto iPads so that you can use it with the same dexterity that you use a normal game console."
Apple could also have easily created their own headphones business, but they went and bought BEATS because they wanted the BEATS brand. Apple only tends to move into industries after they have proven themselves.

"So, if SPACETALK is determined to be a really strong brand, then it becomes quite a significant asset. With the work we have done in this niche, it's much easier for somebody to come in and knock on the door and say, 'well how about we either take it or work together'. It becomes a lot easier than going through the whole point of starting all over again. That's why Google went and bought Fitbit.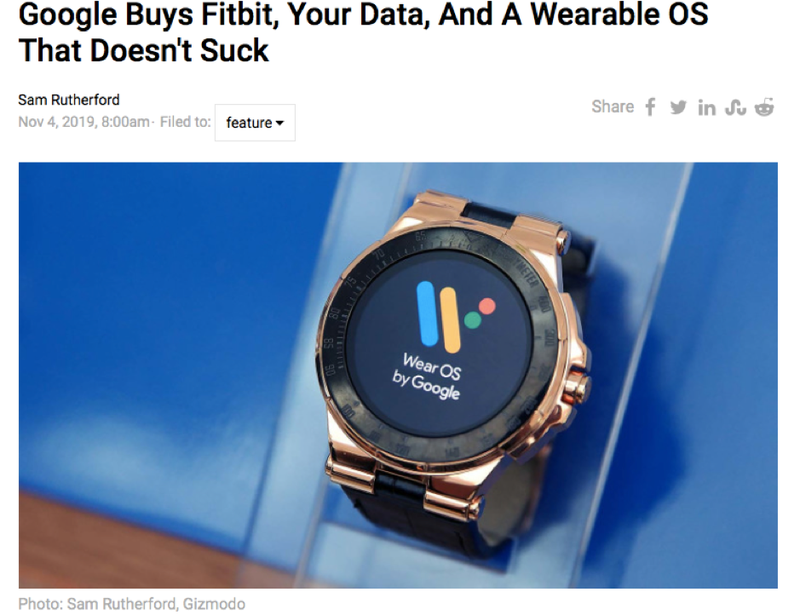 "If anybody has $200 billion in the bank, the time and certainly the resources to start their own wearables business, it's Google. However, they've decided the easiest route would be just to go to someone that already exists."
UK entry also set to spur growth
If a large company does one day decide to look into MGM Wireless, it certainly has the runs on the board and the partnerships to continue to drive growth.
One of MGM Wireless' partners is Australian telecommunication provider Belong, which is owned by Telstra, but operates independently as a challenger brand.
"Belong has already seen significant growth in their business through SPACETALK customers coming on board," Fortunatow says. "They were very keen to jump on board and they're promoting us heavily, although they're a small player in Australia."
The benefit for Belong is it receives incremental new business at a high margin. Even more importantly, whatever brand kids start off with, they generally maintain for a very long time, if not indefinitely.
Belong is a small part of Telstra, however this relationship and its subsequent rewards could well have put MGM Wireless on Telstra's broader radar.
It has certainly contributed to MGM Wireless' exceptional year in 2019 and it finished strongly with further UK partnerships.
In December, MGM Wireless secured a sales agreement with leading UK retailer and FTSE 250 group, Dixons Carphone plc.
Subsequent to this agreement, through its Currys PC World online store, Dixons commenced selling MGM's SPACETALK all-in-one smartphone, watch and GPS device to customers.
The Dixons Carphone group is a leading multinational consumer electrical and mobile retailer with annual sales in excess of £10 billion, and Currys PC World is the largest speciality electrical retailing and services operator in the UK and Ireland.
The UK represents a highly promising growth opportunity as its population of 66 million is three times Australia's, and MGM had already secured its first UK retail agreement prior to the Dixons deal.
As evidenced by the near 20% surge in MWR's share price following the negotiation of the Dixons sales agreement, it was a significant development for the group, particularly given that it aligned perfectly with management's strategy of anchoring its global expansion through establishing a robust business model in the UK.
Gartner forecasts further strong growth in wearables
MGM Wireless is ramping up global sales at an ideal time according to leading industry analyst Gartner.
The following chart provides two sets of interesting data.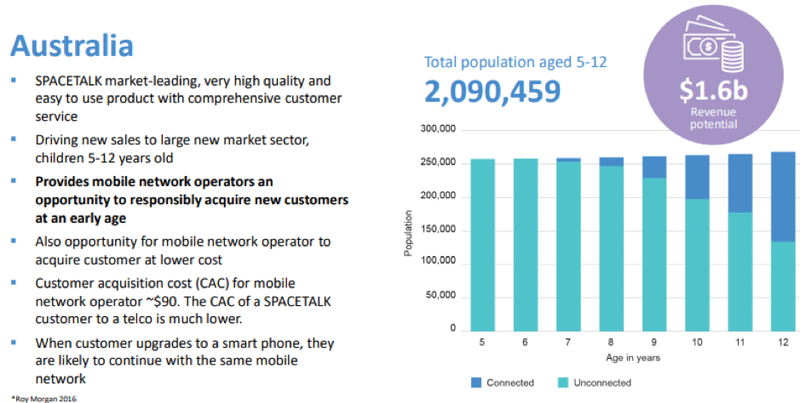 Firstly, it shows the sharp acceleration in uptake between ages nine and 12, while also indicating that the size of the Australian market in that age demographic exceeds two million.
Based on these metrics, there is potential to generate revenues of approximately $1.6 billion.
It could be argued that increased market uptake alone will drive organic growth within the upper age groups — in other words, having a SPACETALK will be trendy for the young ones and provide some peace of mind and convenience for parents.
As the five to seven year-olds enter the picture, they will provide substantial growth based on current dynamics, plus there is the likelihood that the SPACETALK ownership trend will catch on in the younger age groups.
This indeed has been the case with basic mobile phones that quickly went from being banned in the school environment to generally being accepted in secondary schools, and then very quickly being common-place among primary school students.
Remember, we are just talking Australia at this stage.
Look at how the metrics applied to the UK — in particular take note of the early age adoption of the technology, which could be a pointer to what will happen in Australia.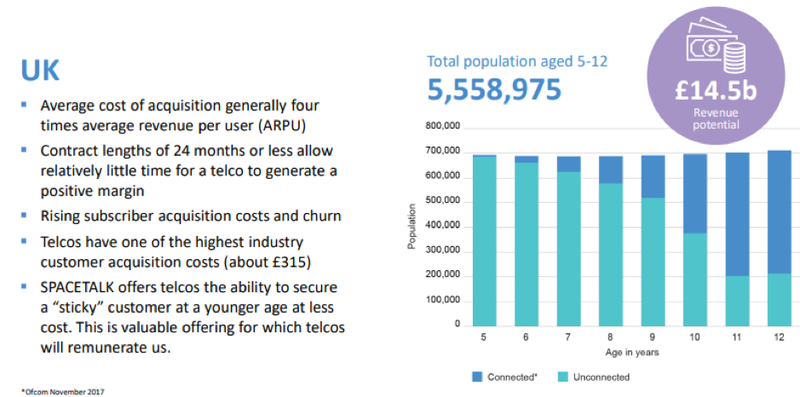 Looking at the group revenue outlook, management said prior to Christmas that year-to-date sales (1 July, 2019 to 22 November, 2019) were more than $4 million, exceeding entire first half sales in 2018.
Active Christmas marketing campaigns will provide a good start to calendar year 2020.
While the near term focus is squarely on the children's market, potential new markets are in aged care, field workers and people with disabilities. On this note, management has flagged the desire to release a 4G watch in fiscal 2020.
Moving into other SPACES
With the children's market continuing to strengthen the company's revenues, MGM Wireless will now turn its attention to other verticals and will be releasing a senior's watch in May or June of this year that will connect into the same platform.
This watch will give the adult children of elderly parents visibility on how their parents are tracking and enable them to ensure their parents' safety or react when something doesn't quite seem right.
With this, MGM has taken a full lifecycle approach.
Also, as stated earlier, on the cards are devices for people with disabilities and field workers.
The final word
MGM Wireless has a long history of innovating in the child safety space, with technology that gives parents, teachers and even kids themselves peace of mind that they are being looked after.
The technology MGM Wireless has created is best of breed, socially responsible, front running technology that is already generating app revenues, has a growing sales base and is attracting a number of high powered, high profile partners including telcos such as Belong and UK giants such as Dixons.
The late-2019 entry into the UK with SPACETALK, could see this company grow exponentially in 2020 as it looks to attract large scale market share that will help it increase its market value — with some analysts already considering this company to be undervalued.
With new product lines coming to market as well, 2020 could be the year this Aussie innovator gains widespread investor attention.
---