ASX Robot Tech Set to Build Houses 10 x Faster than Normal
PUBLISHED: 23-06-2016 10:42 a.m.
When it comes to seeing a Tech stock thrive, there is usually one prerequisite for success.
Technology has to solve a problem, rather than provide a solution to a problem that doesn't exist.
It seems that one company we've come across, has taken this problem-solving mantra and quite literally up-scaled it to the size of a house.
When Technology meets Necessity, is when we sit up and take notice here at The Next Tech Stock . It's also a cue for us to load our musket and consider pulling the 'coverage' trigger.
Before making that decision however, we always take a deeper look at our potential Next Tech Stock , and what we've discovered with respect to this company, could potentially turn the construction industry on its head.
The company has developed a robot bricklayer that is cheaper, quicker and has overall more efficiency than human labour.
To be more specific, this company is able to slash construction costs through incredible efficiencies delivered by automation and robotics.
This company has successfully tested its construction technology, by constructing a multi-room brick structure with its machine.
This is the only one of its kind in the field – literally a 'world first'.
This new revolution in construction being pioneered by today's stock may be the real-deal, and could eventually become commercialised on a global scale.
Remember, however, that this company is still in its early stages of development, so seek the advice of a professional financial advisor if considering investing in this stock.
This company's machine and software offers a complete end-to-end system.
A house can be designed on a computer, the machine is driven to site, the bricks loaded on, the machine cuts them to length, routes the wiring channel, feeds them out through a 30m boom, applies adhesive and lays them.
We've all seen and heard this theme in sci-fi Hollywood movies: robots replacing human labour in manufacturing and making everything faster, more accurate, safer and cheaper too.
Well, it's not quite 2078 just yet and Skynet is still some way away. It's still only 2016.
But already, an astutely opportunistic crack-team of Aussie engineers is taking the lead and helping to usher in construction methods of tomorrow.
Will Construction eventually look something like this?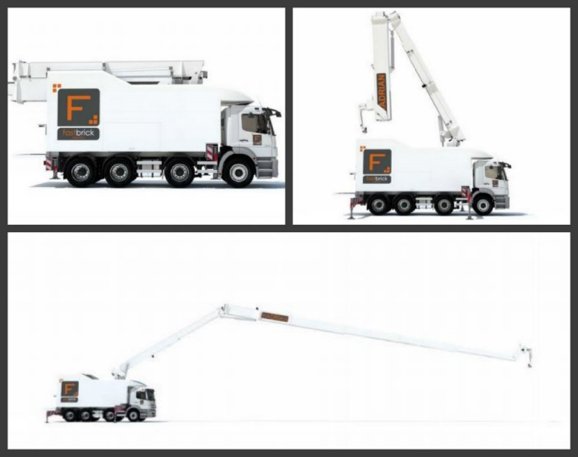 Maybe in 100 years...
Staying firmly in the present however, our Next Tech Stock will be able to build walls at more than 10 x the rate of current world records and therefore able to build full-scale structures in 1-2 days compared to 3-5 weeks, if done by a human construction crew.
That's the kind of performance boost robotics is able to deliver, and this company has embraced the robotics angle wholeheartedly.
This company is on the cusp of manufacturing its new, more advanced machine that will further improve upon performance, while commercial sales deals are on the horizon.
It has patent applications and protections in place in 11 countries including Australia, China, Canada and countries in Europe and has spent over $7M on research and development to reach this point.
With the bore in our barrel cleared, ammo loaded and target acquired, we're ready to pull the trigger on this ingenious tech solution that's coming to a building site near you, much faster than you think.
Introducing: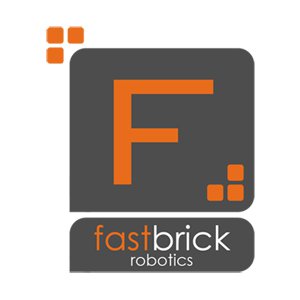 Fastbrick Robotics
ASX:FBR
When you get to the nitty-gritty of it, construction hasn't changed all that much in over 20 years. Bricks are still considered the most common and best type of material for constructing homes and other structures. This is especially the case in parts of the globe with extreme temperatures and weather conditions.
Although builders are coming up with new designs and architectural masterclasses, the bottom line is that simple housing is what people want most.
Fastbrick Robotics (ASX:FBR) has a solution to the simple housing construction problem, that is cost effective, quick, efficient and automated.
The industry need not worry that human labour will be replaced: this patent protected construction solution is pitched as a supplement to existing construction methods, not a direct replacement.
Here is what FBR's Hadrian 105 prototype bricklaying technology in action:
Pretty impressive right?
While it may not replace human labour on the majority of construction sites, it could disrupt the status-quo which we're all familiar with: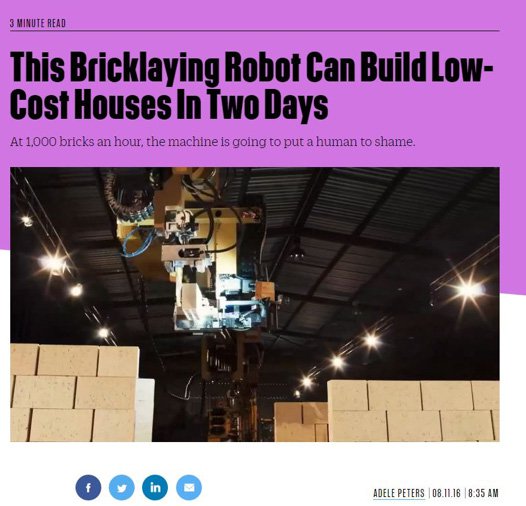 Which brings us the core problem FBR is solving
The big problem for builders is finding an ample amount of bricklayers.
Unfortunately many of Australia's young adults are choosing to move into occupations other than bricklaying — most often into service industries...
...meanwhile, the amount of new homes required in Australia is growing rapidly.
This divergence is creating an ever-increasing gap between bricklayer supply and demand. And as all investors know, this eventually leads to unsustainable costs, cost uncertainty, and often, failed projects.
Take a look at this handful of headlines highlighting the problem of brickie shortages and lack of bricklaying expertise, causing angst in Construction circles.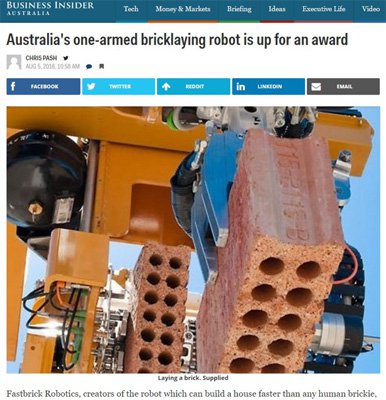 Even the corporate-focused Financial Review recently chimed in with a piece on struggling Aussie brickies: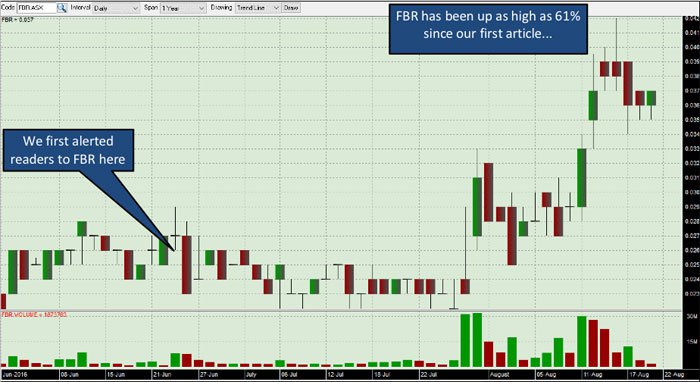 As you can see, the bricklaying industry is under a bit of pressure – and FBR may be able to assist
FBR's automated bricklaying machine cuts waste and raises efficiency and could be a money-spinner for FBR
FBR's technology has been fully-developed and tested. Its Hadrian X machine is almost ready for pre-sales and could be gracing building sites across Western Australia later next year.
The potential blue-sky starts to see a rich tone, if you throw in the possibility (probability?) that lower economically developed countries (LEDCs) could be the first to snap up this technology.
The reason is because LEDCs tend to have much simpler building designs...
...but an even more insatiable demand for new housing than more economically developed countries (MEDCs) in the US/Europe.
As a loose example, countries like Mozambique and Tanzania (Africa), China and India (Asia) and Brazil (South America) are earmarking huge construction programmes because they have rapidly growing populations. Estimates vary but even relatively small African countries are expecting to build millions of new homes over the coming few years.
All of that construction will either take decades or will require a standing army working round the clock to complete — either option is not feasible given government budgets and time constraints (in 10 years' time millions more will be needed).
With FBR's technology, a demand of 100,000 new homes could potentially be delivered in under a year — if 500 of FBR's Hadrian machines were brought in and switched on simultaneously.
By this stage, many readers will be saying to themselves — 'Surely this is just too good to be true?".
So let's wade into the nitty-gritty technicals underpinning FBR's technology, does it have the stones to make its fast-brick idea work?
Here is FBR's latest iteration of its proprietary system: The Hadrian 105 testing prototype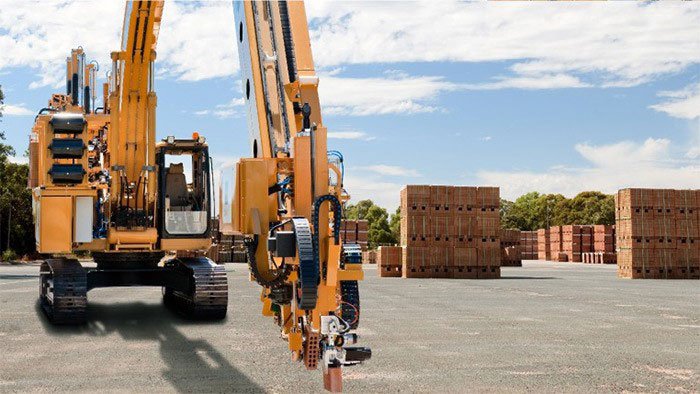 That's the glossy corporate brochure snap, and here is the Hadrian 105 prototype in actual operation.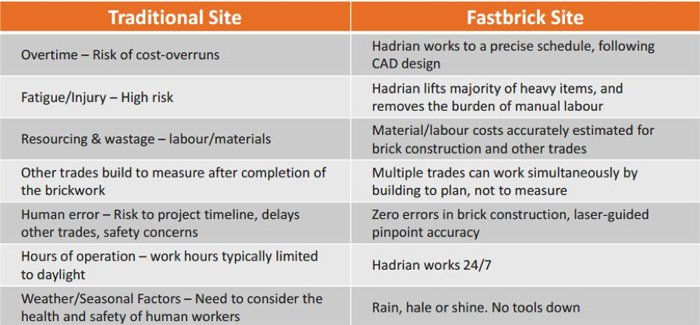 And if you want to see this puppy in free-flowing action here is the motion capture video again – it definitely warrants a second look:
When we cover a stock, it always warms our cockles to see a company's tech already developed and complete — with only sales and distribution remaining.
FBR meets that criteria pretty succinctly with its machines almost ready to be distributed in Australia, and soon, the world.
For a company currently priced at around $0.025 per share and capped at $16.5M, with $4.4 million in cash at the end of the last quarter, right now could present a good entry point with the possibility of higher valuations later this year.
Any future company growth is speculative though, so don't just base your decision on this article alone. Seek professional advice from an authorised financial advisor before making an investment decision.
In terms of output, FBR's Hadrian Machine raises productivity by over 1000%
When it comes to bricklaying, the Hadrian machine offers improvement to current processes in every measured variable.
Here are its tricks laid bare:
Laser guided positioning system for each brick laid, with accuracy of 0.5mm.
Full end-to-end capability which means zero human intervention to go from empty space to built structure.
Ability to implement CAD building tools (PC software used by architects/project designers) which allows a Builder/Designer to literally draw their entire construction on a computer screen, hit Go, and the Hadrian X goes to work.
Detailed tracking of all variables which means the Hadrian X can predict exactly how many bricks will be needed before a single brick is laid. That's absolutely critical because for the first time in history, construction sites will be able to accurately predict future expenditure and drastically reduce wastage.
Laying accuracy of this magnitude means we can parallel manufacture other components of the home as we know they will fit first time every time.
Automation and less human involvement immediately reduces health & safety risks and lowers healthcare expenditures including insurance premiums.
Last, but not least, is Speed.
This may possibly be the next generation Hadrian X 's neatest trick. It is designed to lay upwards of 1000 standard house bricks per hour. And by using modern supersized bricks that are too big for humans, but not the muscles of the Hadrian X.... this rate could potentially double or more given further technical tweaks over time.
Just to give you a bit of contrast, the current world record for manual bricklaying is around 100 per hour: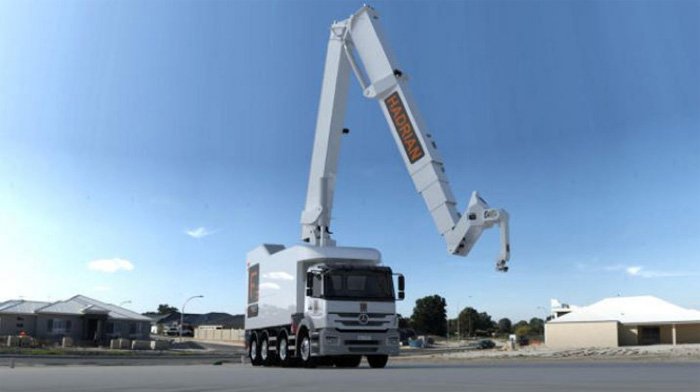 For the Next-Gen Hadrian X, a rate of 100 per hour is something to laugh at, given its projected laying rate. Manual labourers simply cannot compete, and that is what FBR is banking on, to generate its revenues.
It could well be the case in the near future that building firms, architects, construction firms and project managers would want to have a Hadrian parked close by on any of their projects because of its features and cost-saving applications.
If there are any bricklayers reading this article, we would not be surprised if you've got this expression right now: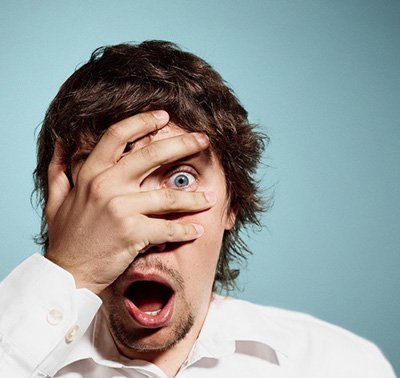 With its sci-fi features now designed and fully integrated FBR has taken care of the four key areas all construction projects worry about most: Speed, Accuracy, Safety and Waste.
The effect upon the bricklaying industry and human employment is still unclear, but FBR does not want to get rid of brickies — rather, it sees the Hadrian as a supplement to the Construction industry.
Here is a recent Channel 9 News report – click on the image to watch the full video: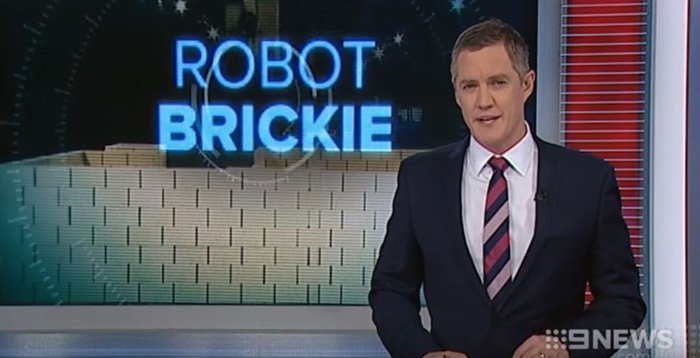 FBR wants to usher in a changing of the guard in terms of how bricks are laid, by smoothing out the seasonal tilts for bricks, bricklayers and source materials.
Another string in the bow
With its supersonic bricklaying machine now at the commercialisation stage, there is another trick FBR has up its sleeve.
There is money to be made, not only from faster bricklaying, but also, from charging architects/designers to use FBR's 3D CAD software that allows a full-spectrum evaluation of all variables BEFORE construction begins.
FBR's software could potentially be used by architects that aren't even using the Hadrian X — because it is a powerful standalone tool with inherent value in its own right.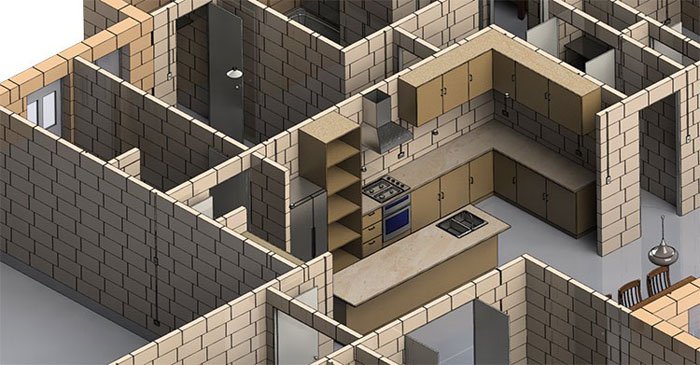 There is a strong possibility that FBR's software arm, may even rival the revenues generated by its Hadrian sales because it will be rivalling software packages such as AutoCAD, owned by the $13BN NASDAQ listed Autodesk.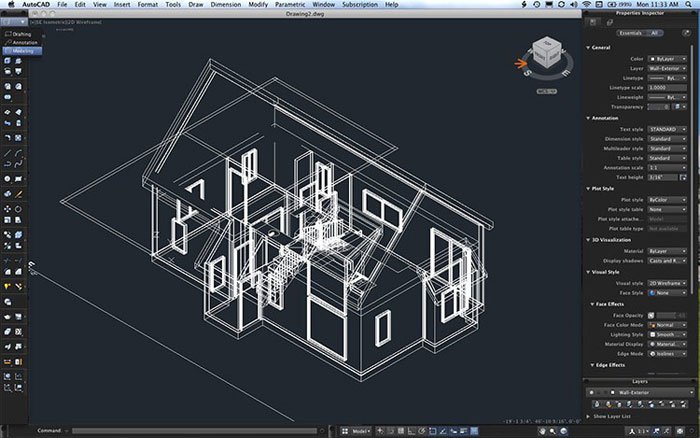 Screenshot from AutoCAD software
What is needed is a clean solution to changing Construction factors
The amount of bricklayers is falling due to social and economic factors...
...but the need for more housing continues to grow and is even accelerating in some LEDC countries, fuelled by population growth.
In FBR, we think we have found a synchronistic investment opportunity that fits the prevailing market forces in Construction.
It is still an early stage play, however, thus caution should be applied to your investment decision.
FBR can smooth out costs, waste, efficiency and most importantly, it can provide architects and builders a much higher level of cost certainty and project planning advantages.
With housing crises popping up all around the world, especially in the metro cities, governments are already playing whack-a-mole and throwing money at construction without really putting a dent in the overall undersupply.
FBR's technology could therefore eliminate this tussle altogether.
We always knew robotics would come onto the market and into society in a big way — sci-fi Hollywood movies have been showcasing it for years — we just didn't think such a leap forward would happen so soon.
Here at The Next Tech Stock , there is every chance that this rapid-fire bricklayer can build some strong revenues over the coming 12-18 months, as the world's first robotic construction solution for full-scale structures.
FBR is a case of good old-fashioned Aussie ingenuity making its mark on the global stage, and for once, the poignant market-changing idea hasn't come from the traditional Mining and Commodities sectors.
The world needs more homes...
...and now the Technology exists to make that need a reality.
Necessity and Technology have met in a rather large way here with FBR, and it's why we've decided to pull the trigger on adding this disruptor to our portfolio.
---