ASX Ag-Tech Acquisition Provides Vantage Position in C$7.2B Canadian Weed Market
PUBLISHED: 09-11-2018 10:07 a.m.
The nimble ASX junior on our radar today is redefining the future of agriculture through cannabis tech innovation, and it's doing so at a time and in a country where pot is now fully legal.
Its mission? To generate socially responsible, sustainable and profitable revenue by growing cannabis and perishable foods using cutting-edge technology solutions, while lessening the environmental impact of traditional farming.
The company's expectations of what it can achieve have been substantially boosted lately, following its strategic acquisition of a company that already holds a Health Canada issued cannabis Dealer's Licence. This acquisition could position today's company as a global leader in the cultivation of both cannabis and perishable foods.
Last month, Canada became the second country in the world — and the first industrialised nation — to legalise recreational weed. This historic decision also opens up a direct pathway for what's expected to be a highly lucrative market.
Total Canadian legal pot sales are expected to exceed $7.0 billion by 2019, according Deloitte — that's more than the $5.1 billion Canadians spent on spirits in 2017 and on par with wine sales.
Today's company has impeccable timing. Its acquisition, in turn, gives it a distinct advantage over both its Canadian and Australian pot-stock peers.
Now, through this acquisition, today's featured company has the ability to legally produce its own pot products in Canada's newly opened recreational cannabis market, positioning it as a triple threat in the rapidly expanding ASX pot-stock corridor, where many local companies have to meet the challenges of clinical trials and strict TGA (Therapeutic Goods Administration) requirements to take a product to market.
Threat two is its patented stackable hydroponic rotary garden technology replete with its own proprietary software, iGrow. This system produces multiples more yield per square metre than traditional flatbed growing.
The third threat is a specialised water treatment and nutrient management agribusiness that's incorporated in the state of Nevada — another place where recreational pot use is legal.
In a nutshell, what separates this fast-moving company from its peers is its holistic approach. It's providing streamlined solutions from concept to harvest, integrating both design and growing expertise.
Underlying this strategy are three key business verticals:
Leading technology and SaaS (Software as Service), including its patented rotational hydroponic garden system and proprietary automatic growing management iGrow software.
Growing management and licence ownership.
Agricultural services – fertigation delivery system, tissue culture innovation, life-cycle nutrient management planning, and organic perishables and nutraceuticals.
Within this framework, the company has astutely focused on both the buzzing Canadian and US markets — which is strategic, to say the least. That's two hefty slices of the global cannabis pie, which is expected to exceed US$60 billion by 2024.
On top of the specs we've mentioned for Canada, legal cannabis sales in the US are expected to double from $10 billion in 2017 to more than $20 billion by 2021.
With these kinds of numbers in mind, the rapidly maturing $47.36 million-capped company we're introducing today is looking at emphatically green pastures ahead.
Unveiling: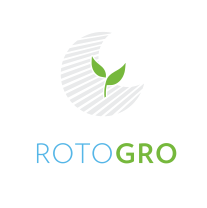 RotoGro International Limited
ASX:RGI
Roto-Gro International (ASX:RGI) is focused on equity and licence ownership in the legalised cannabis space, and is carving out a leading role for itself in urban farming of perishable foods with its patented and patents-pending technologies and proprietary growing management software.
We'll get to the specifics of the technology shortly, but first, let's get straight to the most recent acquisition...
Oh, cannabis! RGI in fighting position to take on Canada's recreational pot market
To give you an idea of precisely what's at stake for RGI given its most recent game-changing deal, it is worth taking a moment to establish some context...
October 17 marked a pivotal new high for Canada — and for the budding legalised cannabis space more broadly — becoming the first industrialised nation to legalise recreational weed.
While some 30 countries around the world have given the green light to medical cannabis, Canada is only the second country after Uruguay to fully legalise the drug...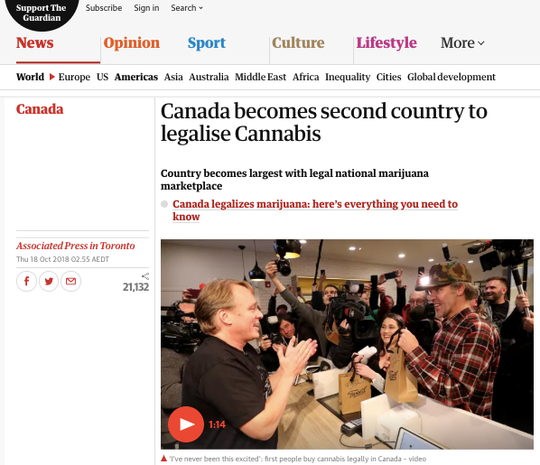 As we've mentioned, Canadian pot could flourish into a market worth more than $7 billion in total sales as soon as 2019. Of that figure, some $4.34 billion is expected via legal cannabis sales in the first year of legalisation alone.
According to recent data by Genesis Market Insights, the global cannabis market was valued at US$17.2 billion in 2017 and is projected to reach US$58.9 billion during the forecast period of 2018 to 2023. The US and Canada control the majority of that global market — but unlike Canada, the US hasn't legalised the drug nationwide...
With that in mind, RGI is positioning itself right at the forefront of the buzzing Canadian weed market, sealing a pivotal deal to buy a licensed Canadian cannabis processor.
As RGI recently revealed, it's entered into a deal with Valens GroWorks Corp. (CSE:VGW) to acquire 100% of cannabis extracts and oils processor, Supra HC Services, and its Health Canada issued Dealers Licence.
Finfeed.com reported this news as it came out: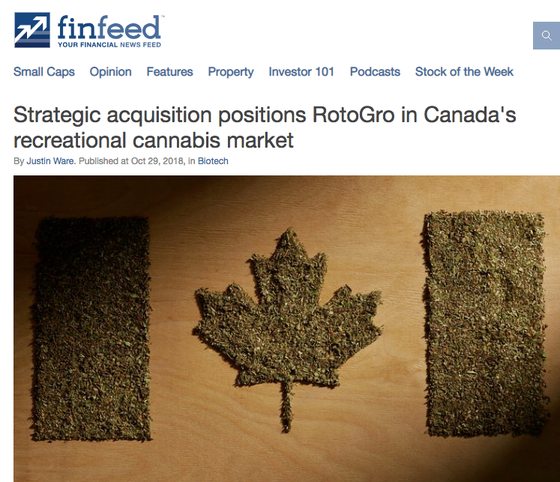 This development is a major win for RGI, placing into its hands cultivation, technology and agricultural services that generate revenue in their own right.
The agreement itself will enable RGI to become a pot cultivator for only a small outlay little money down – just 10% of C$11 million, with the remaining split across three milestones.
The deal also gives RGI an immediate offtake partner in Valens GroWorks. The pair will collaborate on an offtake deal for the sale and purchase of weed produced at the new RGI facility.
Clearly, the long-term commercial opportunities for offtake agreements and further innovation here make for a win-win situation for RGI shareholders.
RGI, meanwhile, now has the legal ability to produce its own cannabis products in Canada's recreational cannabis market — something that gives it a razor-sharp edge over its pot-stock peers.
Key analysts are already pointing at the potential for a gaping supply gap now that pot is fully legal in Canada...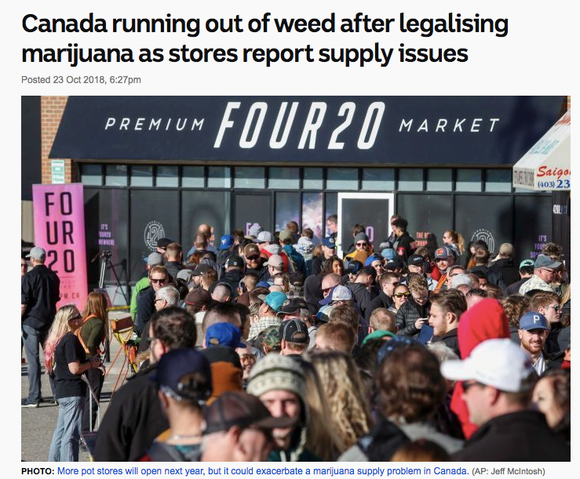 While over 100 new legal cannabis outlets have opened in Canada, a recent report by the C.D. Howe Institute projects that current suppliers will meet just 30-60% of the nationwide demand (610 tonnes).
Anindya Sen, an economics professor at the University of Waterloo, has made a similar claim, arguing that there won't be enough legal supply, especially during the first half of the year following legalisation, primarily because of the slow rate of licensing producers.
With all of this bustling pot activity, Canadian pot-stocks have seen substantial gains. Canopy Growth (NYSE:CGC | TSX:WEED), Tilray (NASDAQ:TLRY) and Aurora Cannabis (TSX:ACB | NYSE:ACB) have all crossed the $10 billion market cap threshold.
Shares in Canopy Growth surged more than 30% after a C$5 billion investment by alcohol behemoth, Constellation Brands (NYSE:STZ), the company behind Corona beer — the biggest investment in the industry to date...

With these kinds of powerhouse deals in mind, RGI looks set to leverage its expanded capability at a highly opportune moment.
On top of initiating dialogue with Health Canada, the company has identified premises to establish cannabis operations, close to its current facility in Caledon, Ontario, and has already kicked off layout designs with Cannabis Compliance Inc.
All in all, this is a giant step forward in RGI's strategic growth plan to become a global leader in the cultivation of cannabis and perishable foods.
That's not all RGI has been up to this year, either, as it shores up its finely honed tech arsenal and clinches more in the way of high-impact deals...
A holistic approach
We'll look at RGI's tech repertoire in depth shortly, but it's worth noting that this sets RGI clearly apart from all other methods of growing, and from the pot-stock herd — something that gives it an immediate edge. With proven yield increases and lower operational costs, RGI's tech enables maximum profits and socially responsible returns for green-minded investors.
Since listing on the ASX back in February last year, RGI has ramped things up with some meticulously selected acquisitions and partnerships, and it has much to look forward to in the months to come.
This is what RGI's timeframe has included so far, and what's still to come until 2021: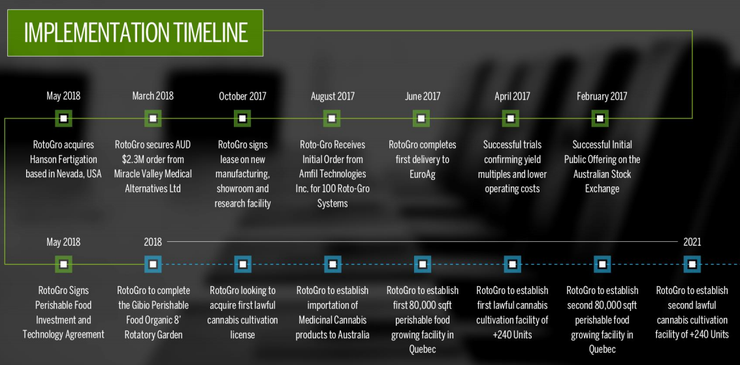 As we've mentioned, RGI is providing holistic solutions from concept to harvest all of which point to consistent, long term revenues:

And here's a glance at what its service offerings look like: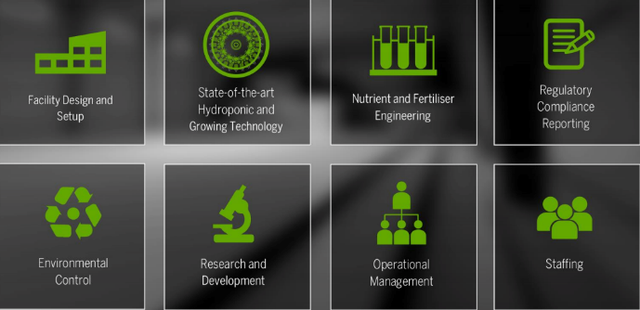 RGI's financial specs are also looking healthy, having recently raised $4.56 million. This cash injection will enable RGI to fast-track more strategic acquisitions in cannabis licenses, nutrients and perishable foods by way of equity ownership or partnership, as well as expansion of its R&D facility in Caledon, Ontario. This kind of investor attention also makes for crystal-clear testimony to RGI's capacity for disrupting the agricultural status quo.
Speaking of attention, a quick glance at RGI's newsfeed suggests that this ag-tech play has been drawing eyes from across the board...
For instance, back in May, Business News Australia covered RGI's landmark acquisition of the US-based Hanson Fertigation (more on that in a moment):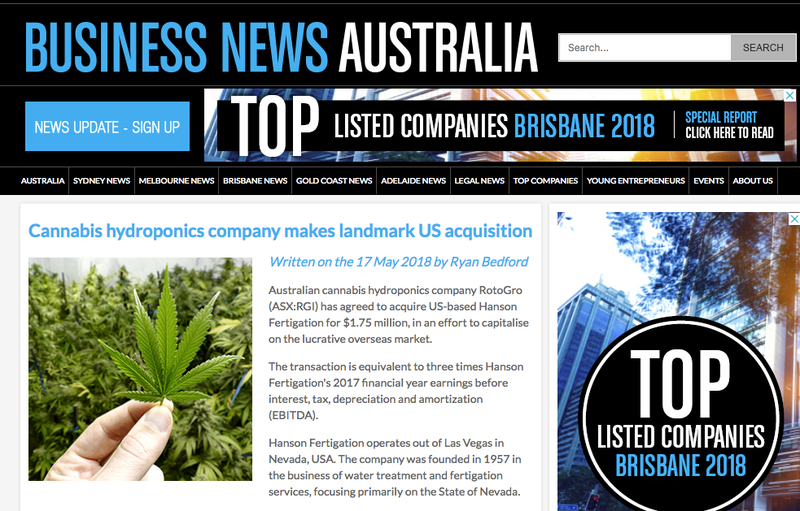 9Finance also took note of RGI's dual listing on the Frankfurt stock exchange — a considerable leg-up into the European market and diversifying its reach...

And last month, Finfeed.com profiled RGI as one of several ASX pot-stocks with exposure to the Canadian market...
In short, it seems like RGI is rapidly emerging as a noteworthy force in the ag-tech boom, with plenty of scope for more growth. Its tech has major role to play in this growth.
The RotoGro System: the future of hydroponics?
RGI has pioneered an automated rotary hydroponic vertical farming system for producing consistent quality plants indoors, offering significant yield advantages and using less space and energy than a traditional hydroponic environment.
The Roto-Gro Hydroponic Garden System: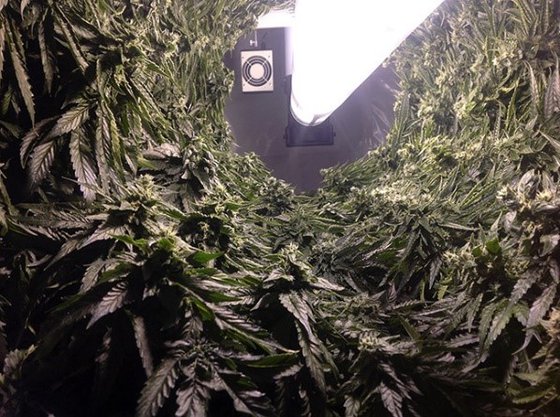 This system reduces the costs associated with conventional hydroponics, including facility construction and maintenance costs; utility costs; atmospheric, water and nutrient costs; and pest/disease control costs. In fact, it produces uniform, high-quality, medicinal-grade cannabis at the lowest cost per gram and the highest yield per square foot in the industry.
The RotoGro System also enables uniform growth patterns, which makes harvesting projections and scheduling easier for the grower. The compression resulting from the rotation results in plants with more internodes (flowering sites) and better flavour profiles.
There's also considerable upside here in terms of its application in health and nutrition supplements, herbs and spices, pharmaceuticals, nutraceuticals and food products.
This is RGI's fittingly named Model 420: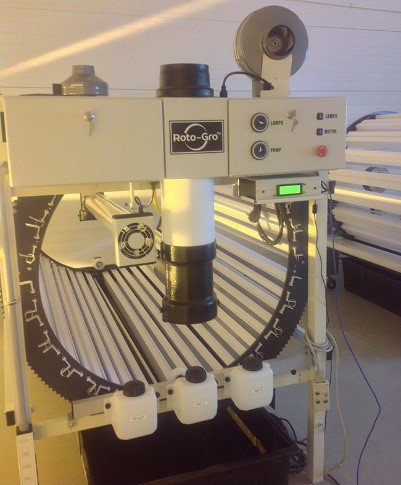 RGI's system results in 10 times the production of traditional flatbed growing in the same amount of floor area, using 40% less electricity.
And it seems like the proof is in the pot... During the first quarter of the year, RGI designed and built out two state-of-the-art grow rooms at its showroom and manufacturing facility in the Town of Caledon, Ontario.
These were specifically designed to demonstrate the considerable space, cost and yield advantages of the RotoGro System, using a side-by-side comparison with a traditional flat deck system occupying the same amount of floor space.
A single room comparison: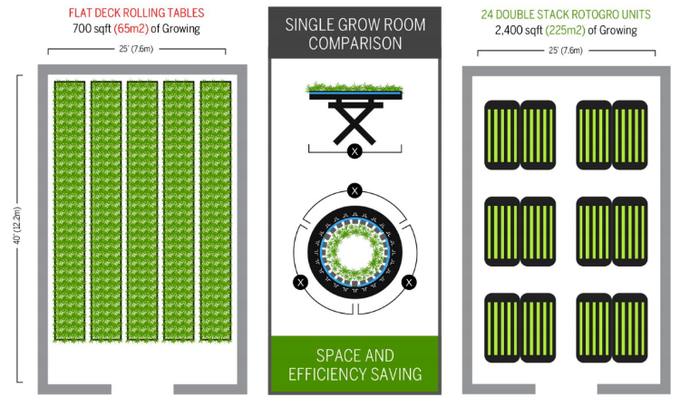 The combination of gravitropism and RGI's proprietary CO2 delivery system increases yields by further 30-50%.
The yield advantages compared to a flat desk system: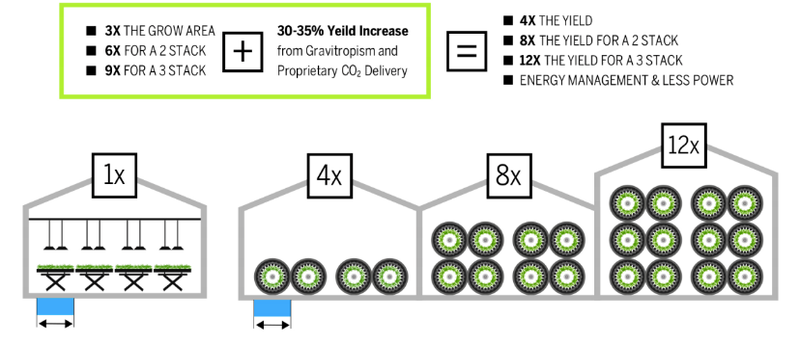 A comparison over 60 and 115 days in terms of yield and footprint: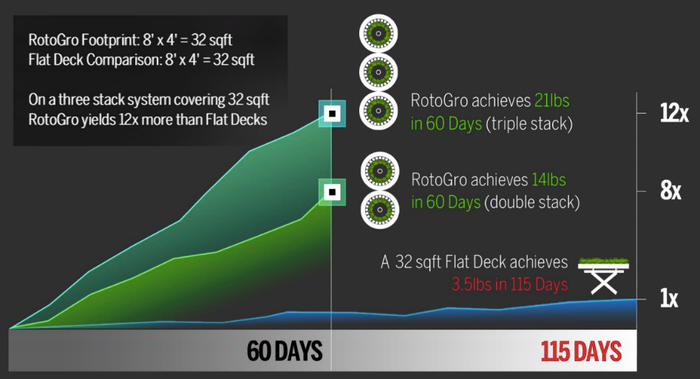 The RGI system produces 10,080 lbs (4,570 kg) per year based on six harvests, and return on the initial investment for a cannabis facility is paid back within the first 60-day grow cycle. In contrast, a flat deck system, produces 76 lbs and three harvests per year.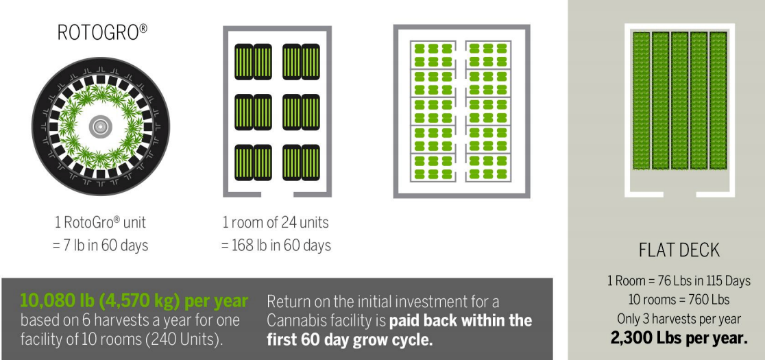 Crunching those numbers further...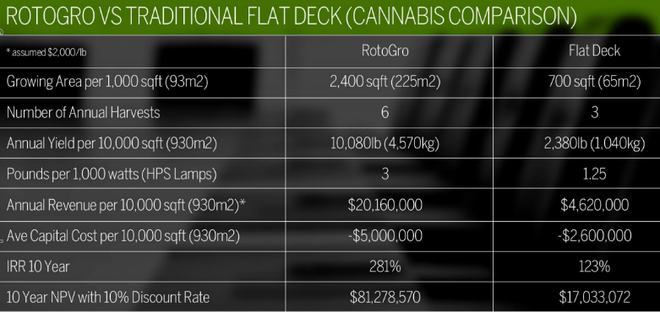 It's no surprise, then, that these systems are in hot demand.
A fertigation opportunity
The next piece of the tech puzzle comes by way of RGI's acquisition of Hanson's Water Treatment via its wholly owned subsidiary, Global Fertigation Solutions (GFS).
Fertigation is the injection of fertilizers, soil amendments, and other water-soluble products into an irrigation system.
RGI is taking on all of Hanson's assets, intellectual property, ongoing contacts, key personnel, industry know-how and business goodwill for $1.75 million — three times Hanson's 2017 earnings.
This places into RGI's hands Hanson's specialised fertigation business line for water treatment and nutrient management in the viticulture, perishable foods and legalised cannabis space.
To date, Hanson Fertigation has successfully provided design solutions, installations and ongoing service for more than 12 licensed cannabis facilities in Nevada, where recreational pot is legalised.
This fertigation solution is a patent-pending, fully automated nutrient delivery system, which purifies source water and adds client-specified recipes of nutrients to maximise yields and optimise cost efficiencies during the growth cycle of each crop.
How it works in a nutshell: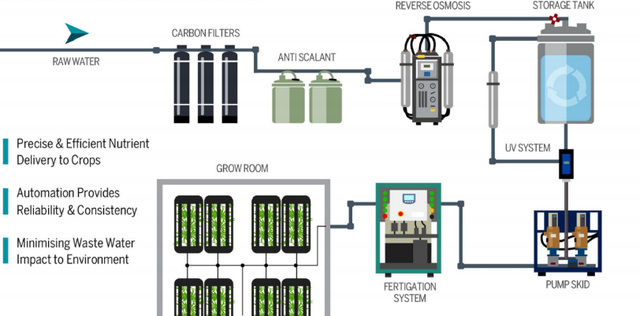 This acquisition expands the RotoGro Rotary Garden System capabilities on an enterprise level, offering up ample opportunities for revenue growth with secured orders to date in excess of US$1 million for this year alone.
And with Hanson's Nevada proof-of-concept in its hands, RGI is hoping to take this fertigation tech global.
With that in mind, when you combine RGI's full suite of growing solutions in a facility setup — that includes its CO2 delivery and climate control management, iGrow software, and fertigation system — it all comes together as a streamlined whole: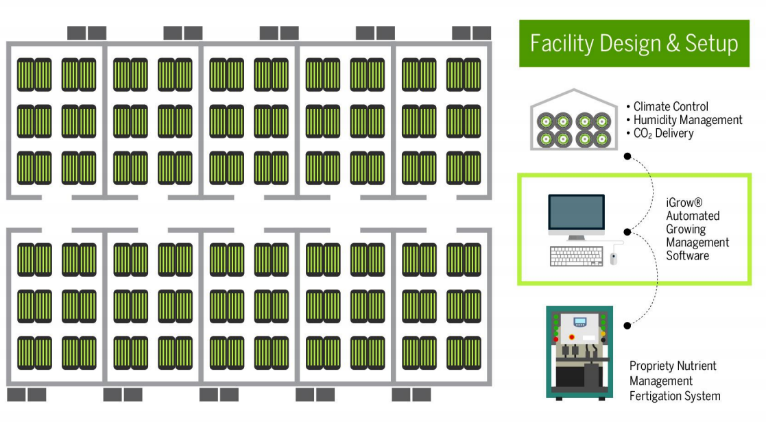 Gibio perishable foods deal is the cherry on top
Yet another important deal for RGI — and adding considerable depth to its second vertical of growing management and facility ownership — comes by way of a LOI with organic perishable foods grower, Gibio.
Combining their respective tech arsenals, the duo will build and operate perishable farms, ensuring produce is grown with maximum efficiency, minimal water, and without pesticides or herbicides.
This gives RGI 49% equity participation in Gibio and includes a 20-year exclusive contract for all rotational garden systems needed for Gibio's perishable food production facilities.
Gibio is located in St Apolinaire, Quebec, and is developing environmentally responsible local farms which defy traditional growing seasons, enabling sustainable, socially responsible and traceable organic produce all year round.
This LOI is the culmination of 12 months of collaboration between the two companies to trial, test and customise the RotoGro System with Gibio's growing know-how and bespoke substrate technology.
Building, owning and operating perishable farms led by the tech of both companies will mean that produce is grown with maximum efficiency, minimal water, and without pesticides or herbicides.
Gibio is constructing the first 80,000 square foot flagship facility in Quebec, aiming to roll out an additional 10 facilities over the next five years — translating into what could be serious revenues for both parties.
A competitive edge — poised to reach more soaring highs
Clearly, RGI is a company that likes to stay on top of its game. With its newly acquired Canadian licence, alongside its tech diversification and ability to tap the high-value crop sector — not to mention the future of food security with urban vertical farming — this ASX small-cap sits in a unique position compared to its peers.
RGI provides something rare: exposure to socially responsible, sustainable tech that's already taking on major international markets, and which will continue to expand as it continues to take advantage of positive legislative changes around the world.
As you can see, RGI is making sturdy strides, and it's currently capped at under $50 million. And given that it's still early days yet, there's plenty of room for future growth, making this combination ASX ag-tech pot-stock ripe for sustainability-focused investors.
---