App Maker ALA Cashed Up with Imminent Global Product Launches
PUBLISHED: 17-04-2014 10:56 a.m.
They say money can't buy happiness. Maybe... But the brain boxes running Applabs Technologies (ASX:ALA) are grinning from ear to ear right now after it just completed an equity raising that was significantly oversubscribed. ALA just raised over $3.8 million from institutional and sophisticated investors, primarily to fast track its star app – Home Open. Now ALA is cashed up with over $6 million in the bank. As the recent raise came entirely from institutional and sophisticated investors, it was a massive tick of confidence that will allow ALA to accelerate and elevate its plans to bring its killer mobile apps to the market. ALA's Home Open app plans to shake up the real estate industry and take a slice of a very lucrative industry – in fact they have in their sights a $6 billion giant who currently dominates the market. ALA is also pressing forward with Roster Elf, a mobile cloud based rostering system – set for a global launch in a matter of weeks. It's also worth noting that in the recent raise, sophisticated investors paid 23 cents a share – ALA today is trading at just 19 cents a share (as of 17 th Feb, 2014). ALA's current low trading price may be attributable to a recent hiccup in the tech market. Panic selling has seen a few tech companies slide in value. So while tech stocks are being a bit unloved right now, ALA represents value for money – with all the upside potential we have discussed previously . Despite a few jitters in the past few weeks, the global online app market is still expected to be worth US $77 billion by 2017 – and ALA is determined to take a slice of this. Plus, ALA is issuing loyalty options to all investors who hold ALA shares up to 29 th April 2014 . Even new investors who buy shares in ALA up to this date can receive these options. These options are valid for 2 years with an exercise price of 25 cents. New investors can now pay less per share than the big players just did and STILL get loyalty options: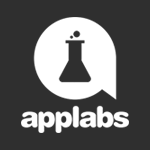 The Next Tech Stock covered ALA in our original article Big Money from Smart Phone Apps: Little known ASX-Listed App Developer shows Blue Sky Potential in the White-Hot Tech Space , which goes into extensive detail on all things ALA. Read on for all the latest developments in ALA!
Our Track Record
Regular readers of our sites will be familiar with our long-standing interest in reporting on high potential stocks that we uncover. To note just a few:
– TRF has risen as high as 110%.
And who could forget the Next Oil Rush tip of the decade, TSX:AOI, which has since a rise as high as 600% (!) since we called it in the report East African Oil – Hot Tip of the Decade!
The past performance of these products are not and should not be taken as an indication of future performance. Caution should be exercised in assessing past performance. These products, like all other financial products, are subject to market forces and unpredictable events that may adversely affect future performance.
Global App industry set to hit US $143 billion in 2017?
ALA is an app developer – a tech company that makes digital tools that can be used on smart phones, tablets and computers. An app can be anything from a digital spirit level to a text messaging service like Whatsapp . Apps are worth big bucks – Whatsapp was famously sold to Facebook for $19 billion dollars! In 2013 the global app industry was worth $68 BN and there are predictions it could more than double by 2016 to $143 BN.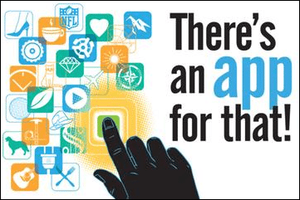 At every level of business, government and private use apps are becoming THE dominant tools of the internet and those who build successful apps are making money hand over fist. The Next Tech Stock has added ALA to our portfolio as a long term hold. Why? We're attracted and impressed by what we like to call ALA's triple-attack business plan .

ALA develops its own apps using its in-house development team , seeks out contracts to build apps from private industry and government and looks for innovative apps it can acquire or help bring to the market. This means ALA has the freedom to pursue its own creative (and potentially very lucrative) projects, earn solid revenue through regular development and maintenance of contracted apps and snap up promising ideas that come its way. That's three ways to make money from apps! ALA is run by a mix of tech and business professionals – meaning they have their eyes on the blue sky and the bottom line – ambition and expertise married to sober execution. It's no wonder a tonne of sophisticated and institutional investors chose to invest heavily – $3.8 million worth – in ALA's future by oversubscribing to a recent equity raising. ALA now have over $6 million in cash and are ready to deliver their key apps to the world.
How investors can crack open ALA's war chest
ALA has an exciting app in development right now that could carve off a huge chunk of one of Australia's most lucrative markets – online real estate. The app is called Home Open and it promises to revolutionise the way modern Australians hunt for real estate.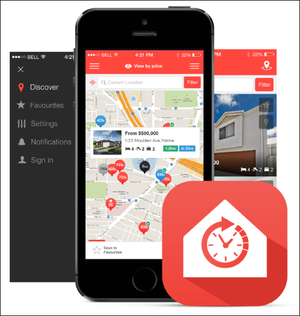 We'll have a longer look at Home Open in a minute but for now let's just say it's the ace up ALA's sleeve. The big kahuna of online real estate is Australia's REA Group – worth around $5.3 billion. REA's website alone has more than 20 million unique visits a month and the company's real estate apps have been downloaded more than 2 million times! Online real estate is big business and if ALA can carve off a chunk of REA's action with its Home Open app then investors will be smiling very wide! Institutional and Sophisticated investors heeded ALA's recent call for cash support to get Home Open ready and its equity raising was massively oversubscribed – netting firm subscription agreements for 16,800,000 shares at 23 cents each. This flurry of investment means ALA's war chest has an extra $3,864,000 ! Now with over $6 million in the bank, it's cashed up and ready to execute its plans to launch the Home Open app and start making big bucks. With this cash injection, ALA plans to do 4 things :
Accelerate the development and release of Home Open
Increase the marketing and advertising budget for Home Open
Expand the ALA sales, design and in-house development team,
Save some cash, strengthen the balance sheet, and be ready to take advantage of new acquisitions and financing opportunities.
So as you can see, ALA is going to spend its money wisely. An accelerated development phase and release timetable for the Home Open apps means ALA can start making money from the app much faster. A bigger marketing budget means it can raise its ambitions for the market share it wants to capture with its Home Open app and win more customers and users than it could before. The expansion of its sales, design and development teams means every aspect of ALA's business benefits – more apps in train, more sales and even higher quality products. Speaking of benefits, the very successful equity raising has opened some new doors for investors who want to get involved with ALA. The fact that Institutional and Sophisticated investors are so heavily involved is a very good sign. But the price they paid to get a ringside seat for the ALA show is even better. 23 cents a share. ALA is currently trading at 19 cents a share (as of 17 th Feb, 2014). So while tech stocks are experiencing a temporary blip, regular investors can pick up ALA shares for less than what the sophisticated investors got them for. If that's not enough to set trouser pockets on fire then ALA has another enticement in the pipeline.
Loyalty is its own reward with ALA
ALA has announced loyalty options to shareholders who hold ALA up to 29 th April 2014. For every two shares an investor holds, ALA will issue one option priced at 1 cent. The exercise price for each option is 25 cents and expire two years after they're issued.

ALA investors who hold shares at 29 th April will be offered to purchase an option for 1 cent – providing significant leverage to any future gains in the ALA share price. At The Next Tech Stock we think the market hasn't quite cottoned on to what ALA is offering here. ALA is a tiny tech company with a brace of exciting products under development and the backing of smart money – significant upside is present in this swelling industry. Investors can pay less per share than the big players just did and STILL get 1 cent loyalty options. But only if ALA shares are held up to 29 th April, 2014.
Doors opening for ALA's Home Open app
All this action swirling around ALA has one big focus – the Home Open app. Home Open is a digital app under development by ALA that has the potential to utterly change the way Australians (for a start) hunt for property online.
The app is free to use if you're a punter or a real estate agent – it's the advertisers that pay. The fact that the app is free for real estate agents will assist in product take up – what real estate agent would knock back a free listing? Home Open lists pictures and descriptions of available properties (listings paid for by agents) on a user's smart phone, tablet or computer. The user then chooses which properties they'd like to view and Home Open creates a timetable, factoring in when each home is open and the best way to navigate between them using Google Maps. Home Open's mission is to make searching for a property hassle free. No more fumbling with map books or Google searches or thumbing through the classifieds.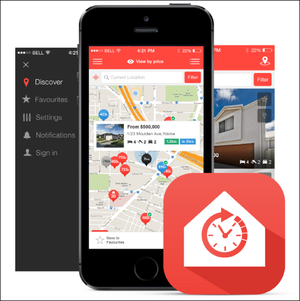 Now that ALA has an extra $3,864,000 from smart money investors, the development of Home Open is being accelerated. The marketing budget will get bigger so when Home Open launches the word will travel wider and faster. The sales team is being increased to the number of customers will rise. ALA says right now it's concentrating on signing up as many Real Estate agents as it can so when Home Open launches it will offer a comprehensive service. ALA also says it's completed a redesign of the brand and received feedback from a focus group on ways it can improve the look of the app and the way it works. This is very important – functionality is key and with the help of focus groups ALA is refining Home Open so it's as simple to use as possible. The development team is also progressing well with a version of the app that will work on Android phones and pushing for completion of the Home Open website. All in all, things are racing ahead with Home Open and ALA's extra spending money from its oversubscribed equity raising will surely bring this high quality product to market faster, better and stronger.
Put this one in your diary – ALA's newest acquisition
With over $6 million now at ALA's disposal, the company says it's going to be increasingly on the lookout for new acquisitions and investments. A perfect example of this is ALA's 25% stake in an app called Roster Elf:

Roster Elf is a digital app that helps businesses and government departments big and small put work timetables online and save up to 90% of the time a paper version takes. Instead of tacking up a paper roster on the notice board in the lunch room, companies can now put upload work timetables to Roster Elf. It's simple and secure interface is easy to use and understand and because it's online changes can be made quickly without a complicated paper trail. ALA recently updated the market on how Roster Elf is tracking:
Global launch is a mere weeks away;
Beta testing is progressing well;
Branding work is complete;
A dedicated Message Centre has been established;
Integration of a payment gateway is ongoing, and;
Finally a sales team is in place to start shifting the product into the hands of customers!
The potential market for Roster Elf is huge. Australia's workforce is 11 million strong! Hospitals, mining companies, supermarket chains – the list of companies with big workforces and complicated roster systems is almost endless.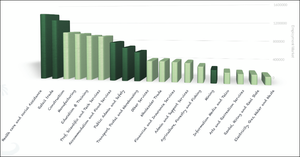 Roster Elf is easy to use, easy to alter and easy to access 24 hours a day, 7 days a week. Forgotten your next shift? Log on to Roster Elf. Need to swap a shift or get a day off? Log in to Roster Elf and make the changes. The modern work force needs an app like Roster Elf and ALA is confident the market will snap it up and make it a standard (and lucrative) part of everyday operations. With over $6 million in cash in the bank, ALA can enhance and accelerate the development of its existing app projects like Home Open AND look for more opportunities like Roster Elf.
Appy days: digital tools continue world domination
The world of apps ALA is very much a part of is continuing to bring in some extraordinary stories and figures. A mobile game app called Candy Crush Saga is one of the most played on the planet and the company behind it, Kings Digital Entertainment (KING) just launched an IPO on the NYSE, with a valuation of a little over $7 billion !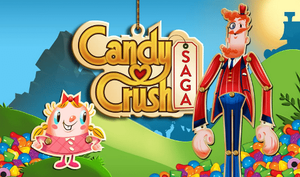 There's been a little negative press for the stock as the market questions whether it can keep spitting out immensely valuable apps – but it did manage to debut at $22.50 in late March. Since then the stock has gone down, hovering in the high teens. Still, a $5.7 billion valuation is not bad for just one app. Most of the negative press has centred on the question of whether a game app developer can continue its multi-billion dollar app success in a fickle market. But if the company can launch another hit or convince investors it can be a sustainable business then who knows? While it's not strictly an app, the really big tech sector news at the moment is the upcoming US IPO for Alibaba , a Chinese online retailer billed as Amazon and Yahoo combined. There are predictions Alibaba could debut with a value of $15 billion !

Alibaba is an online platform that connects global businesses with Chinese suppliers. If you want it, Alibaba can get it for you. Time will tell following the upcoming IPO, but the buzz is very promising. Meanwhile, an American company called Quora that runs a question and answer website has just raised $80 M as part of its efforts to build a new version of Wikipedia – the peer sourced and reviewed online encyclopaedia.

The extra cash brings Quora's estimated value to around $900 M! So, with all this in mind, imagine what could happen to ALA once Home Open is launched. A takeover by a larger real estate group? A social media network like Facebook? Or just a plain big old chunk of profits and market share. Whilst nothing is certain in this industry, the sky is the limit.
What's Next for ALA?
Following the $3.8 million oversubscribed equity raising, the shares for institutional and sophisticated investors will be issued in two tranches. The first under the company's existing placement capacity has been completed already . The second tranche will be issued subject to regulatory approval – after that ALA will hold a General Meeting in April in Perth, WA with all its shareholders to discuss its next moves. With all the new money in the bank we expect to see ALA press ahead much faster with development and launch of its Home Open app. If all goes well with Home Open we could see a launch date announced very soon. In the meantime the expanded sales and marketing teams will sign up more and more real estate agents to advertise their listings with Home Open so when it launches it will have a solid user and revenue base. We also expect to see some teasing looks at the new look for Home Open based on the feedback ALA has received from its focus groups to help build some buzz for the launch. In other areas of the business, we'll be keeping an eye on the development of Roster Elf and waiting for news of any new ALA acquisitions or projects. ALA is now cashed up and ready to deploy its apps to the masses – and the tiny market cap and upside potential remains.
---