Anti-Counterfeit Clothing: ASX Junior Signs with World's Leading Textile Manufacturer
PUBLISHED: 27-05-2019 11:00 a.m.
Nike, Patagonia, Calvin Klein, Lacoste, Ralph Lauren, Tommy Hilfiger, Hugo Boss. These are some of the world's best known fashion brands.
But what's lesser known is the name of the Chinese textile manufacturer that's behind the garments sold by these brands.
That company is Esquel Group, the world's largest garment manufacturer, producing in the region of 100 million garments per year. The company has a 57,000 people-strong multinational workforce with manufacturing facilities in China, Malaysia, Mauritius, Sri Lanka and Vietnam, and merchandising offices servicing markets worldwide.
While leading the way in the fashion stakes, the big name brands listed above are also some of the most counterfeited.
That's where today's ASX junior steps in. The company delivers revolutionary anti-counterfeit solutions, delivering manufacturers, retailers, and consumers certainty of authenticity.
And as announced this morning, the company's anti-counterfeit technology has been adopted by Esquel Group to incorporate this ASX junior's Anti-Counterfeit tracer thread into the clothing labels of two of its major brand clients.
This order means that the company has a foot in the door to further work with Esquel and access to hundreds of its major brand clients.
Esquel is not the first big name client of the company's; it is already working with major brands including Unilever, Dalda, Cisco, e-commerce leader Namaste Technologies, and an unnamed major Australian wine company.
However, today's announcement solidifies this companies standing in the global market.
All the latest from,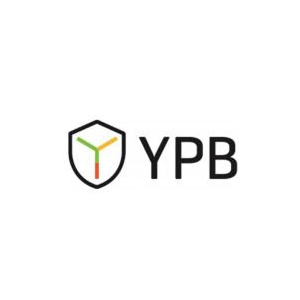 YPB Group Limited
ASX:YPB
Share price: 0.8 cents (at 24 May)
Market Capitalisation: $7.3 million
Here's why I like YPB Group: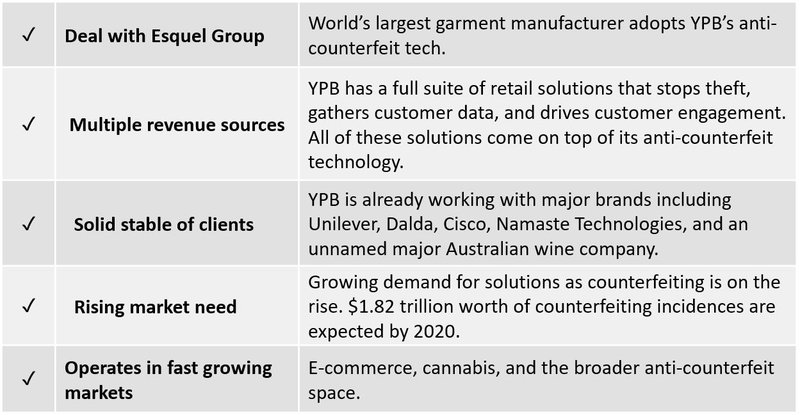 Brands spend millions of dollars building a market profile of quality and trust with their consumers, only to be undermined when counterfeit products hit the streets. Not only does this lead to lost sales revenue, but even more galling is that lost revenue ends up in the coffers of the counterfeiters.
Product authenticity and consumer engagement solutions provider YPB Group (ASX:YPB) is developing much needed technologies to counter the $1.82 trillion worth of counterfeiting incidences that's anticipated by 2020.
YPB has a focus on the rapidly growing consumer markets of Australia, South East Asia and China, where it has a unique position as the only company licensed in the country that sells invisible tracers.
Its groundbreaking technology is ideally placed to help brands, e-commerce sites and consumers combat counterfeit.
Alongside its anti-counterfeit technologies, YPB also delivers a full suite of proven retail solutions. It stops theft, gathers customer data, and drives customer engagement.
It's that very reason why Esquel Group is now using YPB's services.
Deal with Esquel Group, the world's largest cotton garment maker
While we hear about counterfeited iPhones, Rolex's and Louis Vuitton handbags, one of the world's most counterfeited items is actually the humble cotton shirt.
So how do you combat counterfeit cotton?
By providing anti-counterfeit fibres embedded with invisible tracer technology. YPB claim it is the only company capable of doing this.
In essence, clothing brands are able to use YPB's scanner to detect whether or not the AC fibres are present in each shirt label. This provides the brand with the ability to identify counterfeit products and confirm authenticity throughout the supply chain through either stocktake processes or simple spot checks.
Esquel Group is incorporating YPB's Anti-Counterfeit (AC) tracer thread into their clothing labels for two of their major brand clients.
You can read more about it here:
While not a household name in Australia, Chinese textile manufacturing company Esquel Group is the world's largest manufacturer of woven garments, producing about 100 million garments per year.
News of Esquel's order of anti-counterfeit fibre follows successful trials from previous samples, where Esquel has responded to demand from its brand clients to incorporate AC fibres in their clothing labels.
The exact clients were not revealed, but we do know that Esquel has an impressive client list. Here are just a few...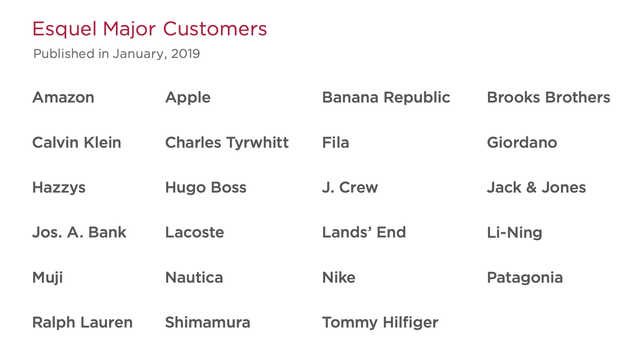 As Esquel has many big name retailers as customers, there's significant potential for YPB's technologies to take hold throughout Esquel's extensive list of customers.
While the gross revenue from the initial order of AC fibre from Esquel is just 100,000 RMB (A$21,000), YPB anticipates further orders based on unit volumes. It is also just a starting point at Esquel, which has hundreds of brand clients that could decide to adopt YPB's AC fibres to protect against counterfeiting.
As explained by YPB Group Limited CEO John Houston said, "YPB's solutions can halt counterfeiting in its tracks and brands are progressively seeing the value in adopting our solutions to assist them."
He went on to explain that working with Esquel gives YPB potential access to hundreds of major brands and is one of the best distributor partners that the company could hope for in the garment market.
YPB already has a unique position in China, being the only company licensed in the country that sells invisible tracers.
This company has 20 patents in anti-counterfeit and holds official China counterfeit accreditations (CSPIA and CATA).
You can read more about YPB's back story in our previous article: ASX Anti Counterfeit Tech Company Capturing Growing Legal Cannabis Market
Essentially, YPB is able to deliver its counterfeit services via its micro motif technology.
A sought after anti-counterfeit technology
Last year, YPB acquired the global rights to the multi-patented, MIT developed Motif Micro smartphone readable technology.
The technology is invisible, unfakeable, irreproducible, and commercially scalable — a world first, blockchain verified technology, where every consumer with a smartphone can scan to reveal product authenticity.
YPB will soon take its highest security anti-counterfeit technology to the mass market with an unclonable, smartphone-readable, physical anti-counterfeit product called ProtectCode, in combination with the digital protection of blockchain.
You can get a sense of how powerful the technology is by watching the following video:
The growing reputation of the technology and the increasing customer base is now having a positive effect on YPB's bottom line.
By the numbers
YPB achieved a 39% increase in quarter on quarter cash receipts, reducing the costs of goods sold and delivering enhanced gross profit margins in the last quarter.
With cash receipts from sales up nearly 40%, a general overhead expenditure of 12%, and further growth in the pipeline as evidenced by Esquel Group coming on board, the company's financial stability and long-term upside is clearly evident.
The $7 million capped company is poised to provide an earnings update in the June quarter, which could be a potential share price catalyst.
From an operational perspective, cash from sales was boosted by the payment receipted from a significant order placed in the previous quarter by one the group's key clients in relation to the application of YPB's anti-counterfeit mark on one of the world's most issued passports.
You can read more about YPB's earning and growth potential in the following Finfeed article.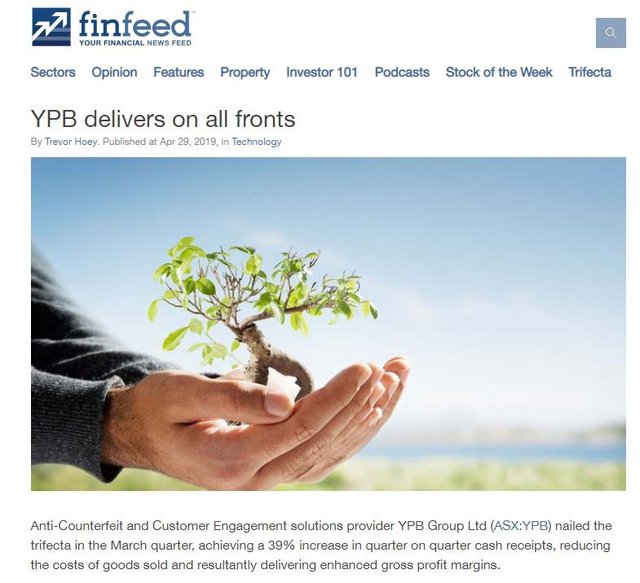 YPB's message is pretty clear going by last quarter's figures. With greater sales activity, better management and an increasing pipeline of activity, we should expect sustainable growth.
Two industries to keep an eye on
The industry-driven refinement of YPB's products, particularly in the wine and broader caps and closures space, is starting to yield early results.
Speaking of wine, it too is impacted by counterfeit products and YPB has the solution.
As stated previously, UPB is already working with a major wine manufacturer.
YPB's ProtectCode QR Technology and YPB Connect will provide this major Australian wine company with powerful anti–counterfeit and direct consumer engagement capabilities at low cost per unit.
Then there's cannabis.
As the legalisation of cannabis spreads, so too do incidences of counterfeit products.
Black market products are infiltrating the legal market, with dangerous and, at times, deadly consequences. Cannabis retailers need to be trusted and the only way for that to happen is for consumers to know that what they are buying is authentic.
YPB existing partner, Namaste Technologies Inc. (TSXV:N | FRA:M5BQ), is broadening its use of YPB's product markers to all products on its e-commerce platforms.
YPB has a 'Cannabis Confirmed' initiative with the e-commerce platform to provide an industry-wide authentication and consumer engagement solution to global cannabis industry companies.
There are currently four Namaste companies engaged in this initiative, the most recent being Shatterizer Inc., an established Canadian vaporizer brand leading in hardware for cannabis concentrates.
YPB and Shatterizer signed a three year exclusive agreement whereby YPB's ProtectCode will be applied to all of Shatterizer's cannabis concentrates, vaporizers and accessories.
All brands on Namaste's platform will be urged to comply with the new markers.
YPB markers protect consumers from the health, safety and quality risks that come with counterfeit products, and provide greater market intelligence by capturing valuable and unique consumer data via YPB's Connect platform.
The final word
News like today's major Esquel announcement, highlights that demand for anti-counterfeit solutions is picking up pace.
YPB is in prime position to deliver these solutions.
Yet, YPB isn't a one trick pony. Consumer engagement and retail is also key to YPB's solution.
YPB's proven, patented product suite has other revenue sources in additional to its anti-counterfeit solutions — retail engagement and consumer engagement.
These multiple sources of revenues, are having a positive effect on the company and its reputation in the market.
It is likely now, that with further good news expected, YPB will continue to build on its sales and growing revenues, whilst making its mark as one of the premier, global anti-counterfeit providers.
---