Ambitious DTX Seeks Long Term Relationship with Wealthy Tech Giant
PUBLISHED: 16-11-2016 10:09 a.m.
Our hearts are fluttering ever so slightly here at The Next Tech Stock .
One well positioned online dating company with an ability to bridge the online/offline divide has been breaking revenue records, growing its subscriber base and shoring up its cash flow as it looks to build a portfolio of dating brands in the same manner as the $5.8BN NASDAQ listed Match Group (who owns Tinder, match.com, OKCupid, PlentyOfFish, amongst others).
We are of course talking about DateTix (ASX:DTX), a $12M capped company operating in the $5BN/year online dating space which is experiencing serious growth in Asia – the company's major market.
As DTX looks to match the growth of the sector, it has undertaken quite an aggressive acquisition strategy.
DTX recently completed the acquisition of a suave British variant by the name of Lovestruck and most recently instigated an acquisition of Thai-based dating app Noonswoon.
Both acquisitions are imperative to DTX's brand-build, as they give this Hong Kong-based company the platform to further expand its revenues, subscriber base and cash flows, whilst diversifying its brand portfolio in a similar way to Match Group.
DTX has displayed an ability to court new subscribers, users and customers all through the old-fashioned method of personal communication.
This old-fashioned approach using modern technology has helped DTX post fresh numbers of the stellar variety that supersede previous records — which is exactly what we were hoping to see in this young buckaroo's first financial year since listing.
October was a particularly lucrative month . DTX is now generating around $145,000 per month in revenue and has over 114,000 active monthly users.
It has achieved a +358% quarterly growth in operating cash flows and +473% quarterly growth in monthly active users to September.
Furthermore its user base increased to 114,000 in October, up a further 128% versus the same period in the prior quarter.
It must be noted that this level of growth may not always continue at this level and given this is an early stage tech play, investors should remain cautious and seek professional financial advice if considering an investment.
A great deal of DTX's growth has come from close-quarters word-of-mouth marketing.
The Lovestruck platform could also be having an effect on those numbers as it is now available in the Chinese language. The completion of the acquisition opens up an even larger addressable close-quarter market than DTX already has.
Tightly packed places like Hong Kong are the perfect habitat for the type of service (and business model) which DTX is delivering, and the results speak for themselves.
It seems DTX's ability to emulate Match Group is starting to become evident, but it isn't the only reason DTX has adopted this approach.
It also wants to catch the eye of the multi-billion dollar matchmaking giant and tempt it into an acquisition that could give it a presence in Asia. DTX's own value-generating acquisitions including Lovestruck and Noonswoon may just be the way to do that.
It's a canny move by DTX and all we can do is watch to see how it plays out.
DTX currently operates three complementary businesses that offer multiple cross-selling and up-selling opportunities to drive user growth.
It is now ensuring that monetisation multiples remain as vigorous and vibrant as all true, long-lasting partnerships do.
So for now, and without further ado, we review the dating eligibility of: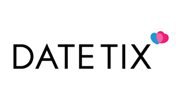 DateTix

They now see internet dating as an important part of their life and time management practice. As you can see by the growth chart below, online dating has gained widespread social acceptance over the last few years.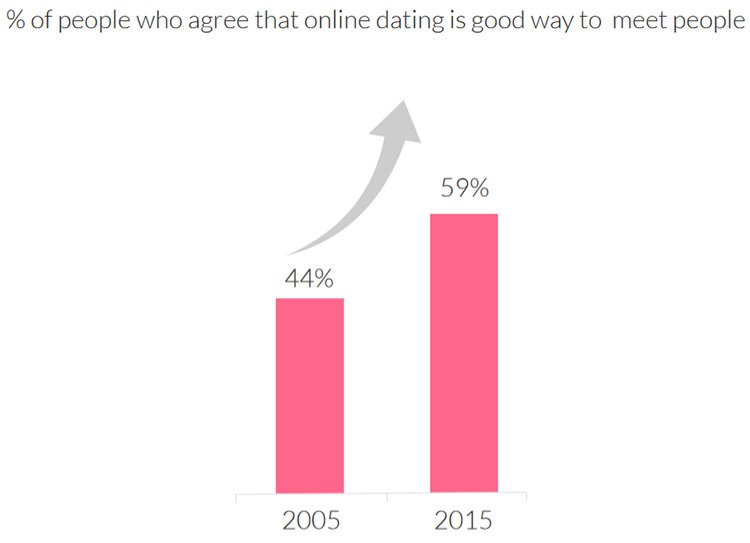 To make it seem like people have more time, DTX has created a convenient online ecosystem for people to find others with similar interests or intentions, as well as providing matchmaking services that are aimed at serious dating — not casual whack-a-mole services that are more about the swipe and hook up, not the long-term hook in.
DTX is a dating company with a matchmaking difference
Dating and finding a match are just not the same thing, and both have widely different commercial paths.
Where platforms such as Tinder provide a quick, cheap, wham-bam-thank-you-'mam experience...
...companies such as DTX provide a catered, haute couture service aimed at meeting the exact needs of the client. This approach has evidentially obtained more traction with companies such as Lovestruck, a high-end online dating service which DTX recently acquired and has helped it eclipse all its competition in terms of revenue generated per user.
DTX is hoping that its pending Noonswoon acquisition will have the same effect.
DTX's unique matchmaking approach is now serving up the following results for early stakeholders: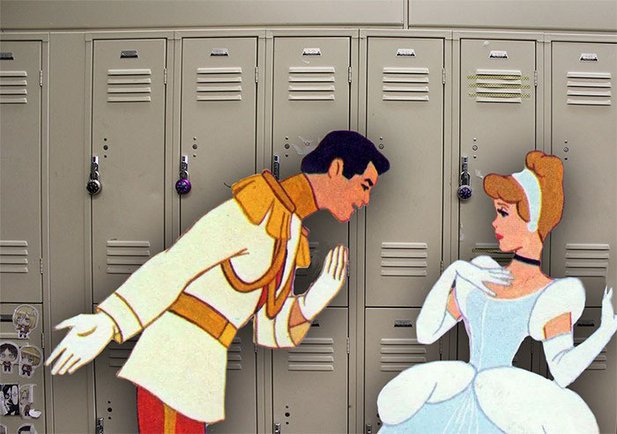 When you have a look at the figures, record revenues of $145,000 per month and an increase in monthly active users to 114,000 people, it is easy to understand why DTX's stakeholders are maintaining interest.
For DTX, these numbers represent a fantastic early start.
DTX is now hoping it can continue this early market success into next year as the next stage of its development is initiated.
The game-plan was always to let DTX's platform off the chain in a populous city and then replicate the model in other cities given the focus on young, busy professionals with money to spend, but little time to play cupid.
And the gameplan appears to be paying off.
Take a look at the growth from June to September...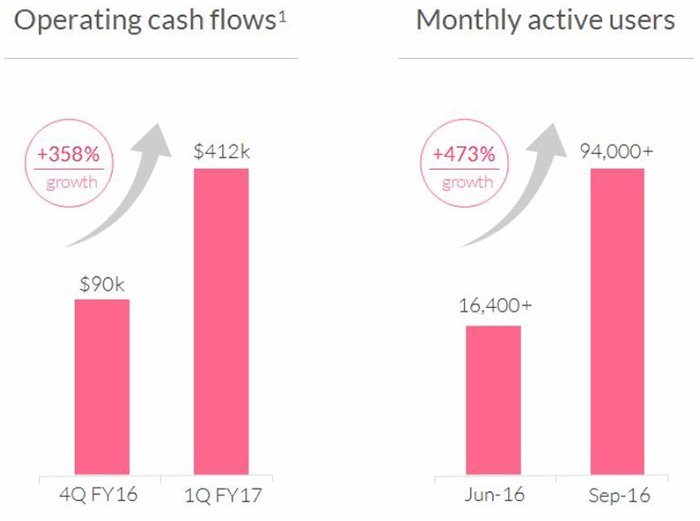 ...that's what we'd like to call a successful first date (with market traction), here at The Next Tech Stock.
Note, those active monthly user figures climbed again in October and now sit at 114,000 people.
The rise of revenue and subscriber figures have certainly had a positive effect on cash flows.

Achieving cashflow profitability so soon after listing, albeit after "excluding all centralised research & development, general & administrative and other expenses that are not directly associated with city-specific operations" — represents a solid early base for DTX.
DTX remains a small-cap company in the early-stages, so the nominal numbers remain small, but the growth and rapid increase in user participation is a strong indicator that the collaborative, freemium model with premium added features, is a strong hit with its target audience.
Once upon a time in Hong Kong
One aspect of DTX's online dating strategy that's been a big hit is the focus on cities. Having focused its launch phase on Hong Kong, DTX is seeing that city leading the revenue generation specifically because of the close proximity of its inhabitants and the country's high population density.
This confirmation of its idealised and targeted business model is great news and means DTX can look forward to not only emulating its activities in other cities, but also, implement upon various technical tweaks that could potentially raise the efficiency with which DTX syncs up customers and generates sales.
The overarching plan is to move into the largest metropolitan areas and yield profit margins in the ~50% mark.
Currently, DTX's gross profit margins are around 70%, according to Fosters Stockbroking.
Below, you can see DTX's expansion potential.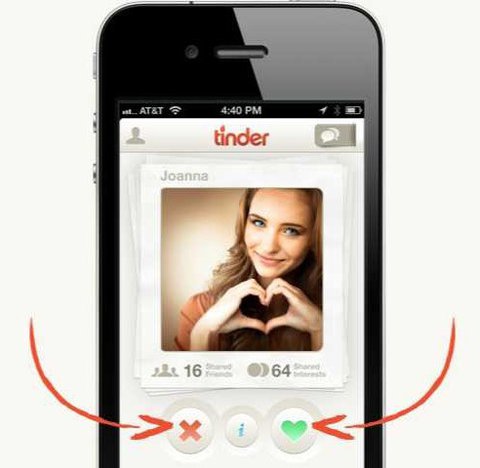 The number of singles (in the millions)
Having proven that a socio-demographic effect, otherwise known as 'word-of-mouth' is helping DTX's sales to great extent, this young ASX starlet can now better focus future expansion efforts and hopefully continue its record-setting pace so far.
Considering traditional matchmaking is still big in Asia as you can see below, DTX's record-breaking expansion mojo could very well continue as it marries traditional and digital methods of dating.

The Lovestruck and Noonswoon acquisitions are just another step on the expansion path and its bid to match Match Group's success.
Of course DTX is some way off doing this and investors considering this stock for their portfolio should take a cautious approach to any investment decision here – it is early days here.
One acquisition that could have investors swooning
DTX is moving forward quickly as it now looks to expand its interests in Southeast Asia.
The company has entered into a binding Heads of Agreement (HoA) with Noonswoon Inc. to acquire 100% of the business for 700,000 ordinary shares in DTX escrowed for 24 months.
Noonswoon is Thailand's leading dating app for those seeking serious relationships, so it fits perfectly into DTX's business model and operating philosophy.

Once the acquisition is complete (subject to shareholder approval), DTX will inherit 180,000 registered users, over 1,600 paying users and most importantly a company which has just reported a 107% return on marketing investment since the launch of its version 3 app in July 2015. The app has generated $58,000 in revenue from $28,000 in marketing spend.
To put it in simple terms, this pending acquisition feeds into DTX's overarching plan to expand geographic reach, user numbers, profitability and revenues. It also fits nicely into its plan to continue to make value-generating acquisitions for shareholders as it does all it can to attract the attention of Match Group or another major player.
Lovestruck and dating for revenues
Having listed on the ASX only in November 2015, DTX is already venturing into acquisitions of other proven online dating platforms, in order to accelerate its own commercial growth.
We discussed the value proposition behind acquiring British online dating success-story Lovestruck, in our previous article on DTX titled, 'DTX Now Lovestruck via Match Made in Heaven: Strong Growth Continues'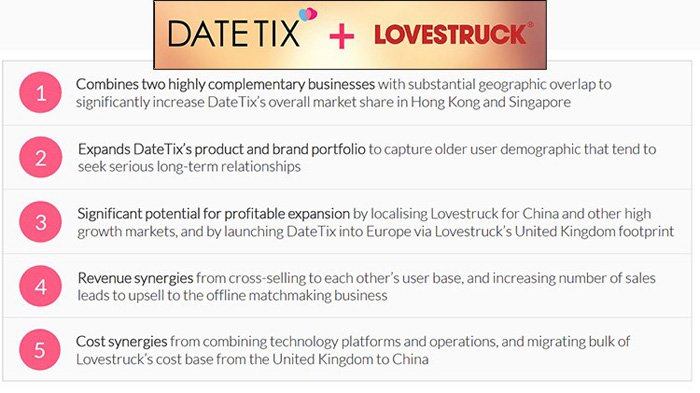 The digest recap is that Lovestruck represents a supremely synergistic catalyst that pushes DTX into the limelight of premium, high-end matchmaking including top-end technology infrastructure and most importantly, a strong revenue-earner on a per client basis:

The vast majority of its income comes from membership subscriptions in the UK and Hong Kong, which are not your usual $9.99 per month, but two to three times that amount as a result of Lovestruck's premium brand positioning to target affluent single professionals.
And here is a summary of how these two lovebirds are closely matched operationally: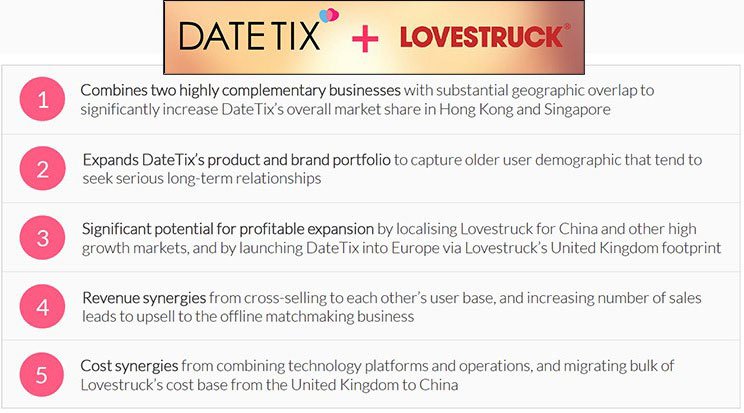 The Lovestruck acquisition feeds into DTX's overall plan in two ways: it builds the revenue and subscriber base and it increases DTX's brand portfolio, which as with Noonswoon, could one day play an important role in attracting a secret or not so secret acquirer.
Here is where these brands are positioned in the marketplace. As you can see from this illustration below DTX has the most important market segments covered.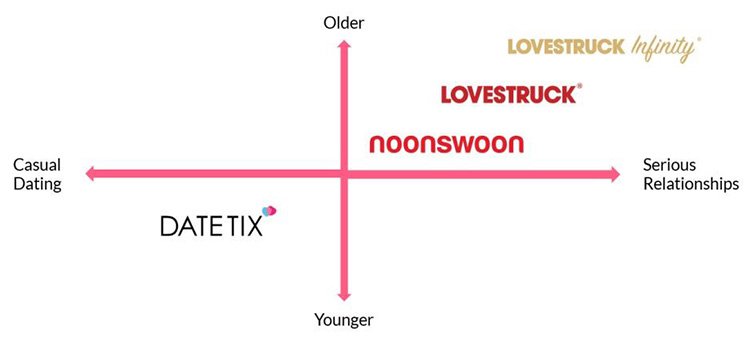 DTX will continue to look for synergistic acquisitions as it continues on its quest to deliver strong growth trajectory in FY 2017, with a clearly defined strategy for delivering shareholder value including the growth and promotion of the DateTix App, the promotion of Lovestruck throughout broader Southeast Asia and potential launches throughout the Asian region for its newly launched "Lovestruck Infinity" high-end matchmaking platform.
When all is said and done, DTX expects to grow its footprint, strengthen its brand portfolio and capture profitable opportunities in this growing market.
Modern dating is based on serious relationships, transparency and partnerships.
Nowadays, there are millions of wealthy single people looking for love, but who do not have the time to find a match.
Matchmaking services have sprung up to cater for this lucrative new market, or more accurately, they have pervaded the world of online to provide a better suited service that blends the benefits of online (convenience, accessibility, choice), with the benefits of offline (real, serious matchmaking, genuine life-changing possibilities) — without compromising on security or breaking the bank.
This evolved method of finding a match is gaining strong traction in China first and foremost because of cultural differences and an insatiable drive into urban areas by aspirational youngsters looking for love (and work).
As the 'singles' population swells globally and in China, it's presenting endemically high-potential monetisation opportunities:

A huge portion of those 200+ million singles are prepared to spend a reasonably high proportion of their income on finding a genuine life partner, discovering a new direction in life or maybe just finding a regular tennis buddy on a Thursday evening.
It would seem that dating preferences are shifting, and it's those early-adapters that are winning the plaudits.
DTX is putting this core societal change directly at the forefront of its business strategy which explains the entire 'matchmaking' mantra, as opposed to plain-old dating or chat.
The DateTix approach to dating
DTX is keen to diversify and synergise its existing list of members by ensuring they are not from exclusively one background or another. Having started its matchmaking mission focusing on hipster young intellectuals in Hong Kong and China, DTX's acquisitions of Lovestruck and Noonswoon opens the door to the more affluent, and more serious, match-seekers in the UK and Southeast Asia.
This is hopefully what we will see over the coming months, as DTX moves its bandwagon across major markets in Asia, including Beijing, Shanghai, Kuala Lumpur, Taipei and Mumbai.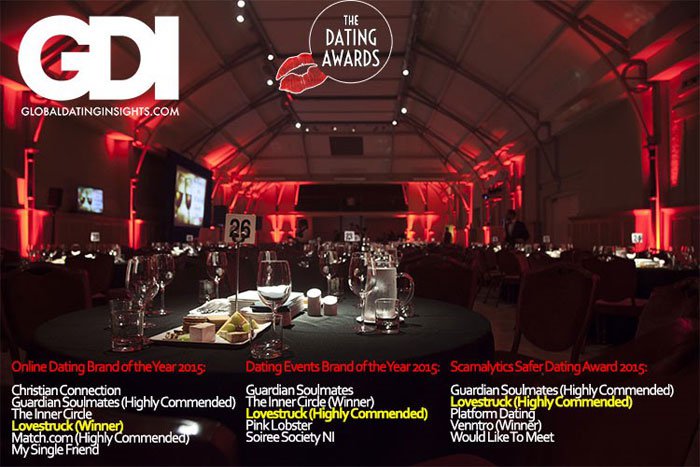 This broader, 'matchmaking' differentiation is effectively what inspired DTX's move to acquire Lovestruck and Noonswoon — premium, boutique services aimed at connecting matches, not just setting up dates.
The Lovestruck and Noonswoon acquisitions are great catalysts for DTX, which is now going from strength to strength in the commercial stakes.
Commercing for love
So what do the analysts think about DTX's first steps as an ASX-listed entity?
Does this flirtatious cheeky-chappie have the resolve to stay the course, and uphold its commitment to shareholders?
According to Foster Stockbroking's equity research analyst Darren Odell, " DTX's succeeding in its core Asian markets, focusing on user engagement and retention through well executed marketing spend, as well as its planned acquisition strategy. We would not be surprised to see DTX acquired by a larger player down-the-track, as audience reach and user engagement accelerates".
Fosters slapped a $0.89 per share valuation on DTX last month , and sees further market chivalry on both the customer acquisition and retention stakes.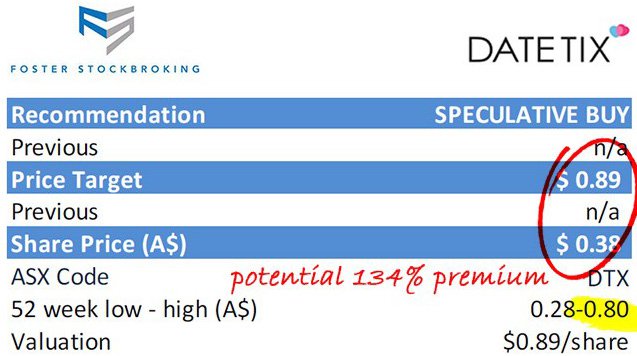 DTX has been as high as $0.80 per share already in the past year, and we think this consolidation period could be a good time to board this commercial love boat before DTX does its next city launch.
If Fosters price target is accurate, it would mean a 134% premium to the current share price.
Of course at this point we should remind readers that analyst price targets are no guarantee to eventuate – don't invest on the strength of a price target alone, use a range of information sources – including your own personal circumstances.
Boarding a commercial love boat to a synergistic future where online and offline are friends, not foes
Leveraging the explosion in social media interactivity coupled with the growing desire for stronger, longer-lasting relationships that go beyond the simplified Tinder-style whack-a-mole dating experience — that's the gist of DTX's market strategy, and it's a strategy that seems to be working so far.
It's very likely that as DTX's audience participation escalates over the coming months (and years) as all good, strong relationships do, we could see a string of "record quarter-on-quarter" results.
Of course, this is speculative and should not be considered as a guarantee to occur, so apply caution to your investment decision and seek professional financial advice for further information.
It wouldn't be a far cry to expect advertising and in-app purchases to rise accordingly once DTX is able to further increase its numbers.
It would be a bit like a relationship blooming from a seed into an oak.
And if all this goes to plan, could we see a multi-billion dollar giant look hard at DTX and what they are doing?
The powers that be and shareholders of DTX certainly hope so.
---