ACU Ink Deal with $60M Charity Tied to Google and Home Depot: Mass Uptake Imminent?
PUBLISHED: 30-03-2016 10:05 a.m.
What if charities could raise money via disruptive methods that use cutting-edge technology allowing donors to seamlessly donate without cash, bank accounts or credit cards anywhere in sight?
It may sound far-fetched, but Activistic (ASX:ACU) has nimbly assembled an ingenious method of bringing charitable giving and crowdfunding into one holistic platform through the back door of mobile phone bills which are used to debit funds.
Now that's what we call leveraging technology to one's own benefit.
In many ways, ACU is pulling down archaic and inefficient methods of fundraising that have been in the slow lane for years...
...and replacing them with a modern alternative that's moving in the fast lane.
The big news at ACU is the recent addition of its most significant partner in the form of the Association of the United States Army (AUSA).
This five year partnership opens up a host of B2B and B2C opportunities for ACU.
Given the AUSA raises in excess of US$60 million annually, this deal could lock in solid long term recurring revenue for ACU
The AUSA charity will become available on ACU's Veteran's Call app in the coming weeks and it opens the door to AUSA's corporate ties with the likes of Google, IBM, 3M and Home Depot.
Via the AUSA deal and marketing partnerships with Corporate America, we could see the game changing mass uptake of ACU's product that investors have been waiting for.
The question is, how many of AUSA's donors will now transition to the Veteran's Call app knowing they could cut out the middlemen, lowering the costs for the charitable cause?
We may soon see ACU strike white label agreements with well-known global charities.
With the technology already in place, ACU is ready to provide these large, global charities with their own platforms.
From progress to date, we should start to see growing conversion rates and app downloads which could also improve the share price.
However at the same time, any talk of share price performance is speculative and caution is required when considering this stock for your portfolio.
As momentum for a more efficient form of charitable giving grows, ACU is moving on all fronts to make people (and businesses) aware that when raising funds, there is simply no need to hand over 40% of funds using normal off-line methods to the likes of marketing and PR, advertisers, distributors, collectors and bankers...
ACU can deliver more money to charities as a proportion of the amount given, so it could only be a matter of time until this leaner version of giving takes root...
...and puts ACU on an upward trajectory in terms of revenues and valuation.
ACU's share price has never been lower than current levels, yet the company has never been as solid in terms of product progress across both the US and the UK.
Is this stock about to head north?
Updating you on: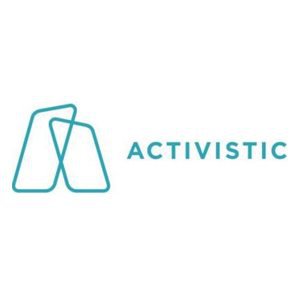 By making every donated dollar count and allowing donors to micro-donate directly from their mobile phone bill, Activistic Ltd. (ASX:ACU) could become the preferred conduit for charitable giving worldwide; earning a much more conservative 6.9% in donation fees.
Traditional charitable giving is stuck in the offline doldrums because most donations are not of a repeat nature and donors are contacted in person to be asked for cash or payment details.
Generally 40% of the donation doesn't reach the charity and no information is provided as to where the money went.
That's not very 21 st Century.
ACU does everything from a smartphone, most donations are of a repeat nature and donors are reached via social media or online channels.
Around 85% of the donation reaches the intended charity with a heap of information provided as to where the money went.
It's not just charities that look for funding. Religious groups, political parties and even sports teams often look to their members for financial support.
Wielding ACU's technology, they are all able to raise money faster, cheaper and with added functionality that delivers what donors want – information.
ACU is doing what no other ASX company has ever tried...
By allowing people to use their mobile phones/mobile phone bills to make periodic donations, ACU has effectively found an unbeaten track that matches donors with charities.
Charities get more funding while donors get more information and transparency, under an umbrella of security because credit card details are not required.
Most people don't give to charity partly for fear of their personal information being misused or lost. And when they do give, it's usually on a one-off basis that doesn't help the charity for long.
ACU alleviates these bugbears through an innovative online platform acting as a central distribution hub between donors and charities.
Australian charities spend an average of 22% on fundraising including giving away 38% of all donations to payments processors and intermediaries, including marketers, bankers, and other donor collectors.
That's a lot of waste and ACU wants to disrupt this most heinous state of affairs.
ACU's deal with the AUSA opens the door to Corporate America
ACU's latest (and possibly greatest) deal is one recently signed with AUSA.
The AUSA is one of the largest and most influential veterans' philanthropies in the USA raising $60MN per year from donors across 120 chapters worldwide.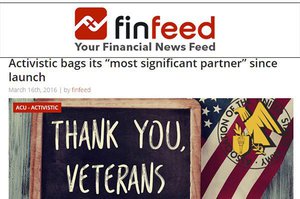 What makes this so significant for ACU is the AUSA's connection to large corporations within the US that constitute a large part of AUSA's fundraising.
Through the AUSA, ACU is able to penetrate into the highest levels of Corporate America from a business-to-business (B2B) perspective and also via related strong marketing opportunities directly to donors otherwise known as business-to-customer (B2C).
Take a look what Foster Stockbroking analyst Marc Kennis said in his latest research note on ACU: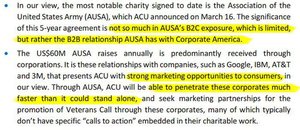 In the same note, Kennis includes a price target of $0.14 for ACU – that's over 130% above the stock's current levels:

However, analyst commentary is only one part of an investment decision and no guarantee of success – please do your own research and consider your own personal circumstances before making an investment decision.
ACU says that the AUSA deal is a "material signing that will contribute to a significant amount of awareness for the Veteran's Call app".
The AUSA hosts huge events welcoming the largest defence contractors and plays a key role of bridging public support with the armed forces.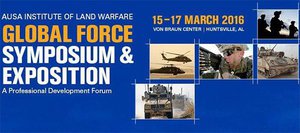 By cosying up to both American donors and American corporations, the AUSA is in the perfect spot to add drive to ACU's Veteran's Call app that is all about bringing donors and veterans together.
Power to the people
When it comes to attracting donors, charities use all sorts of ways to do it.
For decades, pounding the street with collection tins was the most efficient way because there was no other way of getting to new donors.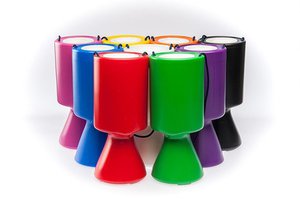 With the advent of the radio, TV and most importantly, the Internet, charities now have a huge choice of channels through which to reach their audiences.
When we look at where donations are coming from today, it's clear that the old school world of pavement stomping is quickly being gazumped by an online alternative that's all about stomping waste out of charitable giving:

Online giving only accounts for 6.4% of total donations but the online segment is currently the fastest growing at 13.5% – more than any other source.
With ACU going after smartphone-wielding donors, its addressable market is likely to grow organically. That's because smartphones are becoming more popular and because we do more things online each and every day.
But what about donors, what do they have to say? What do they truly want?
Take a look at this 2015 survey conducted by the Australian Charities and Not-for-profits Commission (ACNC). When asked what influences their decision to trust a charity not, here's what respondents said:

The most important factor for donors as proven by statistical surveying is funds going to those in need, the charity supporting a worthy cause and that the charity provides information about how funds are used.
Everything else such as the charities' reputation, nationality or personal affinity comes second.
That's quite synchronistic for ACU, because its entire business model is built on increasing the portion of funds going to charities and improving donor interactivity through transparency, post-donation information and regular updates about the worthy cause being supported.
Business model in summary
Looking at ACU's business model, the most important aspect is that ACU retains 6-9% of all donations as revenue, which is far lower than the circa 40%-50% that gets lost by charities in paying intermediaries and payments processors.

ACU has arranged some nifty deals with telecommunications providers, to enable people to donate directly from their mobile phone bill – even if they're Pre-pay/Pay-as-you-go mobile phone users.
One other neat benefit for ACU is that mobile donations enable people under the age of 18 to use ACU's platform.
As it stands, there are already over 2 billion smartphones floating around the globe today, rising to over 10 billion by 2020 according to some estimates. If you add onto that the prevalence of tablets and standard phones, the catchment within which ACU is operating is truly gargantuan.
In 2014, the dollar total donated to charities in the US was around US$358BN – the largest donor market in the world.
But as online giving becomes more popular, that number could rise significantly courtesy of ACU's simpler method to the current standard which relies on mobile phone billing.
At the same time, this is an early stage tech company – so success is speculative here. There are no guarantees.
ACU has assembled a payments alternative that relies on telecommunication providers
ACU is the only company to have iron-clad agreements in place with telcos globally – which means payments processors are taken out of the loop, prevented from getting their grubby hands on charity-bound loot.
Here's a list of the telcos ACU has already wooed and struck deals with: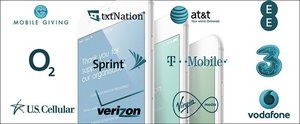 And when we say 'payments processors', we mean these lot: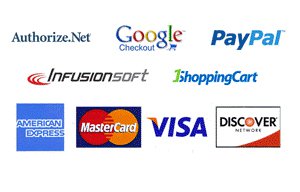 Anyone who donates to charity via phone or the Internet must go through them, and it means charities get far less than they should.

By closing the information gap, ACU can potentially alleviate this waste and raise its own revenues/valuation in the process. Hopefully, headlines such as the article above will soon become a thing of the past.
ACU builds momentum with 9 charities now available on the Veteran's Call platform and a further 8 on Ralli
ACU is moving on both sides of the Atlantic.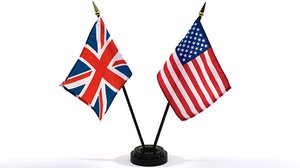 In North America, ACU has Veteran's Call while across the pond, it has Ralli.
Over time, ACU expects to add further apps that directly address particular charitable causes.
The following vertical paths to commerciality have been earmarked by ACU:
Veterans (already being addressed through Veteran's Call)
Celebrities (leveraging TV, music and sports celebrities to raise charitable donations)
Church (geared for donations to religious organisations, likely to be called Church Call)
Politics (channelling donations to political parties)
All four channels are being actively explored with Veteran's Call currently leading the charge.
ACU's Ralli app is adding charities like there's no tomorrow in the UK
The Nehemiah Project was ACU's eighth core charity to be added to Ralli which already includes Children's Heart Surgery Fund, Tearfund, Emmaus Glasgow, Scotty's Little Soldiers, Grassroots Suicide Prevention, TEMWA, Vital for Children and ARC Youth Counselling.
Outside of its 'core charities', ACU's Ralli app also has more than 80 charities already on-boarded and able to receive donations.
ACU has at least five top UK charities per cause including animal welfare, disaster relief, health and research and poverty.
With ACU now in full operation, the landscape of fundraising and charitable giving is subject to change.
But what do the experts think about charitable giving in today's day and age?
Here's what NAB's Head of Community engagement said recently: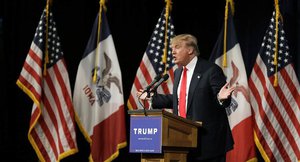 In the Land of the Giving, every Donor is King
With over 90% of charitable donations currently being done 'offline' via cash, debit card or cheque, it could be time for the giving industry to finally join the online revolution – and first mover ACU is front and centre to capitalise on this shift.
Charitable giving is on track to join the modern world of efficiency, transparency and accountability – everything that ACU provides as standard given its innovative platform and sneaky business model.
ACU is an activist at heart but also a business by nature. The company has a clear, well-founded commercial strategy that has the potential to generate strong revenues for ACU as more and more people embrace the online model for charitable giving.
However, this is still a junior play and professional advice should be sought when considering this stock for your portfolio.
In the meantime, traditional fundraising is dying out because of waste, inefficiency and lack of information for all those involved.
If investing in the charitable giving sector, it could be a good idea to be in the right lane.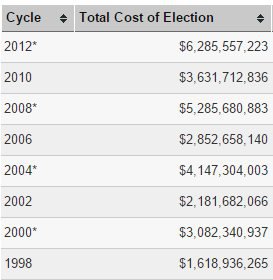 ---