$91B Education Tech Industry: ASX Listed Company Selling Education Online – Globally
PUBLISHED: 04-12-2014 10:43 a.m.
A good education is said to be priceless – but IBIS World has a more exact figure – the global education sector is worth $4.4 trillion dollars (that's $4,400 billion).
The education sector is very broad – it covers anything from corporate training, hospitality, business admin, aged care, workplace health and safety training courses and assessments, to traditional schools and universities.
Within this $4.4 trillion dollar market is a sector which really interests us – it's e-learning, or education technology.
The application of technology to education is transforming the way the world learns.
Education technology has since seen exceptional growth over the past few years, and is now worth $91BN globally – and $5BN in Australia.
This growth has been fuelled by the rising cost of education but also the growing convenience of online study and its rapid uptake.
Venture Capital funds are scooping up education technology startups in the US, as investor demand for high potential companies in this field increases – US VC investment tripled from $146M in 2002 to $429M in 2012 in this sector.
Blackboard grew from a small software company into an education technology behemoth that was taken over for $1.64BN in 2011 by private equity...
Millions of people around the word are now learning new skills and earning qualifications in their spare time via the internet.
There are hundreds of thousands of online courses you can pay to do – and digital companies specialising in education are emerging as multi-billion dollar businesses.
The Next Tech Stock has observed this trend and we've just invested in an ASX-listed online education company that's developed a technology platform that could grab hold of a big chunk of the online learning sector.
Most established online learning companies like $1.64 BN Blackboard and open source platforms such as Moodle offer tech that's clunky or difficult for the average user.
This company's education platform is a powerful, easy to use and cost-effective system that displays ANY e-Learning course across the full range of electronic devices online.
This technology platform can be sold under license to any education company around the world...
But it's not just the technology that interested us in this company – it's the business strategy.
Basically the plan is to acquire successful "traditional" education providers and apply advanced technology to sell the content globally – the kind of rapid and massive scalability only possible with technology.
As the company grows both organically and via acquisitions, it will increasingly be able to offer a fuller spectrum of learning – from school courses to professional development and training – to anyone in the world...
In fact this company currently capped at $11M has just acquired its first major education company, which had $2.98M in revenue for FY2014...
Plus it has acquired another education company, a Registered Training Provider that will see it offer online bookkeeping courses.
Firm bids are in for a $500k capital raise for this company, providing adequate cash for the settlement of these acquisitions.
It has plans to snap up many more – the company is hunting for existing, successful education providers that can complement the company as it grows...
Introducing the company behind this potentially game-changing technology:

icollege.net (ASX:ICT) has developed a two-pronged strategy to take on the expanding global online education sector and attempt to multiply its $11M market cap.
This Forbes article explains how education technology is not just transforming classrooms, but corporate America. In 2013, investors staked $1.25BN on education technology companies, fuelled by enthusiasm for the corporate training market.
US companies invest more than $62BN in training, with the majority toward technology, exactly what ICT are delivering: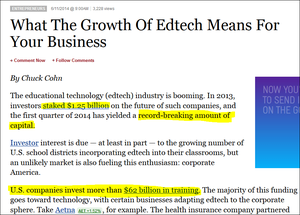 Education technology companies are sought after right now, as cash continues to flow into companies by venture capital investors that provide education technology products and services:
At its basic level, ICT offers over 20 online courses through its website. There's a great video on the ICT website that shows how the online learning process works:

Each of ICT's courses are conducted totally online by allowing access to the information through its icollege technology platform. This bit of digital kit uploads absolutely any course module and displays it clearly and simply.
The platform has been in operation for six years already and in that time has been constantly improved to maximise its effectiveness.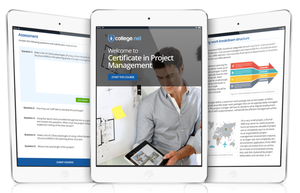 But this is just the beginning for ICT.
It's planning to take on the world, and will do that through an aggressive acquisition and sales plan.
One source of company growth is for ICT to market and sell its e-Learning platform globally – so that a trade school in Amsterdam could use icollege as its online portal to teach a course, or a professional development institute in New York could use icollege for its two week actuary workshop.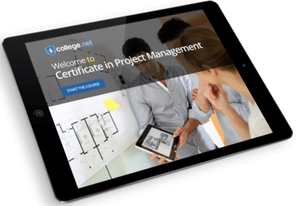 The other way ICT plans to grow is through acquisition – by buying up small and medium-sized education companies that major e-Learning groups ignore, ICT could grow into a leading global education provider.
Each new addition will have access to ICT's state-of-the-art education portal and enjoy synergies for marketing, client growth and technical support.
ICT recently completed its first major e-Learning acquisition :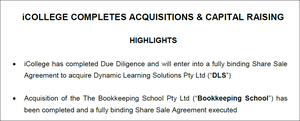 Under the deal, Ross Cotton (an expert in capital raising and corporate finance) will join ICT as Executive Director and round out the key players at ICT:
Non-Executive Chairman Hans de Back is a tech sector investor who is a Managing Partner of IncubAsia, an early stage tech investment firm. A major shareholder in Moko Social Media (currently capped at $100M), his expertise and contacts will be crucial as ICT looks to expand into Asia and beyond.
Managing Director Victor Hawkins took a company that became part of ICT from a mail order education business to a totally digitised education provider with more than 15,000 students.
Non-Executive Director Phillip Re is an expert at raising capital and his skills will come in handy as ICT accelerates its acquisition strategy.
And there will likely be more acquisitions to come in the New Year as ICT's strategy gathers momentum.
All of this is aimed at making ICT a global player in the online education sector – worth $91BN now, but rising all the time, as the developing world gets connected and increasingly seeks a first world education.
In this article The Next Tech Stock is going to show you how ICT aims to do that. We'll cover:
The growing industry of e-Learning and what's driving it
Show you ICT's technology and explain how it's going to make money
Pick apart ICT's acquisition strategy and see how it works
Now, seeing as this is an education company, we'll start our investment lesson with our favourite subject, mathematics... (as long as its multiplication!)
Our Track Record:
Did you see the Next Tech Stock article on Ziptel (ASX:ZIP) ?
ZIP has been up as high as 160% since we first released our article: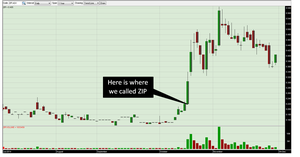 Source: Etrade Australia
The past performance of this product is not and should not be taken as an indication of future performance. Caution should be exercised in assessing past performance. This product, like all other financial products, is subject to market forces and unpredictable events that may adversely affect future performance.
The future of education is digital
The London-based investment bank IBIS Capital puts a value of $4.4 trillion dollars on the global education market.
IBIS has predicted both e-learning (far left column) and corporate e-Learning (far right column) are set to grow by over 20% between 2012 and 2017: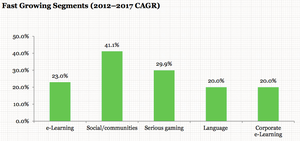 IBIS Word's Global e-learning Investment Review for 2013 says there are 1.4 billion students engaged in e-learning globally and the sector is worth around $91BN and rising.
Down under in Australia, where ICT is amassing its e-Learning empire, online education is worth $5.9BN with annual growth of 14.4% between 2009 and 2014.
So what's driving this growth?
There are two factors – the rising cost of education is a big one and the growing convenience of online study is the other.
IBIS says global education costs have risen over 84% since 2000 and are continuing upwards. Throw in mounting student debt – $1.2 trillion in the USA alone – and the cost of getting a good education starts to look crippling.
But to get ahead in life, people want degrees and want to augment their exisiting skills with new ones – and new qualifications.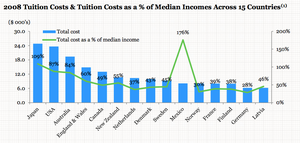 e-Learning is becoming so popular because it makes getting a good education much easier.
You can do university courses online, cutting out commuting costs and book fees, and still get the same degree as someone who goes to the campus. You can also learn anywhere; on the train, at home, wherever.
Likewise, with professional and vocational training, online learning is a cheaper option people are taking advantage of, and ICT aims to become a leader in that education supply.
This brings us neatly to technology – the factor opening up education to the world.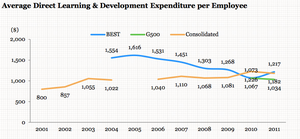 The graph above shows the rising uptake of e-Learning in the global corporate space – a key driver of online learning's growth.
Because e-Learning can be done at any time, firms who want their employees to keep up with their professional development are increasingly looking to e-Learning. Employees get new skills and still clock in for the 9 to 5.
If you take this convenience to a wider scale, students can study multiple courses online, business owners can augment their degrees, workers can improve their skills or seek new qualifications – all through a smart phone, tablet or desktop computer.
These two factors driving e-Learning's global growth – cost and convenience – are the same elements driving ICT's success...
An open book for learning... and cash flow
ICT's business model is to become both an education service provider and an educator.
Education services cover supplying e-Learning content to paying clients as well as technologies for compliance of professional standards.
And as an educator, ICT will develop or acquire its own e-Learning content across a range of topics to the vocational accredited and non-accredited spaces – and looking forward ICT wants to tap into the university, professional development and apprenticeship spaces.
In all cases, ICT will utilise the online platform ICT has developed over six years of operation. This is the key to the business:
The icollege education platform is a powerful, easy to use and cost-effective system that displays ANY e-Learning course across the full range of electronic devices online.
An iPhone and Android version of the platform is being launched very soon to go with the existing desk top and tablet computer enabled version – so ICT's customers will be able to do their work online and offline on any device at any time.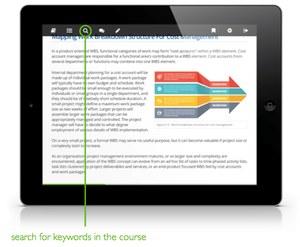 It has the full range of tools for reading, a search function, options tab, adjustable text size, bookmarks, a notes facility and a communications tool that allows the user to send queries. It's simple and effective – and designed for maximum convenience for the user.
Universities, medical colleges, legal trainers, marriage celebrants, occupational health and safety training, mining tickets – ICT's technology platform can deliver.
And when test time rolls around – the icollege platform can handle remote exams too: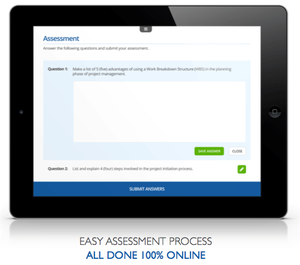 ICT has developed an online learning platform that is easy to use, highly adaptable and covers the full spectrum of learning, from lecture to exam. The global potential customer base for this technology could be very large.
The first way ICT can make money from e-Learning is through selling access to its technology platform.
Companies wanting to digitise their training can pay ICT for the platform under license and integrate the technology with their content.
So that's the first way ICT will make money – by selling access to its e-Learning technology – think of it as school supplies.
The second way is to become the school...
Expanding icollege's online campus
ICT has a grand strategy to acquire an array of education businesses, unite their products through its technology platform, and become a leading e-Learning provider in Australia and then around the world.
This is the 'educator' wing of its business strategy – and it's aimed at making the company grow and grow.
The acquisition strategy is to buy up smaller education companies, apply ICT's technology platform and help the businesses to grow – and in turn help ICT's profits grow.
ICT considers potential acquisitions based on EBITDA, the momentum of the company or business synergies.
There are scores of education providers in Australia – 4,900 Registered Training Organisations – but they're so small the bigger education players may overlook them.
But they still want to get involved with e-Learning. Same story globally.
Enter ICT with its cash, advanced tech and clear vision.
ICT plans to amass an education army through the icollege tech platform which already offers over 20 courses – and hundreds more could be added: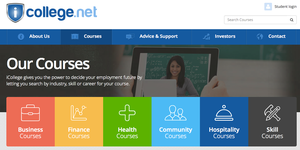 This acquisition strategy is the main way ICT plans to grow and make money. It can bring in existing, successful education providers, beef up their products with its advanced technology platform and sell the content as a one-stop education shop.
All the while it can make money from licensing the technology platform and developing its own education courses.
In fact, the acquisition strategy is already bearing fruit...
Dynamic Learning Services – a gateway to Asia and beyond
ICT has just completed Due Diligence and will enter into a fully binding Share Sale Agreement to acquire 100% of Dynamic Learning Services , an education provider with courses in Australia, China, Singapore, India, Sri Lanka, Malaysia, Vietnam and even Russia.

Dynamic Learning Services is a NSW based Registered Training Organisation delivering education in Australia and internationally and does good business – EBIT (unaudited) of $1M on $2.98M of revenue for FY2014.
It has corporate clients ranging from LJ Hooker real estate to the St George Illawarra Dragons rugby league club.
But its courses are 100% classroom based. And in a world where e-Learning is accelerating, particularly in tech-savvy Asia, the company needs to digitise to stay competitive.
ICT's 100% acquisition will see Dynamic Learning Services' education courses move from the classroom to the internet and be made available through the icollege technology platform.
These courses, which will now be under ICT's umbrella, cover Hospitality, Business Administration, Management, Real Estate, Aged Care, Retail, Process and Competitive Manufacturing, Workplace Health and Safety, Training and Assessment and courses related to mining and career transition.
Under the terms of the deal, ICT gets 100% of Dynamic Learning Services' shares in return for $1M upfront, with a first milestone payment of $1M if a performance milestone of $1.3M EBIT is hit.
And with Dynamic Learning Services Asian reach, ICT will have access to Asian economies hungry for more skilled workers, in a big slice of the education technology pie:

This deal perfectly brings together everything we've learned about ICT's business plans and the trends of the rising global education market.
Education is increasingly going digital, and through this acquisition ICT will add increased revenue and expand the range of online courses it can offer through its icollege technology platform.
It's a clear demonstration of ICT's overall plan for its acquisitions – to put them all under one digital roof and use marketing, government education contracts and its distribution networks to sell the e-Learning products globally.
As well as the Dynamic Learning Services acquisition, ICT has also executed a fully binding Share Sale Agreement to acquire 100% of the Bookkeeping School Pty Ltd – a Registered Training Provider delivering a number of accredited accounting and bookkeeping courses online.
Bookkeeping will now be integrated into ICT's online learning platform – along with its revenue...
This is just the beginning for ICT – it's on the lookout for more acquisitions and each new addition should make it stronger and more versatile.
But it's not just size that matters – in the digital age it always comes back to technology...
New versus old – how icollege stacks up
Blackboard is one of the e-Learning behemoths of the world – it was taken over for $1.64BN in 2011 by a New York hedge fund: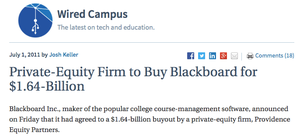 Blackboard has 37,000 clients globally and over 80% of the e-Learning market sewn up with schools, universities and corporate clients making up the bulk of its revenues.
Many major universities in Australia utilise its services.
Blackboard is an example of what's possible – and also shows the sweet spot ICT is operating in, both commercially and technologically.
Despite the $1.64BN takeover deal, this is what one of Blackboard's interfaces looks like: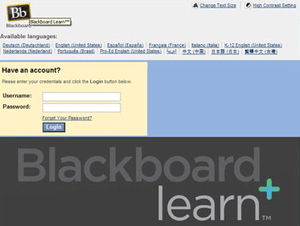 It's very antiquated – the internet has moved on a lot since this page was developed.
Compare that to ICT's icollege technology platform, designed from the start to be display on tablets and phones:
Blackboard may be big, but it's not cutting-edge.
Its large customer base is served by old technology – and will need to be overhauled eventually – a process that could be very costly.
In contrast, ICT's icollege platform is state of the art right now. It's available across any platform, including smart phones for both Android and Apple very soon. It looks great, works smoothly, and is constantly being improved.

As ICT gathers more and more education courses through acquisition and expands its client list using the icollege interface, Blackboard could face some strong competition...
Here endeth the lesson... for now
ICT have just acquired Dynamic Learning Services and Bookkeeping School, and we will be keeping an eye out for how the integration of these businesses is coming along.
But above all, we're waiting to see what the next acquisition is!
ICT has developed a tech based online education service – and will look to grow this business organically over the coming months...
With $91BN up for grabs in the global e-Learning sector, ICT is pursuing its goal to become a leading online educator.
Selling access to its icollege technology platform is a good start, but the acquisition of up and coming and well established educational businesses may accelerate its growth and take it to the top of the class.
This is the opportunity we see with ICT – a chance to get involved in the growing e-Learning space with a company using advanced technology that has the business vision to see it grow.
Are you an ICT investor and want to spread the word?
Get the message out there – make sure everyone knows about ICT and share this article by clicking the buttons below:
[sd_share_article title="$91B Education Tech Industry: ASX Listed Company Selling Education Online – Globally"]
---