$2M Pre-order Sales Pipeline for Amazon Friendly RBO's 3D Printers
PUBLISHED: 14-09-2017 09:37 a.m.
The futuristic technology of 3D printing brings a host of benefits to the manufacturing sector. And this is only set to grow as technology develops, and innovators expand the reach and applications of 3D printers.
'Additive manufacturing' is the technical term, whereby 3D objects are built by layering material using 3D modelling software. The technology can create higher quality products, faster and at a lower cost, which are more easily accessible.
One segment that is growing quickly is desktop 3D printers. Worldwide shipments of desktop 3D printers close to doubled in 2016, to 455,772 units, with shipments expected to rise sharply to 6.7 million units by 2020.
Pushing ahead with the roll out of desktop 3D printers is San Diego based, ASX-listed innovator, Robo 3D Limited (ASX:RBO). Founded in 2012, with its first printer model delivered to customers in 2013, RBO has grown into a leading brand in the desktop segment of the 3D printing industry.
The company is taking what has to date been expensive 3D printing technology, and delivering it to your desktop for use in offices, schools, or at home. This technology opens up a world of potential for minor manufacturers, educators and enthusiasts.
RBO wants to be the first company to do what Apple has done to phones and laptops, and what Tesla is doing to cars. That is, make the entire product experience about the consumer, empowering them to do more, with a whole lot less.
Its products continue to gain significant traction online.
RBO has deals with big name retail partners including Amazon, Staples, and Best Buy.
There is now full retail availability for its Robo R2 high-performance smart 3D printer with Wi-Fi through select retail partners including Amazon, as well as its large wholesale partners such as WYNIT and Synnex.
RBO made a significant announcement this week, when it announced to market that it has approximately $2 million in pre-orders from key channel partners for the December quarter. That's significantly higher than anticipated and has seen the company hit its highest ever pipeline level.
RBO is still a speculative stock however, and investors should seek professional financial advice if considering this company for their portfolio.
To meet demand and additional production runs, RBO has just completed a capital raising of $800,000, but such is the efficiency of the company's logistics system that all orders will still be shipped within 24 hours.
The blue-sky potential stacks up rather quickly when you also consider the huge demand for ad-hoc parts and small items that are not readily available. Things like car and motorcycle parts, and even heart-valves, are now moving to 3D printing.
Looking forward, we can already see a day when every consumer considers 3D printers in the same vein as consumers considered washing machines in the 1980s microwaves in the 1990s and smartphones in the 2000s — first a seemingly outpriced novelty, but soon an everyday Item, helping us all do things a little bit faster and easier.
Without further ado, we catch up with: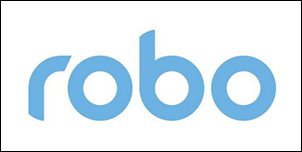 Robo 3D

We first introduced you to Robo 3D (ASX:RBO) back in May 2017, with the article, Rise of the Machines: Leading 3D Printer developer Touches Down on the ASX . The company has since had a number of developments that shore up our confidence in its ability to become a major disruptor in the 3D printing sector.
RBO has been generating as many pre-sales as possible targeting wholesale and retail customers, direct-to-consumer-sales, as well as pencilling in affiliate agreements that can do the initial sales legwork on RBO's behalf.
All of this leg work has led to RBO announcing that its pre-order pipeline has hit $2 million for the upcoming December quarter ­— a figure significantly higher than was anticipated, which is equal to the revenue received for the whole of the six months to the end of June 2017, highlighting the growth curve of the company.
To support this pipeline, RBO announced that it had successfully completed a capital raising of $800,000 that will fund additional production runs following increased demand for its Robo R2 smart 3D printer.
The capital raising involved a share placement via the issuance of 6,666,667 new RBO shares at an issue price of AU$0.060 per share for $400,000, plus the issuance of Convertible Notes to the value of $400,000, at $1.00 per note with a face value of $1.10.
RBO has also negotiated the right but not the obligation to raise an additional $1 million if necessary.
RBO engaged Hunter Capital Advisors as corporate advisors and lead managers for the capital raising.
The following Finfeed.com article (Finfeed is a related entity of S3 Consortium Pty Ltd as defined in Section 9 of the Corporations Act 2001) outline summarises the raising: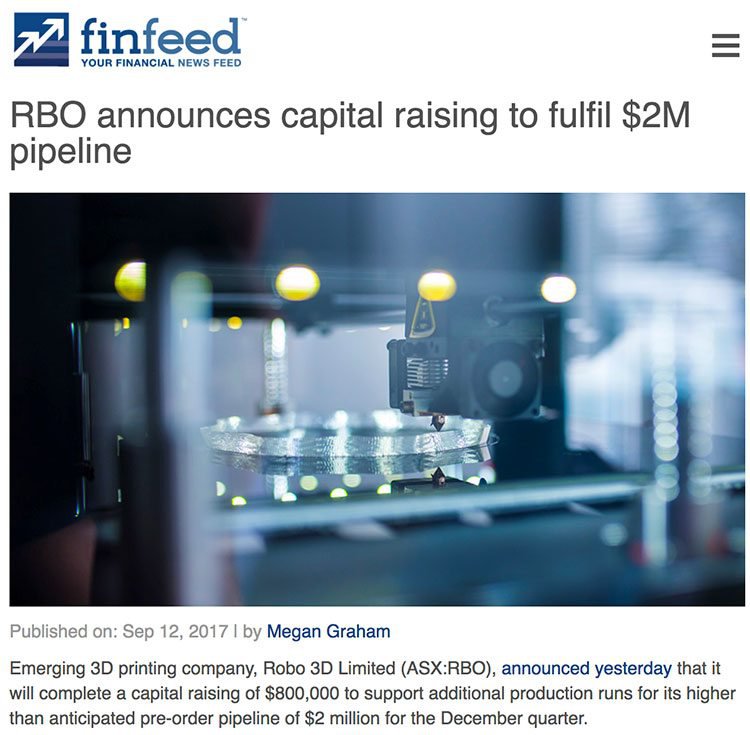 Growing list of distribution partners worldwide
RBO has already secured some big name retail partners, the like of Amazon, Staples, and Best Buy. It has also signed its first major distributors in Europe and has expanded its network of sellers in Canada.
Since the start of the year, RBO has successfully expanded its presence in the USA, and entered into key international markets including Canada and Mexico. With France next on the radar, and other countries soon to be added to its list, RBO is tracking quite nicely on the momentum front.
One area of focus is the education sector. Approximately US$8 billion is spent annually on education technology products, with 3D printers emerging as an integral technology.
RBO looks to be leading the way in the education market and its participation at the recently held American Library Association Annual Conference in Chicago and the International Society for Technology in Education (ISTE) in San Antonio has reaped rewards.
Attended by approximately 50,000 people, these conferences have provided RBO with an excellent avenue to progress new customer accounts in the education segment.
In a huge stride towards serving the education market, RBO has partnered with CDW Corporation .
CDW is a NASDAQ-listed, Fortune 500 company that is a distributor of technology products to education, business, government, and healthcare organisations in the US, Canada, and the UK.
The partnership further enhances RBO's expansion into the K–12 and tertiary education markets in the US. CDW serves some of the largest school districts in the country and has offices in every major city.
CDW's European presence will also aid in driving RBO's growth in that region. Additionally, with 3D printing becoming more prevalent in the small business and professional spaces, CDW supports these businesses in the use of new technologies to enable their growth.
RBO now has an enhanced channel to provide its products as innovative businesses solutions to an expanded audience of entrepreneurs and professionals alike.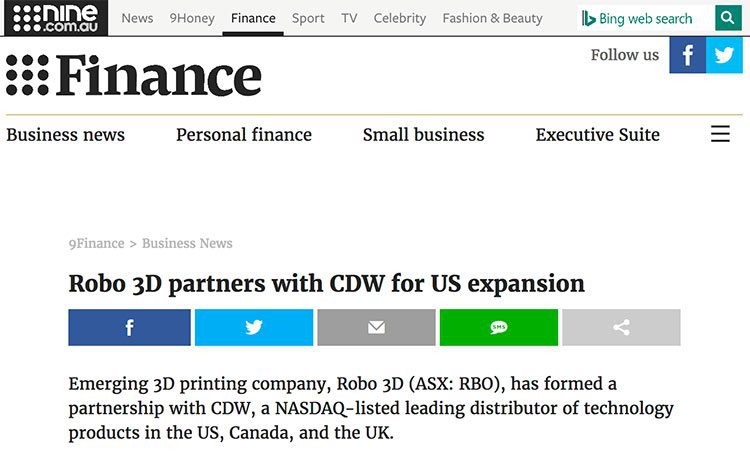 This partnership follows RBO signing its first major distributors in Europe. The first was Sotec3D:

Headquartered in Le Mans, France, Sotec3D is one of the largest 3D printer suppliers in Europe and is the leading distributor of 3D printers, filaments, and accessories in the country.
Sotec3D will be adding RBO products to all its sales channels immediately.
The second Euro distribution signing is with colorFabb , one of the premier filament brands in the world.
colorFabb will distribute RBO products throughout the Netherlands, Belgium and Luxembourg, whilst RBO will become a re-seller of colorFabb's vast range of premium filament products.
The deal accelerates RBO's move into Europe. Since the start of the year, RBO has successfully entered Argentina, Australia, Canada, France, Italy, Mexico, Netherlands, Poland, Spain, Turkey, UK, Venezuela.
At the same time, continued expansion at this pace is no guarantee for RBO. The company is still an early stage play, and investors should do their own due diligence on the company before choosing to invest.
RBOs suite of desktop 3D printers
Why are resellers and distributors lining up for RBO's products?
Let's take a closer look at the company's suite of innovative products that are behind the rapidly expanding pipeline of orders.
Introducing the just-launched star of the show — the Robo R2 High-Performance Smart 3D Printer: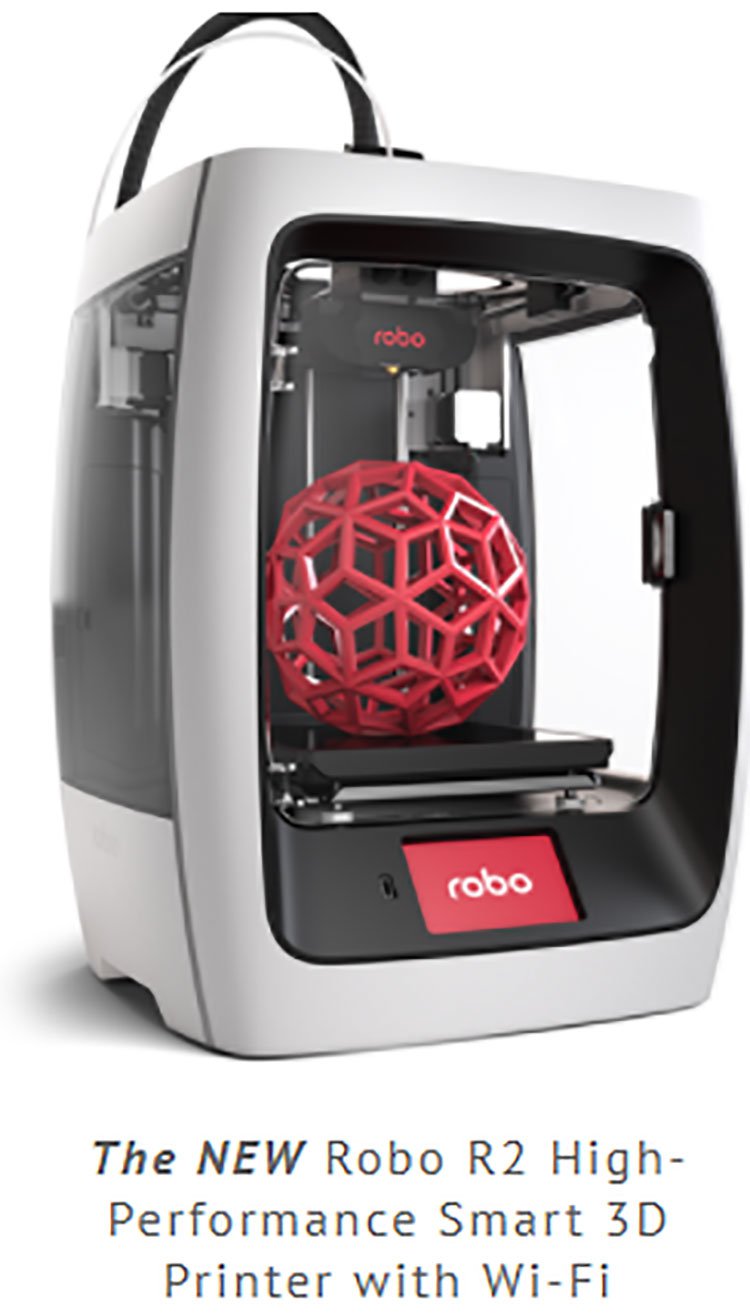 The printer has the potential to be a major disruptor to the 3D printing industry, considering its well-regarded technology combined with its attractive price point. The printer received an award for 'CES 2017 Best of Innovation Award' in the 3D printing category at the highly regarded Consumer Electronics Show (CES ) in Las Vegas, Nevada and won the coveted and very prestigious Good Design® Australia award, judged by more than 35 Australian international design experts.
Another product in RBO's stable is the smaller and more affordable, Robo C2 Compact Smart Printer: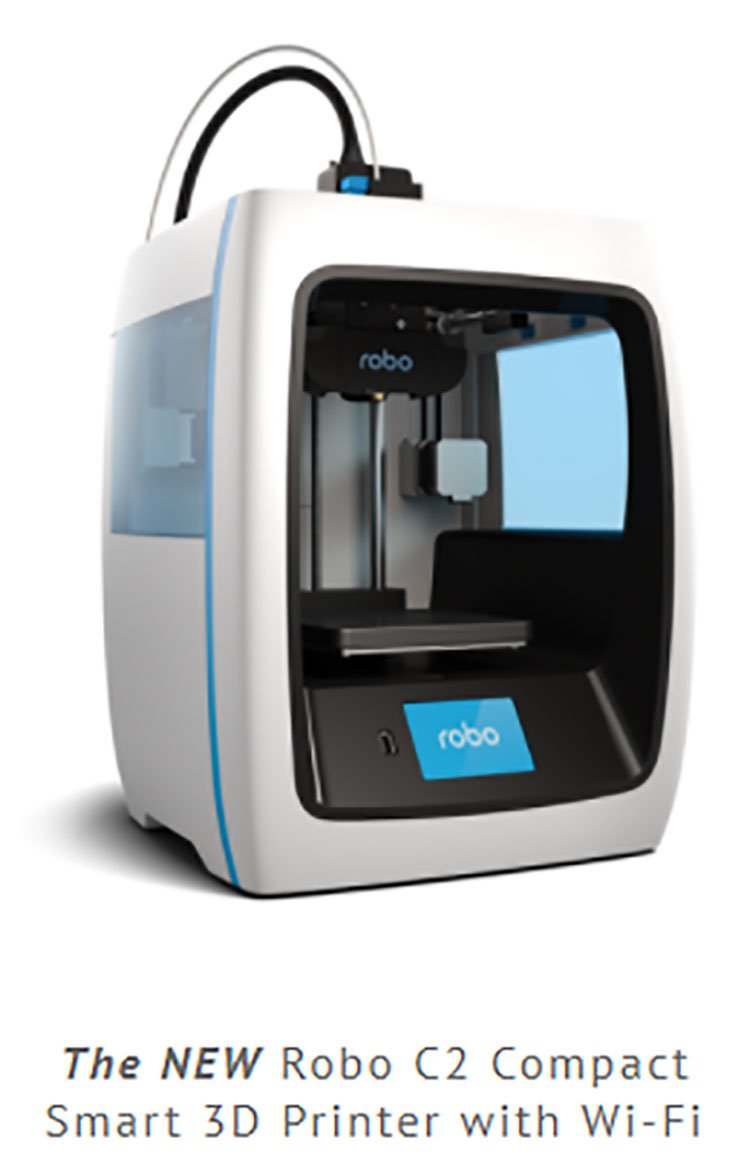 Here is a brief introductory video to RBO's R2 and C2 printers:
Capitalising on the decentralisation of manufacturing
Much like so many other trends we are seeing today, 'de-centralisation' is a commercially fruitful one, as evidenced by the likes of Uber, AirBnb, Tesla and the long list of Internet of Things (IoT) cohorts already on the scene.
Consumers are abandoning their favourite online retailers and instead manufacturing many small-ticket items themselves. 3D printing enthusiasts are going a step further and making complex items that require multiple parts.
You might be wondering what type of item is made with a 3D printer.
Just this month a Gold Coast man received a 3D-printed shin bone in world first surgery at Brisbane's Prince Alexandra Hospital.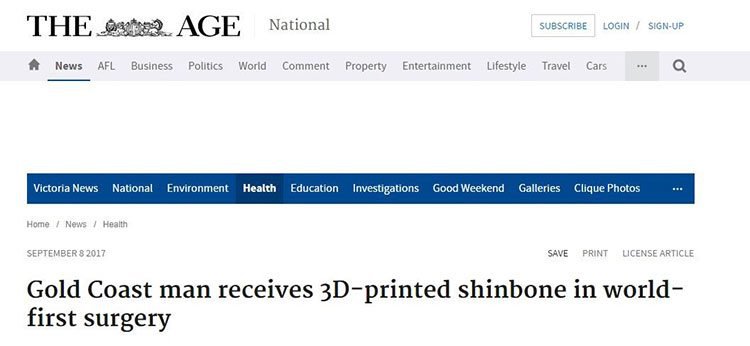 Here is a sample of some of the products being printed by RBO users: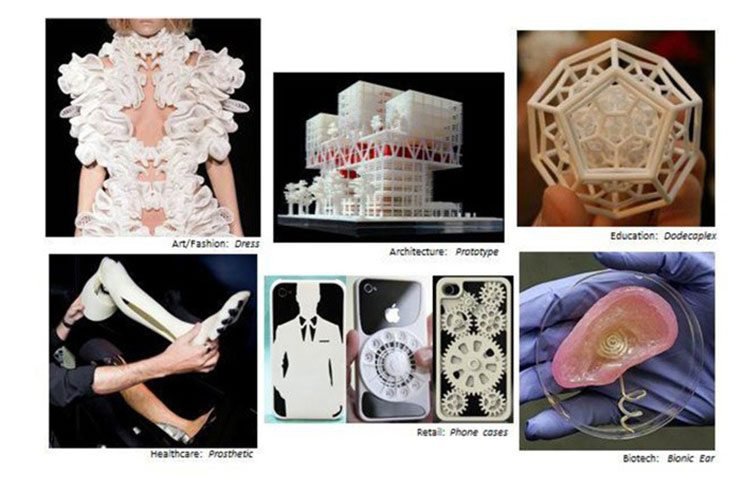 Take a look at the world's first 'printed car', unveiled to a gobsmacked floor of attendees in Chicago last year: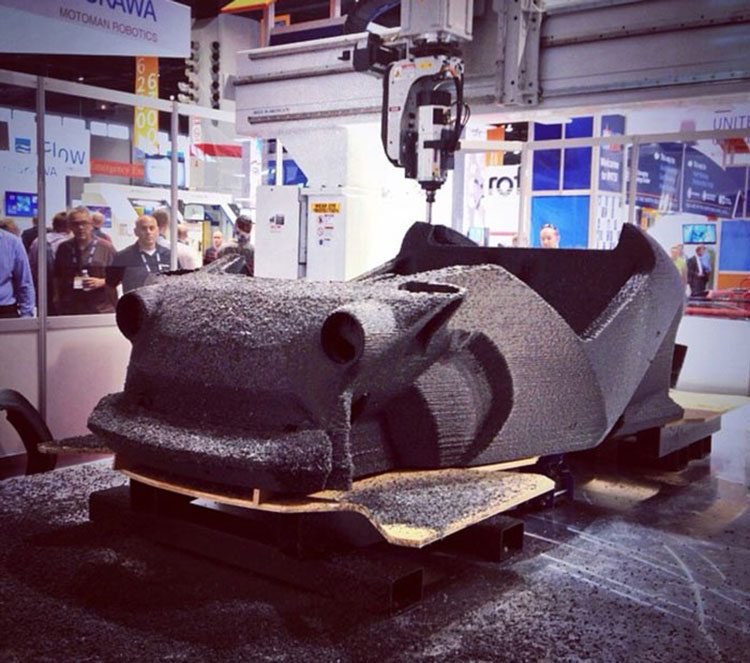 RBOs manufacturing quality was confirmed after completing its initial production run at Foxconn, resulting in the delivery of all pre-order sales.
RBO's momentum received a further boost recently when it announced the full retail availability of its Robo R2 high-performance smart 3D printer with Wi-Fi .
The product is now available through select retail partners including Amazon, as well as its large wholesale partners such as WYNIT and Synnex. Orders for the Robo R2 may be placed at www.robo3d.com.
Such is the efficiency of the company's logistics system that all orders are shipped within 24 hours.
RBO expects the uptake to be significant as users realise they can enjoy a world-class 3D printing experience, with features and functionality aimed to redefine the entire industry.
This is just the beginning for RBO, and we hope to see consistently strong sales figures over time as the 3D printing industry continues to bloom.
RBO can grab some early market share in personal desktop 3D printing.
As in any mass-consumption industry, the product that ticks all the boxes for its users tends to win out in the end.
That is why Apple leads the smartphone market and Tesla leads the electric-car market — they took strong early positions in their respective sectors by enabling users.
Some market analysts have termed this intangible feel-good-factor as the 'user experience'.
In RBO's case, it is barking up a tree that no other 3D printer manufacturer has had the wherewithal to even recognise, let alone scale.
RBO is building a social community based around 3D printing. This includes a marketplace for users to exchange designs and a public place for people to develop 3D printing according to their specific needs. That beats waiting for products to roll off conveyor belts, often in the wrong size, shape or colour for the gargantuan array of consumer preferences.
Here is RBO's entire kit and caboodle in one snapshot: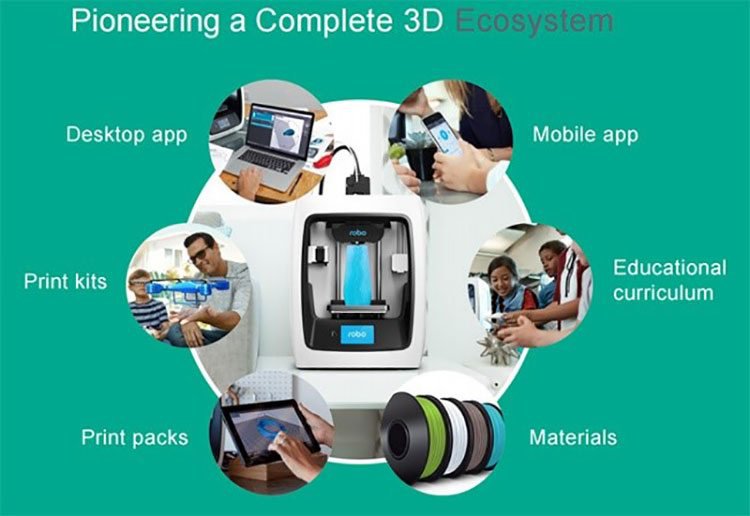 RBO is effectively selling a means to an end, rather than just a mass-consumption product.
R2 users are empowered to create, learn, teach and manufacture to their hearts content, and the idea has even taken hold in schools.
It turns out kids benefit greatly from hands-on learning that involves building things. Who would have thought it?
For that reason alone, there has been enormous interest from the education sector, particularly following RBO's attendance at two key trade events.
As RBO's business model focuses on capturing the rapidly rising demand for STEM (science, technology, engineering, mathematics) curricula in schools, this rise in interest makes perfect sense.
The transition is happening all over the world.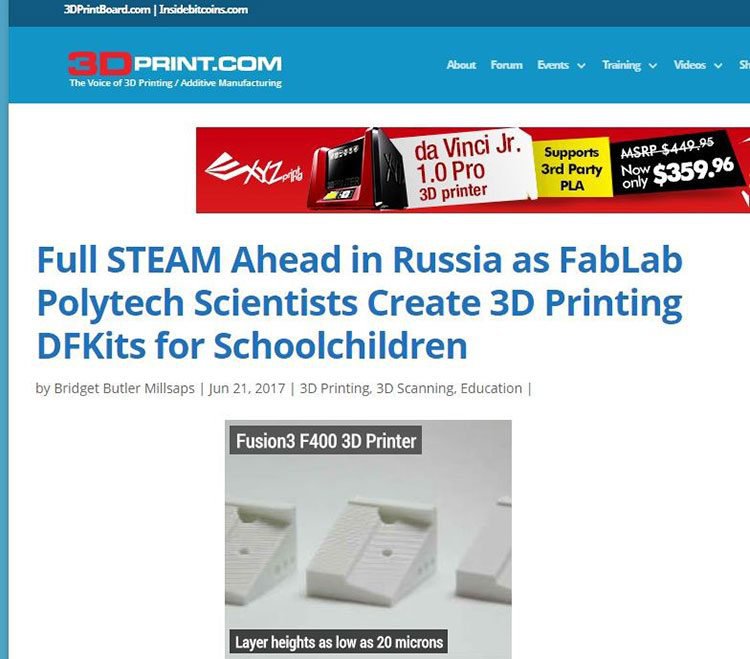 With the EdTech market, which this company has pinned part of its future, set to become a $252 billion market by 2020 , RBO is making friends and influencing people in all the right places, at just the right time.
At the same time, there is no guarantee an investment in RBO will turn out successful. Consider your own risk profile and personal circumstances before investing in speculative tech stocks like RBO.
If we look at the direction Big Industry is taking, including education, it is clear that customisation and streamlined supply-chains can go hand in hand.
RBO's product is likely to improve with each new iteration, much like how Apple's iPhone sweeps up its fans at least once per year, and it has already generated a cult following amongst its early-adopting fans.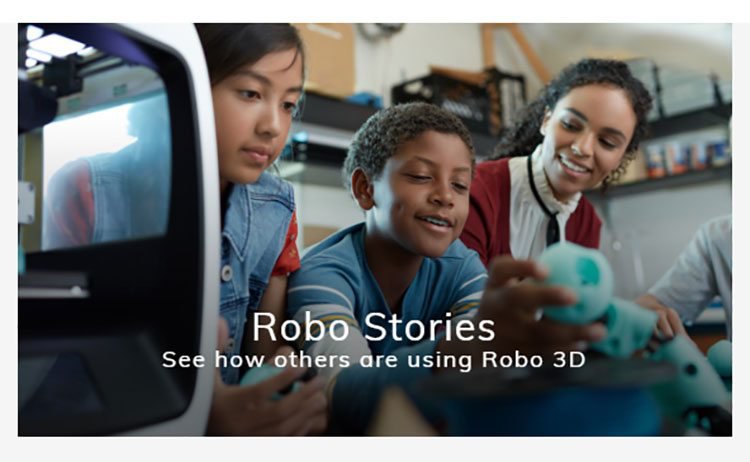 Welcome to the new dawn of 3D Printing
Having huge factories making forks, spoons and brackets just isn't efficient, but RBO opens the door into the next realm of 'on-demand supply', directly in the home.
Its automated machines can literally construct items large or small to order, on demand, and according to detailed schematics that can be designed, bought, sold and exchanged, as if a commodity in its own right.
They say the most valuable things come in small packages and 3D printers can manufacture small-scale items with incredible precision, speed and durability.
Of course, there is nothing wrong with looking smaller... and here is a chance for well-informed investors to snag a decent pickup in the 3D manufacturing space for desktop applications.
It would seem that RBO's strategic approach to key channel partners over the last six months has begun to pay off.
The company is experiencing fast-paced growth and with recent demand for its product line picking up, as evident in the record pipeline of pre-orders and expected growth over the next quarter, investors may wish to take a closer look.
With a market cap of just $8.02 million, and trading at a share price of just 5.2 cents per share, RBO offers an early opportunity to invest in what is very promising technology.
RBO view the upcoming December quarter as one transformational to its business. We'll be keeping an eye out for upcoming market updates on sales and other achievements.
---