$2BN Credit Check Company to Collaborate with QNA
PUBLISHED: 17-11-2014 13:33 p.m.
Tiny Qanda Technology (ASX:QNA) continues to partner up with much bigger corporations as it goes about growing its Drive My Car Rentals peer to peer car rental platform.
QNA earns a commission in every peer to peer car rental transaction it brokers – its reward for providing a secure online marketplace based on trust and reputation.
The latest agreement has been struck with $2BN market cap Veda – Australia and New Zealand's largest credit report checking company.
Veda will now strengthen the registration process for DriveMyCar Rentals by allowing QNA real time access to credit reports for over 16.4 million individuals in Australia. Online verification of proposed drivers as part of registration can also occur.
It's also struck an agreement with Edentiti Pty Ltd to provide identity checks – this is the same company Australia Post and the National Australia Bank use to check you are who you say you are.
These agreements will not only give QNA a bulletproof way of verifying its customers credentials, it will also give those same customers absolute peace of mind when they rent out their cars or take delivery of a vehicle.
Both deals continue to reinforce that QNA is at the forefront of understanding the value of users' reputations in the peer to peer economy.
According to many pundits, reputation is the "currency of the future" .
Your reputation on sharing economy platforms like eBay, Linkedin, Airbnb and QNA's Drive My Car Rentals is now a negotiating tool.
If reputation is a new currency, QNA could be thought of as a kind of bank – QNA owns a platform that stores and allows access to the reputation information of others.
Meanwhile QNA has validated its DriveMyCar Rentals platform for corporations – $760M market cap McMillan Shakespeare's Interleasing division has started renting out and monetising its previously stranded assets – cars too new to sell at an attractive price but too old to continue leasing...
How many more corporations might be interested in monetising their unused fleet at particular times of the year in QNA's trustworthy Drive My Car Rental platform?

Collaborative consumption is sweeping the globe and opening up business opportunities with the power of the internet.
No wonder QNA recently successfully raised $750k from institutional and sophisticated investors...
QNA is now offering a Share Purchase Plan to existing eligible shareholders – those on the company register on Monday November 3 rd – to raise up to $250k.
These shareholders have until Friday November 21 st to participate.
The Share Purchase Plan will allow existing shareholders to purchase up to $15,000 of shares. The SPP is of particular interest to holders of unmarketable parcels of shares (less than $500) who will be able to top up their holdings without incurring brokerage costs.
QNA is aiming to become the definitive ASX listed collaborative consumption company.
In the coming weeks QNA plans to undergo a 10 to 1 share consolidation to facilitate smoother, incremental, share price rises – currently the stock can only move up in a 50% increment – $0.002 to $0.003.
QNA also plans to change its name to Collaborate Corporation – a much better reflection of their business plan.
Capped at just $6.2M now, its operating in a space that the herd is only just cottoning onto.
Some international companies in this space have been wildly successful.
AirBnB allows people to rent out their spare rooms or whole houses while making a good income. The company is capped at $10BN...
Uber is a service that turns any car into a taxi – the company is valued at $18BN...
Just like QNA, both companies make money from the online sharing economy – they have built tech platforms which facilitate peer to peer transactions. Customers trust the platform and have a reputation to up hold.
QNA has seen very clearly the opportunities that this growing mega trend is opening up and has snapped up three online collaborative consumption businesses that broker peer-to-peer deals.
DriveMyCar Rentals – A peer-to-peer car rental service that allows people with spare vehicles to rent them to people who need a car for a few days to a few months.
Caramavan – A peer-to-peer caravan rental service that connects people who want to rent out their caravans to people who want to go on a road trip – caravans are very much an under-used asset, ripe for monetisation by caravan owners...
Rentoid – An online marketplace that allows people to rent out absolutely anything.
The Next Tech Stock first covered the $6.2M market capped QNA with the article ASX Listed Tech Company Set to Capture Global Mega Trend.
QNA's focus right now is to enhance and expand DriveMyCar Rentals and that first article was quickly followed by $760M Car Leasing Company Teams with Tiny QNA .
The $760M market cap McMillan Shakespeare Group saw an opportunity to monetise their ex-lease fleet of cars on DriveMyCar Rental's platform and have since started renting them out and earning cash.
The latest news for QNA's DriveMyCar Rentals is the new deals to get access to some of the best credit and ID checks on the planet. The reason this is so vital is that in a collaborative economy, trust and reputation are as important – some would say even more – as the product.
Many are saying they are they will be the starting point for any transaction in the future :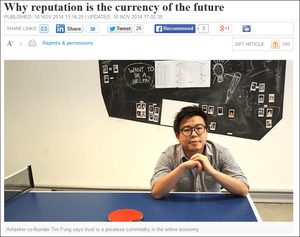 The write up above from The Australian Financial Review spells out very clearly how the online world of the future (if it isn't already now) is going to be dominated by trust and reputation – and businesses who facilitate an exchange of money based on reputation will be king.
In the rest of this article we're going to run you through the moves QNA is making to ensure its plan to become Australia's leading collaborative consumption company is as secure as DriveMyCar Rental's registration process.
Our Track Record
Regular readers of our sites will be familiar with our long-standing interest in high potential stocks.
Did you see our Next Tech Stock article on Ziptel (ASX:ZIP) ?
ZIP has been up as high as 160% since we first released our article: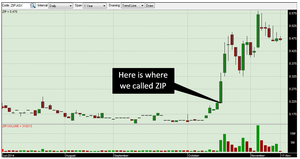 Source: Etrade Australia
The past performance of this product is not and should not be taken as an indication of future performance. Caution should be exercised in assessing past performance. This product, like all other financial products, is subject to market forces and unpredictable events that may adversely affect future performance.
In addition to ZIP, here are a few more:
The past performance of these products are not and should not be taken as an indication of future performance. Caution should be exercised in assessing past performance. These products, like all other financial products, are subject to market forces and unpredictable events that may adversely affect future performance.
QNA enhances credit and ID checks
QNA's DriveMyCar Rentals connects people who want to rent a car with people who want to make extra cash from their under-used car.
But getting them together is just the beginning of DriveMyCar Rentals service – to make the deal stick (and get repeat business) it ensures trust and reputation come into play on both sides of the deal.
DriveMyCar Rentals does this by providing credit and ID checks for renters to make sure only trustworthy people gain access to vehicles. The vehicles are covered by comprehensive insurance during the rental period.
Renters must register online with DriveMyCar Rentals so the ID and credit check process can take place: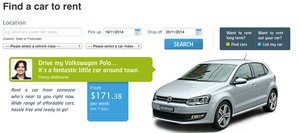 This process ensures the renter can trust who's going to be driving their car around and the customer knows who they are receiving a vehicle from. Both sides of the deal must have their reputations verified so both sides can trust the deal.
This aspect of collaborative consumption – trust and reputation – is a big focus for QNA and it has just secured two access agreements that will greatly enhance its reputation services.

The first agreement QNA has signed is with $2BN market cap Veda Group Limited (ASX: VED), the largest credit reference agency in Australia and New Zealand.
Veda's main credit checking product is called VedaScore, which summarises a person's credit report into one easy to understand number: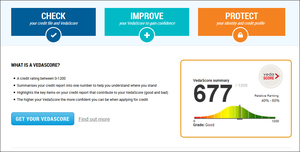 Under the agreement with QNA, Veda will provide real-time access to the credit reports of over 16.4 million Australians, so when it comes time to do a credit check, the VedaScore product can provide a quick, reliable answer.
The second reputation agreement QNA has signed is with Edentiti Pty Ltd , which focuses on identity verification.
Its main product is called D&BgreenID :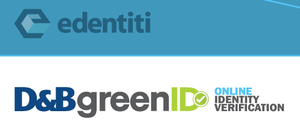 D&BgreenID allows a person to use key documents such as driver's license or passport to verify their identity. The product is used by large businesses in Australia including Australia Post, NAB and Optus.

D&BgreenID will now be made available to QNA's DriveMyCar Rentals, allowing renters to more easily establish their identities online.
With Veda's VedaScore handling the credit checks and Edentiti's D&BgreenID taking care of ID checks, QNA's DriveMyCar Rentals can now offer a greatly enhanced registration process that ensures safe, secure transactions.
DriveMyCar Rentals is more than just a classified site listing things people can rent. It brokers the transaction from start to finish and provides credit and ID checks, insurance and feedback – things customers (both car owners and renters) appreciate and would be prepared to pay a premium for.
QNA has reputation and trust as its foremost investment because without them it knows there is no business.
And with Veda and Edentiti now on board, we expect to see many more transactions going through for DriveMyCar Rentals.
Interleasing – signed, sealed and cars delivered
Getting more customers is always a good thing but QNA's DriveMyCar Rentals has been challenged by its own quick success – struggling to find enough cars!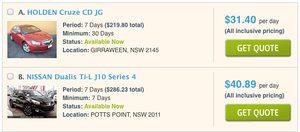 But back in October QNA teed up a strategic leasing agreement with McMillan Shakespeare Group, a $760M Australian car leasing company to provide late model ex-fleet vehicles from its Interleasing division for DriveMyCar Rental's car pool.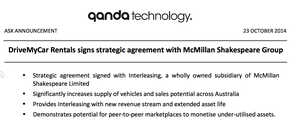 With the stroke of a pen QNA greatly expanded the number of cars available to its customers on DriveMyCar Rentals and provided Interleasing with a new revenue stream – a win-win for both companies.
Well, 21 days later, the first cars from Interleasing have been delivered to DriveMyCar Rentals and are being rented by customers. Interleasing is now monetising its un-used assets and is working to make additional vehicles available.
This is excellent news for the customers of QNA's DriveMyCar Rentals. This swiftly executed deal to boost its pool of rental cars will allow it to capitalise fully on the growing demand for its services and ensure all would be car renters can be satisfied.
But this is also excellent news for Interleasing and proves corporations can benefit from the sharing economy. It clears the path for DriveMyCar Rentals to give other corporations with large fleets the opportunity to earn additional revenue...
Watch this space.
QNA Directors increasing their skin in the game
QNA recently raised $750,000 through a share placement to institutional and sophisticated investors. 375 M fully paid ordinary shares were issued along with 187.5 M free attaching options at a price of $0.002 each expiring in April 2017.
This money will be used to accelerate the expansion and refinement of QNA's three collaborative consumption businesses with a focus on DriveMyCar Rentals.
To augment this effort QNA is now throwing open the doors for other shareholders with a Share Purchase Plan: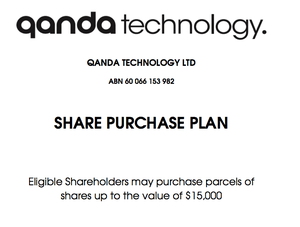 The SPP is an opportunity for small shareholders to increase their holding in QNA by purchasing fully paid ordinary shares priced at $0.002 each up to a value of $15,000.
The deadline to participate in the SPP is Friday, 21 st of November 2014.
QNA's leadership is participating in the SPP, with Adrian Bunter and Domenic Carosa both indicating their intention to pick up more QNA shares – this shows their confidence in the business.
CEO Chris Noone is unable to participate in the SPP because he was not a shareholder at the record date. This is unsurprising as given the pace of QNA's progress and their continuous disclosure, he would have been excluded from buying shares any earlier. However he has since made an on-market transaction.
Annual General Meeting to set up 2015
So if the SPP hits its target of $250,000, then QNA will end 2014 with $1M of capital raised to support the expansion of its growing collaborative consumption empire.
We also expect to see a 10 for 1 share consolidation and a name change in the coming weeks – these moves will be voted on at QNA's AGM on the 28 th of November.
The 10 for 1 share offer should allow smoother incremental share price increases – currently the price must increase by 50% to move from $0.002 to $0.003.
As for the name change, QNA plans to change from "Qanda Technology" to "Collaborate Corporation," which communicates its business focus much more clearly and reduces confusion with the popular ABC TV show.
All of this is coming in the next few weeks and should give QNA significant momentum leading into 2015.
The expansion of DriveMyCar Rentals is accelerating with new credit and ID checks coming into play, more cars from Interleasing rolling up and cash in the bank to keep the speed up.
QNA is making all the right moves to become Australia's leading collaborative consumption player – placing trust and reputation at the core of its business model.
---