$26 Trillion Market and Counting: Simble Solutions Expands its Energy Solutions into UK
PUBLISHED: 03-07-2019 09:50 a.m.
The momentum swing away from traditional energy sources and towards renewable energy solutions has been significant.
Germany is a leader in the retreat from fossil fuels and has been for some time. Way back in 2014, 27% of its electricity came from renewable sources such as wind and solar.
At the time the Merkel government promised some of the most aggressive emission cuts— by 2020, a 40% cut from 1990 levels, and by 2050, at least 80%.
Germany has continued the good work, with its greenhouse gas emissions falling by 4.5% to 865.6 million tonnes in 2018 and is eyeing off a coal phase-out by 2038.
"2018 was a special year for climate policy," Germany's environment minister Svenja Schulze said at a press conference. Climate change had become "clearly palpable" during last year's heat waves and drought, but the data showed that climate action does make a difference, Schulze said, pointing to policies like the expansion of renewable energy, the closure of some coal power plants, and the reform of the European Union Emissions Trading System (EU ETS).
"Still, we have to do a lot more in the coming years," Schulze said. She added the figures should add momentum to government efforts to step up the fight against climate change with a much-anticipated Climate Action Law this year.
It is a trend we are seeing all over the world; elections are being fought on climate policy, Democratic nominees in the US all stood in a line and voiced their concern about climate matters and even young students are trying to shift the concerns of their parents as we have seen with a spate of global climate change protests.
Europe, has thus far, been a major player in shifting the tide, and whilst the UK, will one day cede from the European Union (EU), it too looks to be doing its part.
One Australian company could have a major impact in the Queen's country.
Simble Solutions (ASX:SIS), an Australian software company focused on energy management and Internet of Things solutions, has already made substantial inroads in terms of providing integrated hardware and real-time software solutions for the energy sector in Australia and the UK.
Just over a week ago, it announced that its energy analytics solution would be adopted by RATP Dev London, the leading operator of London bus services.
Deployment of SIS's technology will come as part of an energy efficiency and baseline measurement program undertaken by Powercor Ltd.
Essentially it will measure all energy efficiencies across the network.
The contract is important for SIS as it looks to expand throughout the UK. Not only could it position itself as a technology leader in the UK in energy efficiency management, but it is also representative of how potentially lucrative a move into the UK could be a for a $3.4 million capped tech junior.
Its partnership with UK energy broker UCR Consultants is case in point. An updated deal with UCR is worth up to £3.5 million (A$6.4M) over a three-year term, a significant increase on the original deal struck in January which was valued at A$3.4 million.
Europe is certainly the place to be for positive climate change impact and SIS has technology that could be quite impactful.
It is important to note here that some economists are tipping the climate change industry to be worth US$26 trillion in the near future, so any impact could be quite noteworthy.
It's for that reason, along with its dedication to energy efficiency solutions and its european expansion plans that I like...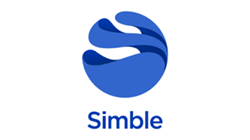 Market Capitalisation: $4.2 million
Share Price: $0.050
Here's why I think SIS is worth a look: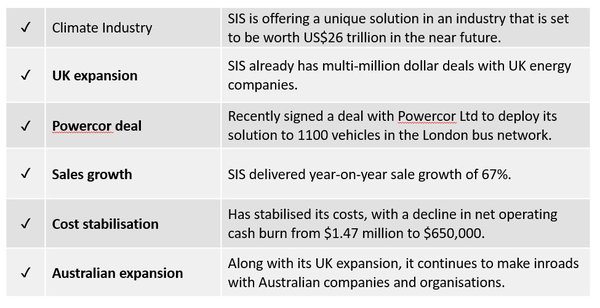 Energy efficiency = cost efficiency
It is not too much of a generalisation these days to say that most businesses are aware of their energy footprint and want to reduce it.
However, a reduction in energy usage usually comes at a cost: the implementation of new technologies, the re-education of employees, the installation and maintenance of new solutions all take time and money.
Often, for energy efficiency solutions to be passed by a company's board, a business case must be put forward to demonstrate benefits, including savings.
That's where Simble Solutions (ASX:SIS) can help companies make smart energy decisions.
This Internet of Things (IoT) powered Australian energy management software company provides a suite of energy management and data analytics products that comprise the Simble Energy Platform, or 'SimbleSense', data analytics platform, and the "Virtual Analytics App".
These products target the energy management systems market via an IoT-enabled real-time energy visualisation platform that connects to smart devices. They enable grid connected premises to reduce energy wastage, automate control of their switch circuitry and monetise surplus microgeneration capacity.
Products are offered at various price points and customised for different target groups including enterprise, small businesses and residential users.
Here is SIS CEO Fadi Geha explaining how SIS can complement its partners and help them build in cost-efficient, energy management solutions.
You can read a more in-depth take on the company's products and benefits in our previous articles:
We should remember the point above: this was the fastest growing Energy SaaS company on the ASX and many of the fundamentals that applied to its quick growth still remain.
Furthermore, its numbers are only getting stronger: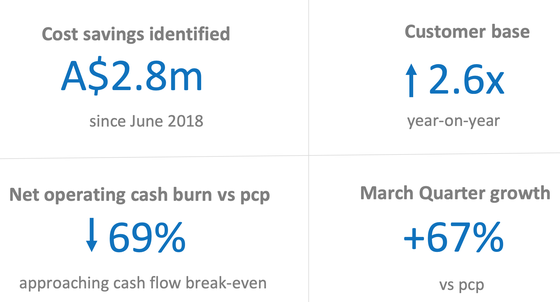 Geha said that the company is on track to deliver revenue growth in FY19 for the first time since SIS's pre-IPO restructure, explaining that "diligent implementation of fiscal policies has dramatically improved the economics of the company and will stimulate our operational leverage going forward".
As SIS looks to diversify its product offering to deliver new revenue streams in the second half of the year, it will also focus on accelerating its UK expansion agenda.
If it's ok by them, it's UK by Simble
In the UK, 53 million smart meters have been mandated for deployment.
This opens up a raft of opportunities for an array of players, but for Simble it presents a powerful opportunity to roll out its energy efficiency technology in a market where there has been a seven-fold increase in the number of companies required to comply with energy and carbon reporting legislation from 2019.
SIS is targeting the energy broker market in partnership with BidEnergy and it has access to 260,000 meters via distribution partnership with UCR.
BidEnergy and UCR are key players in SIS's expansion plans. In fact, SIS believe these long-term partnerships are the key to its own sustainable future, with these two outside companies now intrinsically linked.
That all came about in in late May with the introduction of BidEnergy's Robotic Processing Automation (RPA) platform as a new feature bundled into Simble's smart energy technology solutions.
This was an important development.
UCR was already targeting 'smart meter ready' customers with Simble software.
Through the RPA platform, UCR is able to expand deployment to 60,000 metres ahead of schedule. The solution led directly to a material expansion of Simble's existing agreement with UCR as it looks to UCR target 'smart meter ready' customers with software-only platform SimbleLite, as well as large multisite customers with the Simble Energy Platform, a bundled premium solution.
There is a major growth opportunity for Simble overall through the BidEnergy partnership, as it can leverage a growing footprint to cross-sell value-added solutions and acquire customers across a number of industry verticals with a comprehensive and significantly strengthened value proposition, as it has done with UCR.
The updated deal with UCR is worth up to £3.5 million (A$6.4M) over a three-year term. You can read more about it in the following Finfeed article: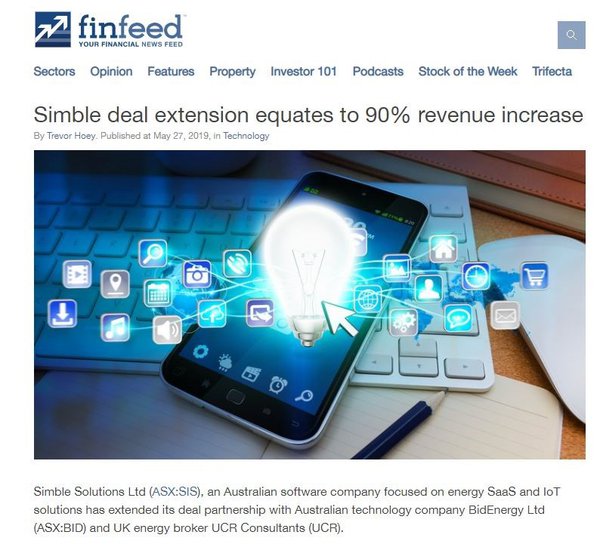 The relationship with UCR began in February this year, when Simble announced a strategic long-term partnership with UCR Consultants: UCR became a licensed reseller of Simble's energy and Internet of Things (IoT) energy analytics product suites.
The deal was the first breakthrough in smart metering market where the UK government has mandated deployment of 53 million smart meters across all residential households and small businesses.
Simble's partnership with UCR has delivered excellent results in the first six months, driven by strong customer demand and fast adoption of Simble's disruptive energy analytics solution.
Following the successful proof of concept, UCR signed a material expansion of the existing agreement as mentioned above.
The market opportunity from the UCR partnership is worth approximately £15 million (A$27.6M) and Simble expects to deliver substantial recurring revenues, targeting monthly six figure income streams within the first 12 months.
UK expansion gains ground
On the back of the latest UCR agreement, came news that SIS had further cemented its place in the UK energy market.
This is another major contract win which saw shares in SIS surge by 25%.
Simble Solutions
ASX:SIS
Simble will provide its energy analytics solution to RATP Dev London (RATP Dev) the leading operator of bus services in and around the capital on behalf of Transport for London (TFL), with SIS's technology to be deployed as part of an energy efficiency and baseline measurement program undertaken by Powercor Ltd.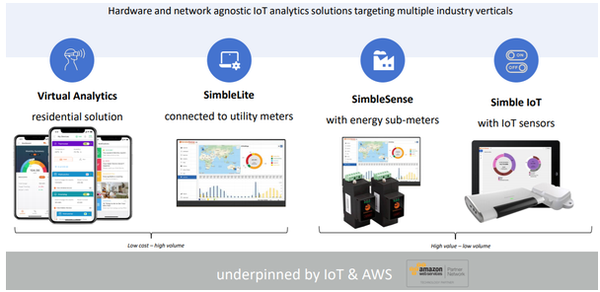 The importance of this contract can't be underestimated, considering there are over 1100 vehicles across 97 bus routes transporting 249 million passengers annually.
RATP Dev also has 13 operational garages and maintenance depots and the SimbleSense Platform will be deployed across all.
The platform will connect via Internet of Things (IoT) technology to a range of energy metering devices, providing detailed measurement, reporting and verification of all energy efficiency initiatives.
Simble's technology is offered under a five-year recurring Software-as-a-Service subscription model.
"We are excited to be working alongside our partner Powercor to help Transport of London become smarter and reduce its energy footprint as we showcase the economic and environmental benefits of our disruptive Energy and IoT Platform for a high profile client," Geha said.
"We are thinking about a future of London that will use technology and innovative data collection to enhance the lives of its residents and increase the competitiveness with other cities.
"One contract at a time we are helping London become just that."
This contract further validates Simble's UK expansion strategy and underlines the accelerating momentum that has been experienced since the beginning of the calendar year as can be seen by the rapid growth.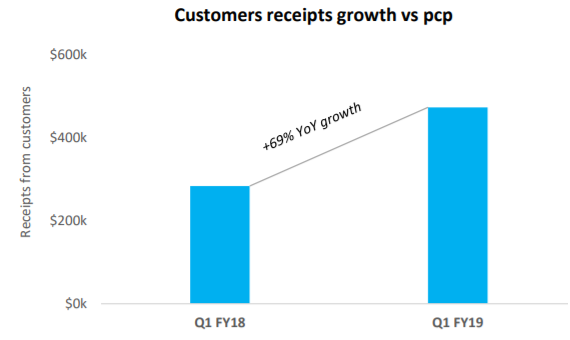 Simble continues to see strong growth at its Simble Energy division and an imminent market update relating to the group's fast growing pipeline could be a trigger for further share price momentum.
Growing trend means growing revenues
Over $6 trillion of energy is traded annually.
Meanwhile, energy consumption is rising, leading to greater carbon emissions. Companies are desperately trying to combat this problem, whilst attempting to find a cost-effective solution that won't destroy their bottom line.
End-to-end energy efficiency solutions that alleviate business risk and improve performance are key to a company's energy survival.
It's not just businesses that can benefit from these types of solutions, it's consumers as well.
Simble's growing list of solutions fit a number of markets that help reduce costs as energy efficiency becomes a lifestyle choice as well as a necessity.
These are the solutions Simble offer:

And these are the markets:
Domestic
SME
Enterprise
Large industrial multi-site construction
Take the SME market as an example. There are over two million SMEs in need of energy efficiency solutions in Australia alone. This comes in a political climate where the government is encouraging businesses to get smart about their energy.
Government grants are available for sub-metering and policies are being drawn up to create energy efficiency opportunities. With energy prices rising, there is room for a smart energy management company to come to market with solutions that benefit all who use energy – which is everyone.
It is these changes in policy, along with powerful technology and data analysis and a growing number of global partnerships that have been driving Simble to new heights this year.
That growth is expected to continue as it focuses on attainable targets, whilst keeping an eye out for blue sky opportunities.
SIS's future can be wrapped up in the graphic below:

These are attainable goals.
If SIS continues on its current trajectory, I have no doubt it will not only meet these goals, but exceed them and that would put it on the right path to increase its current low market cap.
---