200% Revenue Growth Forecast: CM8 to Double in Size
PUBLISHED: 23-06-2015 09:35 a.m.
Emerging tech company CrowdMobile (ASX:CM8, ETR:CM3) is all set to change... for the bigger and better.
The company recently announced a game changing deal, planning to acquire 100% of 'Track Concepts' – a leading, globe spanning mobile payments company.
Track Concepts has seen revenue growth of 47% CAGR between 2010 and 2014, with margins between 40 and 53%...
CY2014 figures for Track Concepts show A$24.5M revenue and EBITDA of A$13M.
This will all contribute to CM8's bottom line once the acquisition is finalised.
Joining together, this deal will see an expanded CM8 on track for a combined $40M of revenue in FY2016, dwarfing CM8's current market cap of approximately $18M.
The acquisition is pending financing for the deal, expected to be a mix of equity, debt and convertible notes and is expected to be finalized by August 2015.
CM8 is an innovative tech platform provider of pay to answer mobile apps that use crowd sourcing to satisfy the needs of customers around the world.
Fun apps like What Would Jesus Do? and Bongo Thinks have generated serious money already. Over 3.4 million paid questions were answered using CM8's services in FY14 alone, generating sales of $9.84M and a normalised EBITDA of $2.19M.
This solid base will now be merged with Track Concepts – whose mobile payment network connects over 140 mobile operators globally, providing seamless electronic payments via mobile phones.
On top of this, Track Concepts provides mobile content, entertainment and apps to millions of consumers worldwide.
Once CM8 finalises the acquisition, it will gain exposure to over 1.43 billion people in 38 countries worldwide, leveraging off Track Concepts existing infrastructure with mobile operators.
And Track Concepts also owns customer acquisition technology that allows it to attract and retain paying customers on a global scale with deep efficiency.
Following the deal, CM8 can combine its successful pay to answer mobile apps with an m-payment, entertainment and customer management platform operating on a global scale.
Without further ado, let's get stuck into CM8's expansion through acquisition plans:

CrowdMobile
ETR:CM3
CrowdMobile (ASX:CM8, ETR:CM3) is an Australian tech innovator with a current market cap of around $18M that makes free apps & SMS services that can instantly connect paying customers to experts who can answer their questions. This is a business model that's making money right now for CM8.
The company recently listed on the Frankfurt Stock Exchange under the code ETR:CM3 which makes sense given the large percentage of its customers are based there.
CM8's big news now is all about acquisition target Track Concepts, and you can here CM8 CEO Domenic Carosa discuss the planned acquisition in this webinar:
The deal and what it means for a newer, bigger CM8 was recently analysed by Michael Eidne from DJ Carmichaels in the following research note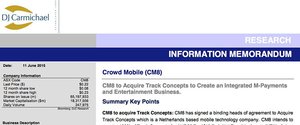 In short, CM8 is acquiring Track Concepts for a multiple of around 2.5 times the forecast CY2015 EBITDA, meaning the transaction is earning accretive for CM8. This is a very competitive price, which values CM8 on a post-merger EV of $54.7M.
Eidne says that on this post-merger basis, CM8 will be trading on a pro forma FY2015 EV/EBITDA multiple of around 3.4 times, making the company substantially undervalued next to its peers in the mobile technology and entertainment space: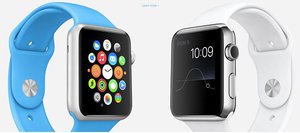 The Next Tech Stock took a long-term position in CM8 back in February when we published the article New ASX Tech Company has the Answer? This piece was all about its strategy to profit from pay to answer mobile apps. Here are a few examples of their products:

CM8 makes money not from people buying the app itself, but from the revenue generated from in-app purchases, Direct Carrier Billing (DCB) and PSMS (Premium SMS).
This business model is the very same one driving the immense commercial success of Kim Kardashian's mobile app "Kim Kardashian: Hollywood" which made over USD $43M in revenue in just three months following its release.
CM8 has held talks with Kardashian's management about developing another app – a potentially huge development we covered in our last article CM8 on World Stage Following Acquisitions and Talks with Celebrities .
That's still a work in progress, and as significant and potentially game changing as that might be, the here and now counts for more – and CM8 is making steady revenue and expanding its business, in parallel with the Track Concepts acquisition.
CM8's apps are available across all Android and Apple mobile devices – right now – and CM8 gets a cut of between 35%-75% of the $2-$10 that the customer pays at each transaction inside the free to download app.
CM8 services user submissions with its very own 'micro-job' platform – the 'Crowd Mobile Platform'. This integrated cloud based management platform utilises 'crowd sourcing' techniques to answer questions.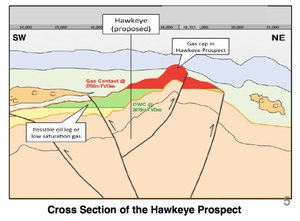 This is then promoted through CM8's telecoms partners and media partners including Facebook and MTV, bringing more potential customers into the loop.
All of this is generating steady income for CM8 with nearly 3.5 million paid questions submitted and answered in 2014 with the company taking a cut of each transaction.
So far, even without Track Concepts, CM8 has generated of $9.84M AUD in FY14, with an EBITDA of $2.2M.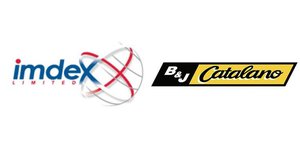 And if revenue generation is the key to everything CM8 does – the very latest development could see this ASX listed tech innovator evolve into a truly dominant international mobile player...
CM8 to acquire mobile payments powerhouse
CM8 has entered into a heads of agreement to acquire 100% of issued shares of the Netherlands based company Track Concepts :

Track Concepts owns specialist technologies in m-payments, provides content and entertainment to mobile customers and owns an industry leading customer acquisition and retention platform.
It operates in over 38 counties globally and has access to more than 140 mobile carriers. Track Concepts is a leading, globe spanning mobile innovator that generated A$24.5M and EBITDA of A$13M in 2014. So it's therefore an excellent fit for CM8 and ambitious plans for rapid global growth!

Under the deal , CM8 will pay A$26.7M plus net tangible assets, expected to be around A$5M, plus an earn out to a maximum of A$6.7M for 100% of Track Concepts.
In the next section, let's dig into this deal a little more and see what else we can find...
Our Track Record
Regular readers of our sites will be familiar with our long-standing interest in high potential stocks.
To note just a few:
The past performance of these products are not and should not be taken as an indication of future performance. Caution should be exercised in assessing past performance. These products, like all other financial products, are subject to market forces and unpredictable events that may adversely affect future performance.
­
CM8 and Track Concepts – better together
If and when the acquisition deal goes through, CM8 will combine with Track Concepts to make a global business with revenue generating centres in 50 countries.
The deal will also see CM8's reach extend to over 160 telecommunication providers across the globe.
This is because CM8's already established and revenue generating mobile apps and platform will combine with Track Concept's three-tiered platform: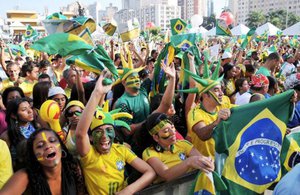 The first tier mobile payments, or m-payments, allow Track Concepts to collect money electronically from a network of over 140 mobile operators who use its products. Track Concepts has developed a fast, seamless electronic m-payment gateway for its customers, which could soon be owned and profited from by CM8:

The second aspect of Track Concept's work is its content distribution network, which provides the goods that are paid for through its m-payments platform.
These include mobile content, entertainment, information and mobile apps that are distributed to millions of consumers worldwide.

And finally, comes Track Concept's customer acquisition platform, which is used to analyse user behaviour to come up with the best ways to keep them.

If all of this becomes CM8's, then in one deal it will have radically increased its product offering and given itself a new platform to accelerate the growth of its micro job services.
And all the while, CM8 will have Track Concept's technology platform that acquires, retains and manages customers efficiently.
More global engagement for CM8
In other news for CM8, the company recently listed on the Frankfurt Stock Exchange and the European based XETRA, giving it dual listing alongside its ASX trading (CM8's European Stock code is ETR:CM3).
The European listing makes sense as CM8 now generates at least 80% of its group revenue from Europe and has over 80% of its workforce there.
CM8 has launched its mobile platforms into 10 European nations within the last eight months and expanded its own m-payments network to over 60 telecoms carriers globally.
The dual listing should help CM8 continue its growth and access new business – and new streams of capital.
And while we're on the subject of expansion...

CM8 recently became fully operational in Mexico and has the Spanish language support services to go with it. There are now over 800 experts speaking over 10 languages in CM8's pool of crowd sourcing answer finders.
Next steps for CM8
CM8's deal to acquire 100% of Track Concepts is still subject to due diligence, the execution of a share purchase agreement and, of course, financing.
But at The Next Tech Stock we think this could be a game changer for CM8.
It's done very well by itself, but if it can get a hold of Track Concept's triple-attack arsenal of m-payments, global content platform and customer acquisition technology, then CM8 could evolve into a truly global mobile content player.
CM8 is a growing yet undervalued tech company that could be about to make its defining move.
We'll be keeping our eyes out for any news on the deal's progression – as well as the moves by CM8 to raise the finances to pay for it.
---