$1.7 Trillion is Lost Globally to Fake Products: Does this ASX Tech Company Have the Solution?
PUBLISHED: 21-01-2015 11:02 a.m.
50% of the wine sold in China is probably fake – that's according to China's CTV .
Some believe the portion could be much higher, especially for well-known brands.
Bad news for wine companies and connoisseurs, but its not just luxury brands that lose out with fake products – dodgy products can also be dangerous.
Counterfeit pharmaceuticals and medicines cause the deaths of up to 300,000 people in China alone every year.
For many products, it can be hard to tell the difference between what is real and what is a fake, especially in China: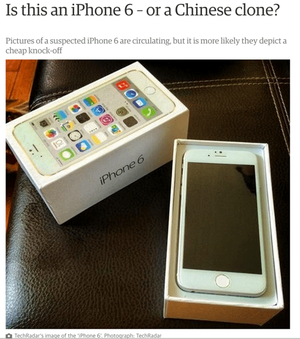 Fakes and knock offs are a global problem that major brands the world over are desperate to stamp out.
Every year $1.7 trillion in fake goods are sold – that's $1.7 trillion in lost revenue
As well as hurting company profits, the reputation damages can also be painful.
In an effort to battle the counterfeits, the anti-counterfeit industry is growing fast – at a clip of 20% per annum in China alone.
The world's largest online market, China's Alibaba, has spent $160M since 2013 fighting counterfeiting – a big drain of money, time and effort.
No wonder global brands are starting to cotton on to the anti-counterfeiting technology our latest ASX listed investment provides...
This company has developed cutting edge technology that can detect if goods are counterfeit and protect consumers from buying them.
The technology involves the application of invisible, rare-earth tracer material onto goods, which can then be detected by an inexpensive handheld scanner.
This company sells both the invisible tracer material and the handheld scanner – essentially selling the peace of mind and confidence that a product is the real thing.
By the end of 2014, the company had completely sold out of its first generation of handheld scanners, underestimating demand.
This technology can be applied to any product – from alcoholic beverages to shoes and handbags to pharmaceutical drugs like erectile dysfunction and malaria pills.
This company is the only one certified in China that sells invisible tracers.
Multiple global brands in the USA are also lining up to do business with our company – fakes are becoming a very expensive problem.
This company is aiming big, and wants to put the ability to detect a fake into the hands of every manufacturer, retailer and eventually consumer in the world – to do this, its developed an app that can be installed on a smartphone, allowing the rapid detection of fake products.
It's invested $10M to date in R&D and its taken the company 4 years to get to this point.
We have invested in this company now as we believe the global uptake of this technology is an imminent possibility given how relatively cheaply and easily the product could be globally scaled.
A recent loyalty options scheme was closed heavily oversubscribed.
After its successful IPO in 2014, we believe 2015 will be the year this company turns its plans into solid revenues, at solid margins.
It's just announced its first deal of the year – signing a 5-year contract with Shensaier, a Chinese company that sells high end UV printing ink to the Chinese tobacco and wine industry.
On this deal alone, projected revenues to this company of $16M AUD...
The company has estimated that if its technology were applied to the 123 billion cigarette packs sold in China annually, revenue of $146M would be realised...
We expect more deals are on the horizon in 2015...

The YPB Group (ASX:YPB) is an anti-counterfeiting technology developer and provider, currently with a market cap of around $31M.
Nearly 70% of the world's fakes originate in China, so naturally that's where YPB's main focus lies. YPB is a Chinese acronym that stands for "You Pin Bao" or in English "Excellent Brand Protection."
But counterfeit goods are a global problem, and YPB has developed a global solution to solve it – and profit from it.
The main man at YPB is CEO and Chairman John Houston, who has three decades of experience – 20 years in Asia – building global technology businesses.
A value creator for his shareholders, he previously sold a company called Intertouch at over 70 times EBITDA back in 2004 and has run large telcos all over the world... and now his focus has turned to the anti-counterfeit market with YPB.
YPB have put together this video explain exactly what its technology does:
We'll go into lots of detail later, but for now let's have a quick summary of YPB's anti-counterfeiting weapons...
Covert Forensic Tracers – This is the key piece of patented technology developed by YPB. Invisible rare earth particles are fused into a product or its packaging and serve as a signal to identify genuine articles. This material cannot be faked, altered or removed. Here is the material as viewed under an electron microscope: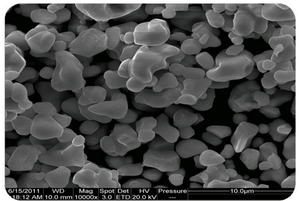 Scanner – The signal created by the Covert Forensic Tracer is detected by YPB's low cost proprietary scanners. Here you can see the scanner in the middle of the image below, the image on the right is the unique signal emitted when goods with the tracer infused into it are scanned: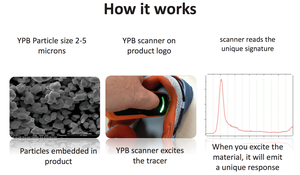 Brand Reporter – Brand Reporter, acquired by YPB in 2014, is YPB's weapon to enter into the consumer market. This acquisition allows the integration of the YPB scanner into a mobile app, which, once available, will allow absolutely anyone to check the veracity of the goods they buy.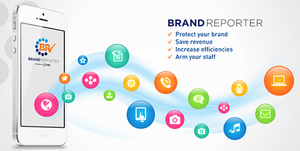 YPB has the products, its now ramping up the sales.
The company has developed a revenue model that generates income at solid margins from every product in its arsenal: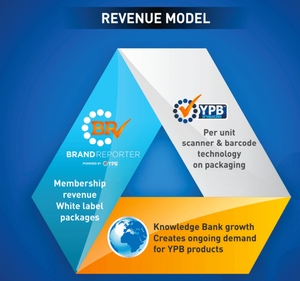 As you can see in the image above, YPB can make money by selling its invisible tracer material and scanners to companies that want to stamp out piracy, protect their reputations and claw back lost sales from fakes – a global $1.7 trillion dollar illegal industry.
In turn, the plan is for Brand Reporter to be sold as an app to consumers and brands around the world, which in turn creates more demand for its services, prompting more companies to buy the tracers, and the cycle repeats itself.
YPB is making aggressive moves to sell its technology across the world and in a very short space of time has established firm commercial presence in the USA, China, South East Asia and Australia.
It's just announced a $16M deal (projected revenues) with Shensaier – more on that later – and is negotiating more sales in the USA and in Asia.
2014 was the year YPB got established, launched on the ASX in August, acquired Brand Reporter and setup all of the commercial operations for its products around the world.
Generally share prices appreciate on the expectation of earnings – by the time cash flow actually arrives, its usually already factored into the price. It is possible to miss the run and uptrend if you wait for the moment the balance sheet starts to look positive...
We have recently made an investment in YPB, because we expect the company will start earning cash in the coming months as these first significant sales are finalised.
If we wait for YPB to announce solid revenue streams, we could be buying at much higher prices. On the other hand – this does bring added investment risk; there is always the chance that this revenue does not eventuate...
Like we said earlier, YPB's expected earnings are yet to arrive onto the books – so we believe our timing may be right for an uptrend – hopefully as more and more revenue is secured by the company.
We believe YPB is doing the right things at the right time and in this article we're going to show you all the moves, including:
How YPB is using technology to defeat the fakers
YPB's global focus – and its Chinese connection
Why the recent $16M deal (projected revenue) may be the first of many for YPB in 2015...
But first, in the next section we will get acquainted with the fakes, and all the problems they cause...
Our Track Record:
Did you see the Next Tech Stock article on Ziptel (ASX:ZIP) ?
ZIP has been up as high as 160% since we first released our article:
Source: Etrade Australia
The past performance of this product is not and should not be taken as an indication of future performance. Caution should be exercised in assessing past performance. This product, like all other financial products, is subject to market forces and unpredictable events that may adversely affect future performance.
Fakes – a deadly and costly problem
Counterfeit goods are often seen as harmless – a knock off designer hand bag from the markets in Bali as a bit of a laugh or a "genuine" Armani T-shirt as a Christmas stocking filler.
But fakes can kill.
Counterfeit pharmaceuticals and medicines cause the deaths of up to 300,000 people in China alone every year.
The most widely faked drug in the world is a little blue pill, the erectile dysfunction drug that is hugely popular in Western nations. On the left is the fake on the right is the real product: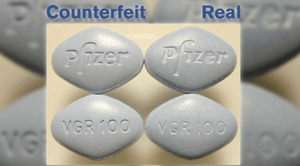 But other drugs are faked too – like cancer treatment medicines, malaria tablets and even headache pills – many with deadly results.
The International Chamber of Commerce (ICC) estimates that the global industry for counterfeit goods will be worth $1.7 trillion by 2015 – a source of filthy lucre that rivals the trade in illegal drugs and represents close to 2% of the world's economic output.
That $1.7 trillion is being denied to the genuine manufacturers of the goods being imitated, money that pays wages and taxes and forms the basis of the world's economies. The ICC estimates over two million jobs around the world have been wiped out by fake products.

Most fakes originate in China and India, where for the past two decades the world has been outsourcing the manufacturing of consumer goods like computers and clothing – and the designs and technology to make these products are falling into the wrong hands.
Let's not mince words – counterfeit goods are criminal, and YPB is part of a vanguard of enterprising companies around the world developing technology to stamp it out.
It's not a Chinese or Indian problem though – it's global. So how does the world fight back?
Right now, the world's largest largest online market Alibaba (NYSE:BABA – capped at $260BN USD) is spending millions of dollars ( $160M since 2013 ) to search its immense stocks, identify the fakes and get rid of them.
Alibaba has 2,000 workers and over 5,000 volunteers solely dedicated to sorting the fakes, knock offs and poor imitations from the real thing.
There are also more traditional ways. Companies put labels, stickers or even seals on their products to show they are real. But these can be faked too.
Enter YPB and its innovative technology that leaves easily replicated and ineffective stickers and seals behind.
YPB has developed two powerful pieces of kit that place the power to detect and protect against fakes into the hands of the consumer...
Detect & Protect: YPB's two ways to tell the real thing
YPB has developed two business lines – to 1. "Detect" and 2. "Protect" against counterfeit goods: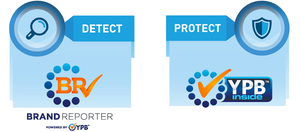 Let's first look at the "Protect" part of YPB's business
Have a look at this: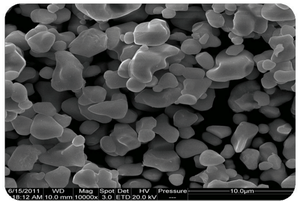 What you're seeing here is an extremely magnified image of YPB's invisible tracer technology – between 2 and 5 microns. These tiny particles comprised of rare-earth elements form YPB's patented Covert Forensic Tracer technology – a high tech, invisible, kind of label that cannot be faked, altered or removed.
These non-toxic, infrared, UV light and energy and X-ray sensitive particles can be fused into any product or its packaging at any stage of the manufacturing process.
When goods with YPB's 'Covert Forensic Tracer' technology applied go out into the retail world and are sold, they can then be scanned by shop owners and consumers to guarantee they are the real goods.
And YPB has developed the scanner too: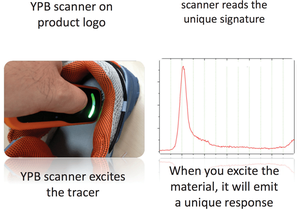 The proprietary scanner can be held next to a product containing YPB's Covert Forensic Tracers and when activated, a signal like that the one shown in the above right image will appear, confirming that the product is the real thing.
Right now, the first generation of YPB's scanners, T1, can detect a blanket signal across any product with the invisible tracer applied to it.
The next generation, T2, will be able to detect customised signals; meaning different manufacturers can have unique product scan signatures.
This is a powerful tool for sorting the fakes from the real deal. From manufacture to the point of sale people will be able to tell if what they are buying is real – no scan, no sale!
The other key to YPB's business is to "detect"
The next step for YPB is to make this technology widely available to consumers through Brand Reporter – an established piece of tech that YPB acquired in 2014.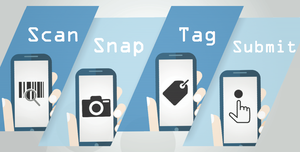 By integrating its scanner technology into smart phones, YPB places the power to detect against counterfeit goods directly into the hands of consumers.
People will be able to walk into a store, browse the items for sale with the YPB Brand Reporter scanner on their smart phone, and base their decision to buy on firm electronic evidence.
The ultimate aim of all of this is to integrate YPB's invisible tracers into as many goods worldwide as possible, and make Brand Reporter a massive network for consumers to use to track their purchases and record the fakes: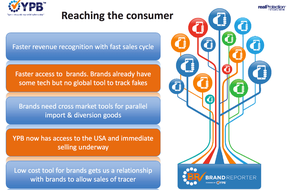 People can upload pictures of fakes to Brand Reporter to warn others and check their purchases against the community built global database.
YPB is offering consumers and manufacturers peace of mind.
A company that has applied YPB's invisible tracer product onto its goods will be able to tell its customers that it can guarantee at the point of sale that what is handed over is the genuine article – a big competitive advantage and removal of a barrier for the customer to purchase.
In turn, consumers using YPB's Brand Reporter will report this to the wider network, improving the company's reputation.
YPB's Product Roadmap – More to Come?
The technology described above is well advanced and being sold right now, but YPB are still developing new products, which are still to be released.
We wont go into too much detail on the early stage products right now, but you can get a glimpse from the image below of the big ideas that YPB are looking into: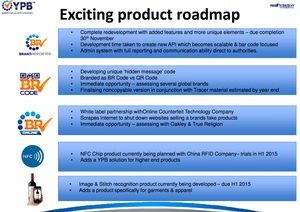 YPB is developing BR codes, which could replace the existing QR codes you see everywhere these days. This could all be tied into the Brand Reporter app.
BROnline, NFC Chip products plus Image & Stitch recognition products are also in line for development in the future.
It's all related to anti-counterfeiting, and this will all be controlled by YPB...
So that's the technology. Now, how is YPB getting it out there?
YPB's invisible scanner technology could be globally scalable – YPB is aiming for up to 50 million Chinese consumers to be holding Brand Reporter in the immediate near term.
But YPB is not stopping only at China – it has a global plan to roll its products out – and has already established a market presence in Australia, the USA, Europe and Asia: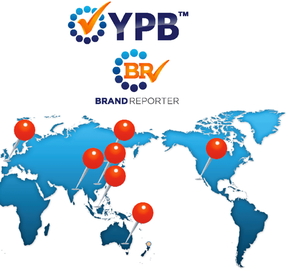 Starting in the USA, YPB has established a head office for Brand Reporter in Los Angeles and is in communication with over 140 brands and law enforcement agencies about its products.
Sales for YPB's Brand Reporter and the tracker and scanner technology are likely imminent, and given the company's presence in USA, we would imagine the team have put in the groundwork on a lot of deals already.
YPB has also established a satellite presence in Thailand, as well as a firm foothold in India and Indonesia through a Joint Venture with Impact Media Solutions, a leading retail promotion group with hundreds of staff working with brands in those countries.
YPB's Brand Reporter will be launched into these countries soon so consumers there can check their goods.
At the same time, a big focus YPB has is in China, where many of those goods are manufactured...
YPB's Chinese connection
YPB has a unique market position in China – it is the only company certified by the China Trade Association for Anti-Counterfeiting that sells invisible tracers: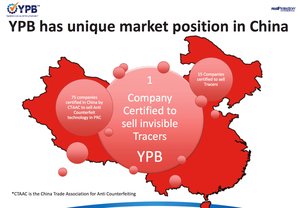 This alone shows how highly YPB's technology is regarded.
Counterfeiting is a big problem for China, which manufactures huge amounts of the world's goods – and its fakes.
It wants the phrase "Made in China" to signify the highest quality and standards – and YPB looks like it may be the one company to provide that, especially with so many local certifications: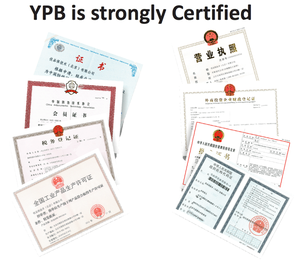 With such a strong reputation in place, we would expect YPB to be closing out a number of sales in 2015.
In fact the first has already been confirmed:

Shensaier is one of the largest high-end ink suppliers in China, supplying 18,000 tonnes of ink to China's biggest tobacco and wine brands. It's a specialist in high-end inks that are used in the packaging and presentation of luxury products. For example, the metallic like ink that is printed onto boxes of Chivas Regal whisky.
The recently signed 5 year contract could be worth up to $16M AUD based on projected revenues, and first revenue is expected in Q2 of 2015, ramping up over the period of the contract.
This could be the first deal of many in 2015 – YPB is positioning itself to be the leading provider of anti-counterfeiting technology in the key markets of the world, and could soon be raking in solid revenues.
1 for 4 loyalty options
YPB recently held a non-renounceable pro rata options entitlement right issue, offering 1 new option for every 4 existing YPB ordinary shares at the Record date of Friday January 2 nd .
Key information on this offer is here: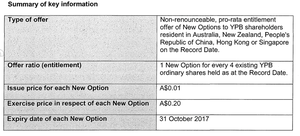 Key dates for these options are as follows – the new options should be allotted on Friday 23 rd January: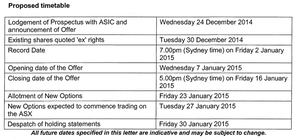 2015 – YPB's year of solid revenue?
By the end of 2014, YPB had completely sold out its stocks of T1 generation scanners.
It appears to have underestimated the demand for its products...
Restocking is underway, but this combined with the expenditure to acquire Brand Reporter and establish market presence in the USA meant YPB had lower revenues in Q4 than expected – mainly because YPB could not keep up with the demand.
But we expect 2015 to be very different for YPB.
We believe this should be the year of solid revenue – with the first China deal over the line, we would expect quite a few more to fall into place.
YPB is also working on the next generation of scanners, called T2, and production is set to begin soon as well as marketing.
YPB's Brand Reporter app is set to be launched into China, Thailand and Indonesia in the coming months, aided by the marketing JV with Impact Media.
A launch is planned for India later in 2015.
The Brand Reporter sales team is targeting the USA already where YPB has a large market presence.
These innovative, world class products are being sold by dedicated sales teams and marketing groups.
2014 was all about setting up the business and priming it for growth. 2015 could be the year solid cash starts coming through the door.
Watch this space.
Remember, there's over a trillion dollars of counterfeit goods being sold every year.
That's a trillion dollars manufacturers want to claw back, and will pay YPB to do it for them with its covert forensic tracers and other proprietary anti-counterfeiting technology.
At The Next Tech Stock we'll be following YPB closely as it begins to realise its potential and ambition to become the world's leading anti-counterfeit technology supplier.
---