Vonex (ASX:VNX)
Tech companies are once again gaining the attention of astute investors.
The smart tech companies that is.
The ones who have growing revenues and product lines that attract savvy technology users.
Aleator Energy recognised this and in a very canny move instigated a reverse takeover of Vonex – a company that at the back-end of September launched four new products, adding more than 1200 new customers into the mix and adding about $1 million in yearly revenue.
Just think what any emerging tech play could do if it could get its hands on a cool million in revenue -on top of the $5 million it already has as current revenue?
This is on the back of its fundamental PBX business and its 350 channel partners including giants such as Telstra.
But there's more coming.
A blue sky app known as oper8tor, designed to bring all communications channels together is set to launched by the Company in the coming months.
That means Skype, What's App, Facebook and every other messaging tool all in the same place being controlled by the one app…
Aleator Energy recently confirmed its $4.5 million capital raising in support of the acquisition and re-compliance to the ASX as Vonex (ASX:VNX).
Bids exceeded $8 million – demonstrating the significant interest in this company.
However, this is still an early play as the RTO is still to be finalised, and professional advice should be sought if considering an investment.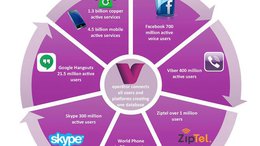 Related Vonex (ASX:VNX) articles