UltraCharge Limited (ASX:UTR)
There's no doubt that the market for rechargable batteries is taking off. The lithium-ion battery market is worth $32 billion today and is predicted to rise to US$140 billion within ten years.
But to capitalise on this rapidly growing market, battery manufacturers need to overcome a number of challenges including slow charging times, limited lifespans, high costs and safety issues.
With a technology that could improve battery safety, significantly increase battery life, keep costs down and create a super-fast charging environment, $13 million-capped UltraCharge's (ASX: UTR) technology could see high demand from battery manufacturers seeking solutions to these problems.
The Israel-based battery technology company has the potential to revolutionise the market for lithium batteries — producing a battery with enhanced safety, a longer lifespan, fast charging, and is cost efficient.
The information on this page should not be the only trigger for your investment decision. Click on the links below for a more in-depth and informed examination of the company. We strongly recommend you seek professional financial advice whenever making financial investment decisions.UTR has just agreed to a major partnership that could propel and fastrack the uptake of its technology. The agreement with a Epsilor Electric Fuel — a subsidiary of US$100 million-capped, NASDAQ-listed Arotech Corp (NASDAQ: ARTX) — provides UTR with the option to purchase 100% of Epsilor's new battery IP portfolio, and provide access to world class research facilities, resources and personnel.
Back in June, UTR signed its first Memorandum of Understanding with one of the world's leading fully integrated battery storage providers — Swiss battery storage supplier, Lelanche SA.
Together with Lelanche, UTR will collaborate on a pilot project to test and evaluate its technology, ultimately seeking a cost competitive and large scale manufacture of a high-cycling, fast charging and high energy density battery aimed at the electric vehicle (EV) market.
UTR is firmly on the path to commercialising its world class lithium ion battery solution and expects to have mass production capabilities within 24 months or sooner.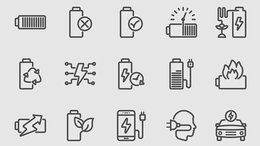 Related UltraCharge Limited (ASX:UTR) articles