The IOT Group (ASX:IOT)
IOT Group (ASX:IOT) recently completed its first batch of sales for its Air-Selfie and ROVA products — with most outlets selling out.
The interest in its drone products, has seen IOT experience a very high level of repeat orders, with orders received from Amazon and B&H increasing by over 200% in the lead in to Christmas.
Further repeat orders coming from B8TA, Best Buy US and B&H Photo should advance the company's revenues into the Christmas period and beyond.
That interest continues to rise, with IOT's products highlighted as 'the hottest gadgets for Christmas 2017' by the Sunrise breakfast TV show this morning.
Looking at 2018, IOT could get a real boost after signing a major US television ad deal that would put its drone products in front of multi millions of people.
NCIS is the third most watched scripted show on American television with an average of 10 million viewers in the US and a total global viewership of close to 50 million. Superior Donuts is a US sitcom with an average viewing of 5 million per episode.
Advertising to this viewership it will certainly bring enormous awareness to IOT products.
The information in this email should not be the only trigger for your investment decision. Click on the link below for a more in-depth and informed examination of the company. We strongly recommend you seek professional financial advice whenever making financial investment decisions.
Barely a week after releasing its AirSelfie and ROVA products to stores, IOT had sold out of all of its stock and is now scrambling to fill orders in time for Christmas.
If the interest in IOT's products continue to grow at this rate, the $7 million capped company could enjoy an extended festive cheer.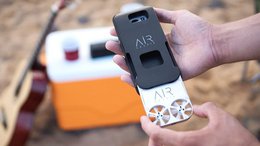 IOT Signs Major US TV Ad Deal as Repeat Orders Increase 200% Before Christmas
Dec 11, 2017
The Internet of Things has captured everyone's imagination and reemphasised the commercial possibilities offered by interconnectivity. Meanwhile, IOT Group (ASX:IOT) the company, recently completed its first batch of sales — with most outlets selling out. Such as has been the interest in its drone products, that IOT is experiencing high level repeat orders.
Related The IOT Group (ASX:IOT) articles