Fastbrick Robotics (ASX:FBR)
The global brick laying market is worth around $100-200BN, but there are cracks appearing in this sector's wall as a major shortage of bricklayers drives up wages and causes labour inefficiencies.
The sector is ripe for a savvy building technologist to step in with game changing technology and Fastbrick Robotics' (ASX:FBR) Hadrian X machine, which can lay 1000 bricks per hour, may be the solution.
The Hadrian X is a fully automated robot brick layer, designed to build an entire house in two days – compared to 3-5 weeks using manual labour. That's time, cost and labour savings that could drastically change the industry.
FBR plans to begin building its first homes in Australia in the third quarter of 2017, and manufacture about 8000 of its Hadrian robots over the next decade.
The usefulness of FBR's technology recently caught the attention of the Government of Western Australia, as FBR was selected as a finalist in the WA innovator of the Year program in the Emerging Innovation Category.
FBR continues to receive positive publicity and the next step in the company's journey is to scope out potential partners for distribution and manufacturing, and generate investor and media interest in the US.
The information in this page should not be the only trigger for your investment decision. Click on the links below for a more in-depth and informed examination of the company. We strongly recommend you seek professional financial advice whenever making financial investment decisions.
FBR is now moving beyond prototype stage to deliver its commercial reality, with the fruits of its labour expected to be seen in Q3 2017 when this $25M capped company plans to begin building its first homes in Australia.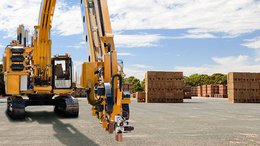 Innovation Award Finalist FBR One Step Closer to Construction Tech Roll-Out
Aug 22, 2016
Futurist George Orwell envisioned that humans would become more like machines and machines would become more like humans. Whilst Orwell was correct to some degree, we seem to be coming to the crossroads where eventually machines could outperform humans and free them from monotonous labour tasks. Take the construction industry for instance.
Related Fastbrick Robotics (ASX:FBR) articles