Etherstack (ASX:ESK)
Security and emergency management communication has never been more important than in today's world and ASX listed small-cap, Etherstack (ASX: ESK) is moving to the forefront of supplying public safety standard communications to the likes of police, fire, ambulance, utilities and mining sector companies worldwide.
ESK has done the hard work and the R&D to supply best-in-class tech. It's been on this track for a while, having amassed some major contract wins, both domestically and overseas over the last decade.
This ability to deliver valued technologies to customers has translated to some impressive full year 2016 results.  ESK saw a significant improvement in earnings in 2016, with revenues 169% higher than a year earlier.
That good news continued when the company announced its 2017/18 revenue guidance and it seems that the most remarkable growth is still to come…
ESK expect its higher-margin product mix — all with the same overheads and operating costs — to pay off in coming years. The company expects revenues of US$6.4 million (A$8.4M) to US$6.9 million (A$9.1M) in 2017, and has flagged further revenue growth into 2018.
The information on this page should not be the only trigger for your investment decision. Click on the links below for a more in-depth and informed examination of the company. We strongly recommend you seek professional financial advice whenever making financial investment decisions.
To fuel this growth ESK is undertaking further product development for the defence industry as well as reimagining the form factor and functionality of highly specialised communications devices.
ESK's continued focus on research and development ensures it remains at the forefront of mission critical radio communications technology. It remains to be seen whether the market catches up with ESK's exceptional momentum now or later.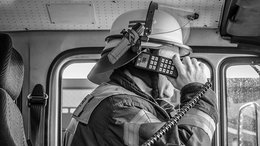 Major Contract Wins Keep ESK Revenues on Track to Jump Again?
Jul 13, 2017
Beyond the 'mission critical' emergency services communication and law enforcement are the equally critical communication needs of utilities and resource companies. Taking centre stage in this arena is Etherstack (ASX:ESK), an ASX-listed small-cap which supplies public safety standard communications equipment and technology for system integrators and network operators, including police, fire, ambulance, utilities and mining sector companies globally.
Related Etherstack (ASX:ESK) articles