Department 13 (ASX:D13)
ASX-listed technology company Department 13 (ASX: D13), is ideally positioned to capture the vast opportunities in a surging drone market after the commercial release today of its MESMER counter drone technology.
D13's counter drone solution enables operators to detect, identify and mitigate hostile or nuisance drones across a range of national security, defence and commercial scenarios by taking control of the drone's technology and making the drone land safely when it flies into a defined exclusion zone.
Over the course of the past 12 months, D13 has showcased its technology to government bodies and private security organisations, but today's release is expected to put the company front and centre of these organisations as well as investors looking for a solid lead in the growing drone technology market.
The private sector could be a particularly lucrative market for D13, with counter-drone technology particularly attractive to airports, prisons and stadiums – all potential clients for this company.
The overall drone market estimated to grow to US$100BN by 2020, meaning that an exponential amount of drones will be soon flying in the air and counter drone solutions will become more of a security requirement than ever before.
The information on this page should not be the only trigger for your investment decision. Click on the links below for a more in-depth and informed examination of the company. We strongly recommend you seek professional financial advice whenever making financial investment decisions.
The $97.7M capped D13 is well funded to push its MESMER technology into several markets, making the company one of the more eye-catching in this space.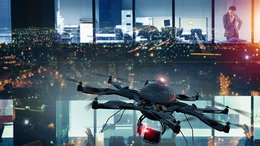 Related Department 13 (ASX:D13) articles