BIG to Get Bigger? This Online Growth Story Marches On
The future is looking big for BIG Unlimited (ASX:BIG).
Having commenced sales of its unique video review platform only in January of 2015, BIG has posted record growth and revenue numbers in every single quarter since.
BIG is one of only a handful of tech companies that has managed to record healthy revenues since its ASX listing – and the good news for BIG investors is that the results don't stop there.
By tapping into the online, mobile video market – a market which has arisen from some of the biggest revolutions in the technology space over the past few years, BIG is plotting a path towards sustained commercial success.
As it stands, BIG now has over 11,000 clients in its pipeline.
In Q3 2015 , BIG reported a 75% increase in client numbers compared to the previous quarter, earning an expectations-busting $406,582 in revenue.
Tech startups are all about new and vibrant ideas to solve age-old problems – and what better person to solve these problems than the youngest ever CEO and founder at an ASX listed company.
In BIG's case, its video review platform is the first of its kind and BIG's Executive team has proved it can be monetised.
This company is now past the 'startup' phase, is generating revenue and has its eyes firmly fixed on its next growth phase.
At the same time, this is still a small emerging tech company and caution must be taken when considering BIG as an investment opportunity.
With its concept now proven, revenue streams up and running, sales growing and no other competitor in sight, BIG is walking a path towards becoming one of the brightest emerging tech companies in Australian history.
This is a big story, with big ambitions; and we continue our coverage of: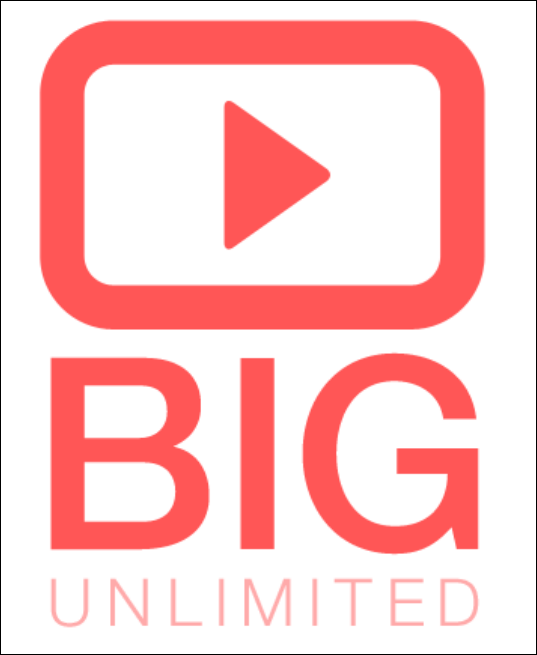 Big Unlimited
Big Un Limited
ASX:BIG
Instead of hyping up its early stage commercial ideas and hoping for investors to stick around, Big Unlimited (ASX:BIG) is focusing on generating revenue first and foremost since its launch on the ASX late last year.
We first brought you BIG, back in March in our article, ' ASX Tech Company: 500 Bucks to $11M Market Cap ' and have been following the story since – it's now time we brought you up to speed.
Take a look at BIG's client growth since launching its product offering in January 2015: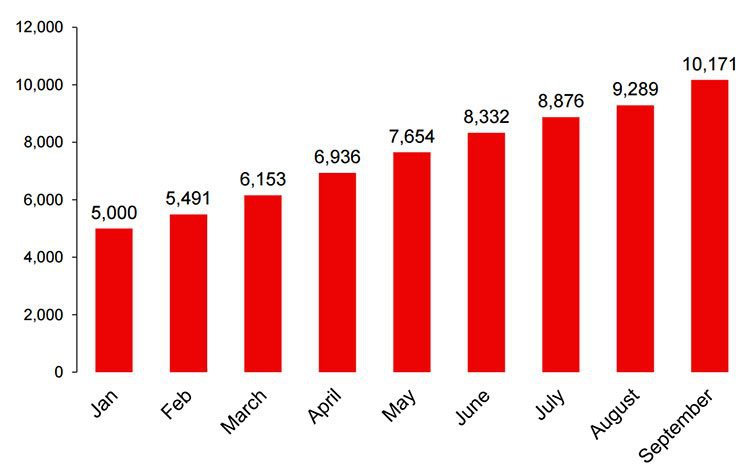 BIG has seen its client base double over the first 9 months of this year.
Revenues have been climbing at an even sharper rate, with Q1 revenue hitting $88,000, before growing 164% to $232,000 in Q2 and growing 75% to reach $406,582 in Q3 2015.
BIG's founder and CEO Brandon Evertz is the youngest person to run an ASX listed company, taking the BIG idea from concept to ASX-listing with the help of his father, Richard Evertz.
This 21 year old tech rising star could give Facebook's Mark Zuckerberg a run for his money…
Just take a look at him being interviewed on Sky Business a couple of months ago:
Son Brandon's fresh and novel ideas combined with father Richard's business acumen has seen BIG take huge strides towards cash flow positivity.
In the following sections of this article, let's take a deeper look at BIG's business model to see how big this tech company could truly become…
Our Track Record
Did you see the recent Next Tech Stock article on Dyesol (ASX:DYE) – This is Solar Energy: But Not as You Know It ? Since this article was released, DYE has been as high as 77%: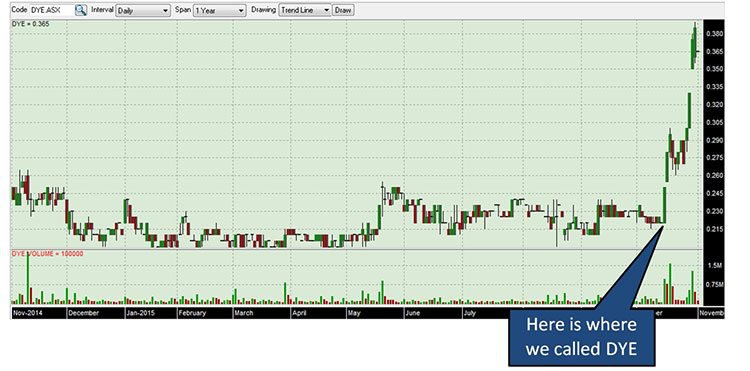 The past performance of this product is not and should not be taken as an indication of future performance. Caution should be exercised in assessing past performance. This product, like all other financial products, is subject to market forces and unpredictable events that may adversely affect future performance.
Reviewing BIG Unlimited
BIG's most prominent product offering is Big Review TV (BRTV). The service has two distinct features in how it operates and makes money.
Firstly, BRTV brings together customer reviews of popular venues and events with video content sourced from the masses. In other words, anyone that visits a restaurant or a host of other venues can upload a video review to a centralized location for others to view.
This by itself is nothing new, but what BRTV facilitates on top is what's got the tech world in Australia buzzing.
BRTV is able to cut existing professional-grade video production costs by 75% thereby allowing small/medium sized businesses to order high-quality promotional/review videos for as little as $399.
There is a range of pricing options and most BRTV clients end up being recurring users which means BIG receives recurring fees from the vast majority of its customers.
To demonstrate what BIG can do for small and medium sized (SME) businesses in particular, first watch this short clip:
A video of this type would typically cost $5000 – $10,000 to produce depending on complexity, length, location and resolution. For a café or restaurant, shooting a video is one thing. For a theme park or a fitness centre, the parameters understandably change.
The same video done by BIG would cost $399 upfront and $10-$80 per month thereafter for ongoing services.
Such a competitive pricing structure effectively allows hundreds of thousands of small-medium sized enterprises (SMEs) to obtain high quality video content to advertise and promote their businesses.
Taken a step further, BIG is looking at monetising its business model further by introducing sponsorship opportunities,  pre-roll advertising, big data based mobile marketing campaigns, and taking a clip of online transactions.
Getting a customer in the door is one thing, but continually delivering for them time and again means regular recurring revenue.
This disruptive business model is taking a hatchet to the existing video production status-quo – and is already reaping strong returns for BIG.
Why should small businesses spend thousands on video advertising (the most resonant form of media among consumers today) and promotion of their business?
They don't.
BIG is tapping into three growing trends
Video is fast becoming the dominant medium on the Internet and video reviews are popular – particularly now that so many people own smart phones that can display crystal clear HD video, and produce their own high quality videos – from anywhere.
By providing a platform for peer generated video reviews, BIG is harnessing the power of social networks and creating a peer-to-peer online community – something that businesses want to be a part of to engage their customers.
Through its proprietary app called 'Big Review TV', BIG puts the power to create online video reviews in the hands of consumers with instant upload capability to Facebook, YouTube and other platforms. In many ways, BIG allows users to utilise their mobiles in an interactive way which is a key factor for many BIG clients who are all trying to get their names out there amongst the public.
Consider the growing popularity of technology, online participation and the use of mobile phones. As network speeds improve and mobile phones become smarter and more capable – social networking is coming along for the ride with content being contributed by an increasing number of people each day.
Video content is key because it grabs (and keeps) the attention of the viewer a lot better than text or audio in isolation.
Show me the Money
BIG normally charges an initial fee of $399 to SMEs to produce a professional quality video that is then uploaded to the BIG Review TV website and promoted through social media channels, advertising and internet searches.
This solves a clear problem for SMEs, who want videos but often can't afford them – $399 is not a lot for a video that can often cost thousands.
Whilst BIG is generating revenue right now, we also have our eyes on BIG's blue sky potential – for BIG to expand its reach, grow its community, and make videos for bigger companies, whilst incorporating new technologies like payments and bookings, and open up more advertising and promotional opportunities.
Not only that, BIG can also take video to other vertical markets – there is surely great demand for low cost video content out there, especially from other media companies.
Essentially BIG is able to tie all of these big tech ideas (most of which are worth serious dollars) together in one neat package: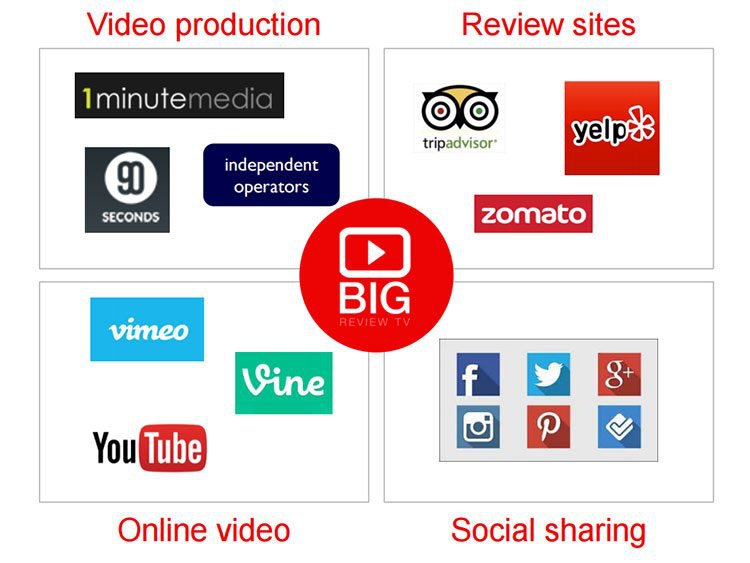 When we take a look at the broader market BIG is operating in, it's clear that there is a lot of untapped potential and spare capacity.
As we said earlier, BIG is the first mover in this market niche.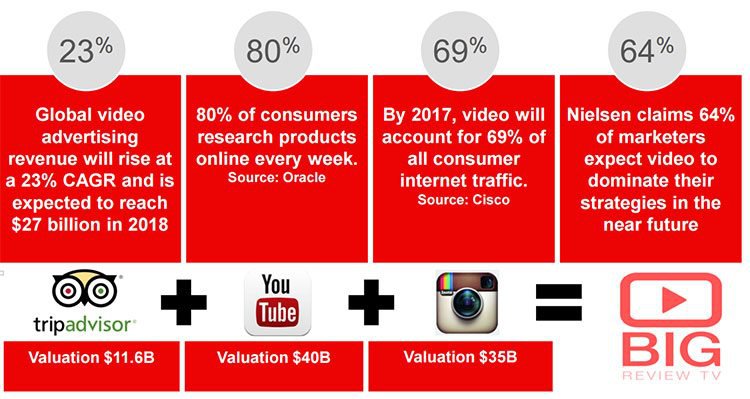 More and more consumers shop online, search for places to visit and read reviews about where they are going.
This makes sense given all the location-based services now available.
It's now second nature for people to use their smartphones to find their current location and search around for a local merchant that services their current needs.
BIG has positioned itself to become an integral part of that process by offering businesses an easier way to find their customers, and for customers to find the most appropriate merchant for them. The added bonus is that users can become a part of the process by submitting reviews of where they've been.
Research suggests around 88% of people tend to refer to online reviews with as much fervour as personal recommendations.
With every man and his dog scrambling to get their business online, people are finding that they need help sorting through all those bright new websites and advertising material.
And BIG is at the forefront to capture this market with the power of video.
BIG is on track to exceed $1M in annual sales this year…
BIG is on track to outperform even the most optimistic analysts this year.
If existing quarter-on-quarter growth continues, BIG will rake in over $1M in revenues per year.
At the same time, this is speculative and success is no absolute guarantee – BIG is an emerging tech stock after all.
The current question is: how has this level of growth been achieved and sustained?
One key component of this is a partnership with CDM Direct Communication (CDM) – an Australian contact centre, which effectively allows BIG to focus on its operations while CDM ensures its sales pipeline continues to deliver paying customers.
The pro-rata nature of the agreement means BIG can scale its sales operation very quickly and significantly if required. The great news for the sales team at CDM is that BIG's product is cost-effective, adds value and has its finger on the cultural pulse of today.
We think that any SME would absolutely love the opportunity to spend a few hundred dollars to have a high quality presence online.
By March 2016, CDM is expected to grow the existing BRTV sales team from 15 to over 100 on a cost per acquisition basis, and given the current uptake of customers this should see BIG expand… even bigger.
A big market with big opportunities for BIG
So how many SMEs is BIG going after?
Ultimately, at least 7.5 million of them spread across Australia, Singapore, UK and the U.S: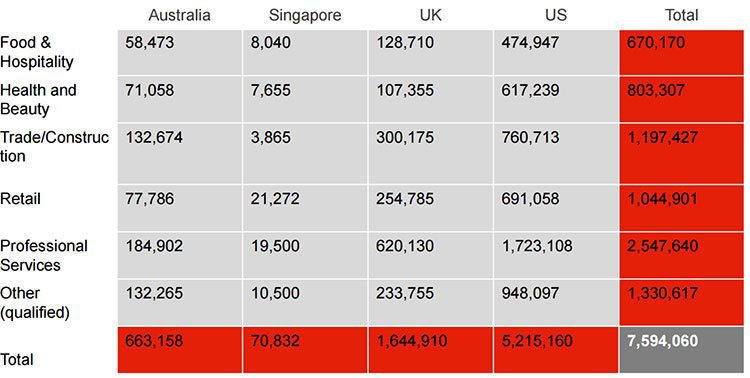 Understandably, most of these businesses are in the Food & Hospitality, Retail and Health & Beauty sectors. The rationale is that cafes, tattoo parlours and retail stores are all too happy about getting their name out there via video reviews and social media: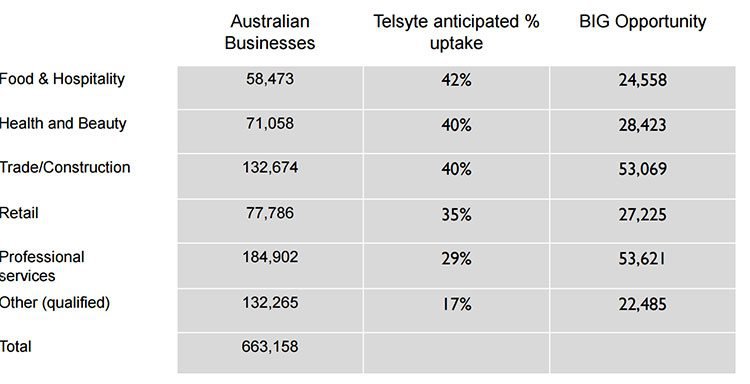 That's hundreds of thousands of SMEs that BIG may be able to profit from over the coming months, and it really highlights the size of the addressable market.
A big globe requires BIG coverage
Having established a business idea, model and operations, BIG is now looking further afield.
Having listed on the ASX and already generating revenues from Australian SMEs, BIG has begun the process of expanding its business internationally.
BIG has now established operations in London, New York, Singapore, San Francisco as well as all major Australian cities.
According to research firm Telsyte, the collective opportunity for Big Review TV in the four markets stands close to $1.2 billion a year.
The potential in the US market comes in at $826m , followed by Britain at $295m, Australia at $94m and Singapore at $18m. The combined market represents about 1.9 million paying customers, with Telsyte predicting an average revenue per customer of about $605.
The numbers stack up fast.
BIG are currently achieving an average revenue per customer of $1,084.
Should it hit its potential targets, global revenue opportunities could multiply well beyond that number…
At the same time, this is a speculative tech stock, and it is recommended professional advice is sought before choosing to invest.
The future is BIG and it is video
BIG is an ASX upstart with only one year under its belt.
Its business model is one of disruption, social collaboration and peer-to-peer functionality – that sells.
It will take some time for the BIG brand name and BRTV to become household names because SMEs are being gradually added to the BRTV platform, and more end-users submit reviews.
BRTV provides consumers with online videos that help them make buying decisions – a service that businesses are prepared to pay for and for which people are demanding access. The BRTV app shifts the power to create online videos into the hands of consumers, allowing them to create communities that discuss the products being promoted on BIG's platform.
Mobile apps, online video and peer to peer sharing – all of it done by BIG…
In its DNA, BIG is solving a very costly problem for businesses while providing a very valuable service for consumers. The problem for businesses is producing high-quality and affordable content, while all consumers want choice and interactivity in their spending decisions.
If BIG builds up a sizable user platform with millions of regular users, it could be considered as a takeover target in its own right because of the value in the access to millions of young, hip and thrifty consumers using smartphones.
BIG's future is all about the growth of online participation, video content and social networking. All these factors have one thing in common – they are growing exponentially on the back of the Internet of Things. You could even say, it's the Internet of Everything .
Taking a lead position in this space could be the most astute, timely and forward-thinking step any company could take…
…which is maybe why it required the insight (and foresight) of a 21 year old wonder kid to make it happen.
Upon launch, tech companies all too often get the 'ideas' part of the puzzle right but fail to deliver on the 'commercial' side. In BIG's case, its 'father and son' combination delivers on both sides of the equation and suggests this particular tech company is cut from a different cloth.
Here at The Next Tech Stock , we will be keeping a close eye on this BIG opportunity within a technology sector that's bristling with potential.
Are you a BIG investor and want to spread the word?
Get the message out there – make sure everyone knows about BIG and share this article by clicking the buttons below:
[sd_share_article title="BIG to Get Bigger? This Online Growth Story Marches On"]
Have you heard about the Next Investors VIP Club?
Joining this Club will give you free access to opportunities not normally available to general retail investors – however you must qualify as a sophisticated investor under Section 708 of the Corporations Act.
These opportunities are as diverse as stock placements, seed capital raisings, IPOs, options underwritings. Plus a whole host of other high risk, high reward investment opportunities not available to the general public (careful – this stuff is high risk!).
Just fill in the form and you will be alerted to the next opportunity.
Have you heard about Raisebook?
Joining Raisebook will give you free access to opportunities not normally available to general retail investors – however you must qualify as a sophisticated investor under Section 708 of the Corporations Act.
These opportunities are as diverse as stock placements, seed capital raisings, IPOs, options underwritings. Plus a whole host of other high risk, high reward investment opportunities not available to the general public (careful – this stuff is high risk!).
Please note: Raisebook is a related entity of S3 Consortium Pty Ltd as defined in Section 9 of the Corporations Act 2001.