BIG Early Mover in $50BN Mobile Advertising Market
The future of online media is video-based.
Whether its businesses looking for a piece of the action, or individual consumers looking for 15 minutes of fame – everyone is boarding the video bandwagon.
If you're a consumer, you'll probably be partial to watching copious amounts of YouTube videos in search of more information about certain people, places or events.
If you're a commercial business, you'll probably be partial to thinking about how to utilise any means possible to drive more consumers to your website with the ultimate end goal of securing a sale.
It just so happens that video content blends these two aspects together.
Videos help consumers find what they want, while simultaneously allowing businesses to show what they've got.
Video makes sales and marketing much easier, more engaging and best of all, more commercially exploitable compared to other mediums.
BIG Unlimited (ASX:BIG) is one company that has focused its entire business model on this concept.
Video is in BIG's DNA.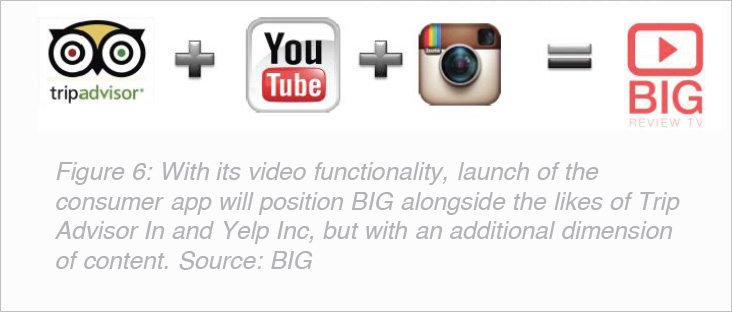 If it could, BIG would publish ASX announcements and press-releases in video format because of its sole focus on video as the best possible medium for the transfer of ideas and information – and a revenue driver to boot.
Speaking of revenue, in October and November alone,
BIG recorded 18% and 8.5% month-on-month member base growth respectively and its member base now exceeds 13,000.
With revenues continuing to climb, memberships growing strongly and its proprietary app out of the blocks only last month, BIG's commercial future is looking very bright.
Although at this time, BIG is still a junior player and professional advice should be sought if you are considering investing.
The world is taking BIG notice.
Why wouldn't they:
BIG also has Google's former head of Business Development on its Advisory Board, as well as two other former Google executives.
With these guys behind it, BIG is going after a large slice of the addressable $1.1BN video market that according to independent research experts is suitable for BIG's video products in four key markets.
When you look at mobile advertising (that's adverts on your phone or tablet), it's a $50BN market , which has grown 100 fold in the last decade… A nice spot to be in for a company like BIG.
The Company recently announced the successful completion of a sales distribution license with DNA Behaviour International Resources for the exclusive license to sell Big Review TV video products in New York.
This is likely the first in a series of sales distribution licenses currently underway between BIG and several other international third parties.
BIG's reach is growing globally and that is BIG news.
It's interesting times for BIG shareholders right now, and for BIG's 21-year-old CEO, it's probably a dream come true to see his company go from spec startup to fully-fledged tech company with over $1M in annual revenue – in less than one year.
That's a pretty big achievement, and BIG isn't stopping there.
We sync up with: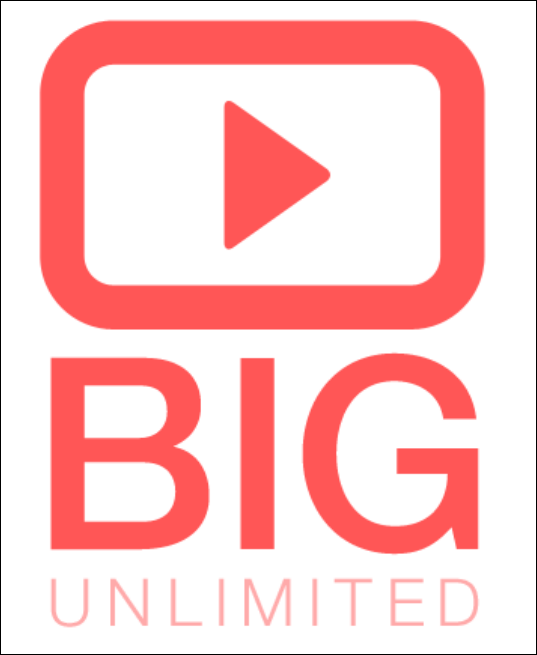 Big Unlimited
Big Un Limited
ASX:BIG
First and foremost, the big news with BIG is that it's officially a revenue generating tech company despite listing on the ASX less than a year ago.
In our previous update, BIG to Get Bigger? This Online Growth Story Marches On , BIG had recorded growing revenue for nine consecutive months.
One month on, and BIG continues to impress on performance. Graphed below are BIG's latest member growth numbers.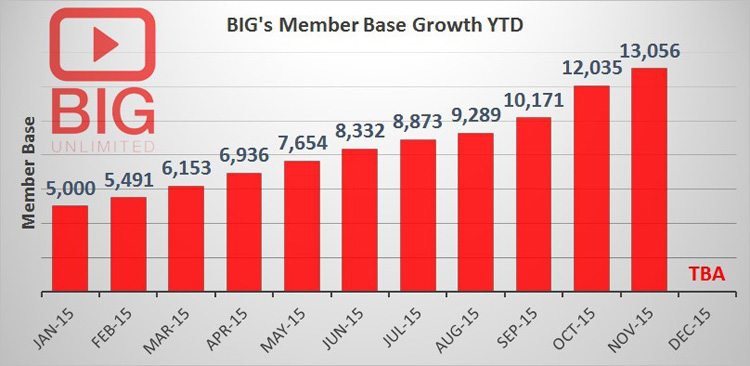 BIG was able to record impressive 18% month-on-month member base growth in October and 8.5% in November.
BIG's member base now exceeds 13,000 which averages to around 400 small to medium enterprises ("SME") per week signing up with BIG.
And when it comes to stone cold revenue numbers, BIG is also delivering: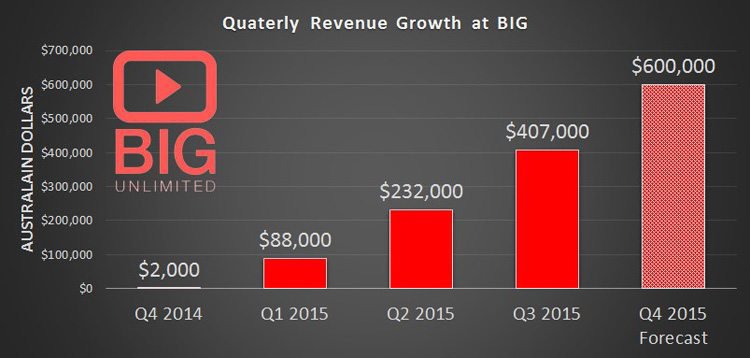 BIG is on course to achieve $600,000 in revenue in Q4 2015 and to meet its 2015 target of $1M in gross revenue. Yet another positive metric that corroborates BIG's commercial plan.
Here at The Next Tech Stock , we absolutely love it when a tech plan comes together.
The BIG story is gradually finding a voice amongst professional analysts
A recently published equity research note from Wise Owl, endorses BIG's online video push.
Wise Owl Analyst Tim Morris sees BIG as a ' Speculative Buy ' with a price target of $0.35 per share – that's 50% more than the current price of $0.23 per share: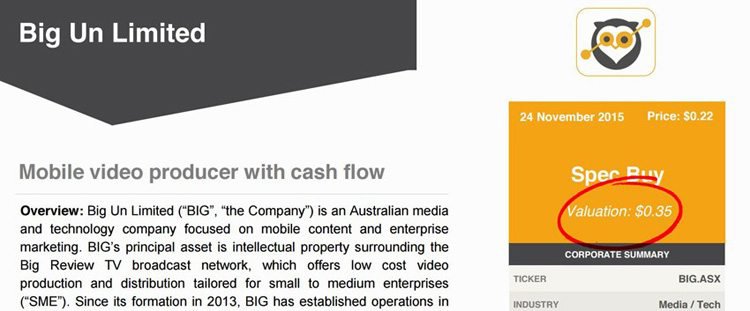 In the report, Wise Owl analyst Tim Morris says, "We forecast BIG to generate EBITDA of $4.7million in FY18. After considering benchmark multiples range from 5x to 10x consensus FY18 EBITDA, we have applied a multiple of 8 times to our FY18 projection, arriving at a valuation of $33.1million, or $0.34/share".
Now at the same time, analyst price targets are no guarantee to come true – so don't only consider this price target if considering an investment in BIG
Delegating Growth
One key factor behind BIG's growth potential (and existing success) is its strategy to offset the cost of customer acquisition and risk, as evidenced by its recent partnership with CDM Direct Communication (CDM).
CDM is essentially a sales-desk for hire which allows BIG to outsource its sales pipeline therefore lightening the load on expenditure and sales leg work.
It's CDM's job to ensure BIG's pipeline gets converted into paying clients and the great news is that BIG is currently converting around 45% of all its SME leads.
The pro-rata nature of the agreement means BIG can scale its sales operation very quickly and significantly if required. The great news for the sales team at CDM is that BIG's product is cost-effective, adds value and their video ecosystem has its finger on the pulse of popular culture because the content is peer-generated.
SMEs are keen to establish an online presence regardless of what industry they're operating in. The reason for this is because people are using the internet (especially mobile phones) to find their desired restaurant, venue or event which means if you're not online, you're missing out.
Take a look at this chart showing changes in advertising spend split by medium: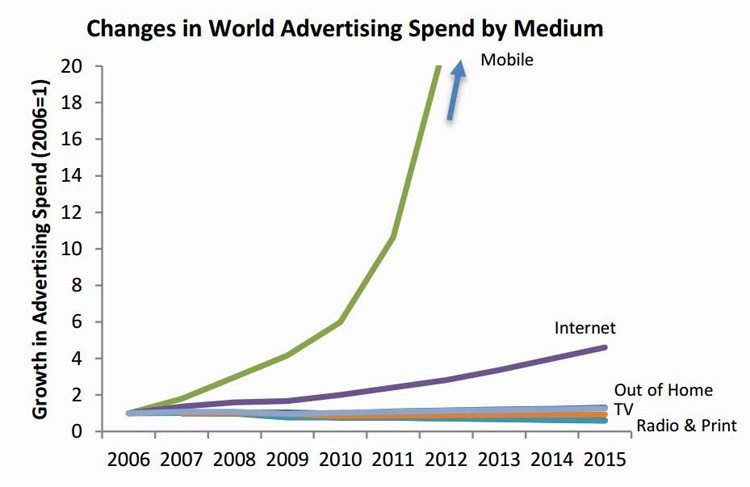 Advertising spend through mobiles is going parabolic given that mobiles are still a growing niche.
The other reason mobile ad spend is rising is because it's one of the most effective advertising channels out there.
There's no better time to focus on mobile-based video-driven e-commerce…
…and that's exactly what BIG has done, which goes a long way to explaining its strong financial performance to date.
By March 2016, BIG is expected to grow the existing sales team to over 100 on a cost per acquisition basis which ensures all growth is scalable and organic without BIG overspending on client acquisition. By the end of 2016, BIG aims to have increased its sales pipeline to 25,000 SMEs around the world.
Given the current uptake of customers this should see BIG continue its expansion with as much gusto as has already been seen.
Genetically modified global expansion
CDM is taking care of business in Australia…
…but what about BIG's international ambitions?
When looking over the horizon from Australia, the United States is probably the globe's hotbed for SMEs. Therefore it makes sense to pencil in expansion plans there as a priority for BIG's future growth.
According to the US Census Bureau, there are over 5 million SMEs in the US – and all of them are likely to embrace online video just as much as the Aussies are doing.

BIG has brought in a sales and marketing company called DNA Behavior International Resources (DNA) to exclusively promote the BIG online ecosystem in the New York City area of the US.
The agreement with DNA is only a first step with further similar agreements likely to surface over the coming months in order to push BIG's platform in other countries with a strong SME base.
DNA is now expected to generate revenue from the US on a pro-rata model in the same vein as CDM is doing in Australia.
And to get things rolling, DNA has been set an initial target of attracting 5000 new SME members just in New York City over the course of 2016.
If BIG is able to generate around $1.2M in annual revenue from 13,000 members in Australia, a rough calculation would suggest that BIG has the potential of generating somewhere in the region of $400,000 from the New York metropolitan area alone, if and when DNA hits its 5000 target.
However these numbers are speculative, and it's very early days for BIG's US expansion, so caution is advised if weighing up as an investment.
When factoring in other US cities and other sales agreements likely to be reached in other territories over the coming months, it would seem that BIG's international ambitions have taken a step in the right direction.
Former Google execs are now in BIG's corner
One thing we always like to see when considering a stock is high-calibre Management figures that know a thing or two about their industry.
With BIG, this aspect has been taken care of quite emphatically by founders, Richard and Brandon Evertz.
Brandon was responsible for BIG's proof of concept, business development and every aspect of the business model through to listing. At 21 he became the youngest founder of a publicly listed company – a feat unlikely to be beaten anytime soon.
To pursue a winning strategy, BIG has drafted in four key advisors to its Advisory Board, who've been tasked with progressing BIG's strategy and obtaining market traction globally.

The BIG Advisory Team: (from left to right); Mark Lochtenberg, Christopher Mulcahy, David Murphy-Vessells and Daniel Rex
Mark Lochtenberg is a former Glencore executive who established Xstrata's initial coal portfolio. He is currently a Director of Australian Transport and Energy Corridor (ATEC) and is also a BIG shareholder. Mr. Lochtenberg is a specialist in corporate law, networks and public company management and therefore expected to guide BIG's corporate governance, structures and M&A activity.
Christopher Mulcahy is former head of Business Development at Google. Mr. Mulcahy has also headed up Google's digital home entertainment unit in the APAC region, earning a reputation as a strong advocate for video-based marketing and e-commerce. He recently set up one of Australia's most effective low-cost fundraising platforms for the non-profit sector – with video as the main staple.
David Murphy-Vessels played a key role in delivering Google Fiber and video streaming at Twitch TV, helping the platform become the fourth largest video streaming platform after Google, Netflix and Apple TV. Twitch TV was recently sold to Amazon for over $1BN…
Last but not least is Daniel Rex. Also sporting a strong Google background, Mr. Rex is Head of Google's Channel Intelligence unit – a subsidiary Google acquired in a $125M takeover in 2013.
With big-hitting advisers behind it, BIG is going after a $1.1BN addressable market.
BIG is providing an innovative tech offering combined with low overheads to deliver affordable video production services for SMEs.
BIG is able to crush existing video production costs by over 75% , therefore making the leap into online video a tangible option for many small businesses.
BIG normally charges SMEs an initial fee of $399 to produce a professional quality video that is then uploaded to the BIG Review TV website and promoted through social media channels, advertising and internet searches.
Compared to existing production costs that reach in to the thousands, BIG's solution is vastly more affordable which would explain why 45% of BIG's leads typically convert to paying customers.
BIG's 'member base' growth clearly highlights just how attractive online video is to small business – especially the retail variety.
Marketing to mobile devices is the fastest growing form of advertising
Over the past decade the value of mobile marketing expenditure has increased 100-fold. According to Bloomberg Intelligence, the advertising medium is expected to attract US$50BN during 2015, and then grow to almost $95BN in 2018.
Not only that, mobile marketing is experiencing its fastest rate of growth but still only accounts for 10% of total ad expenditure.
Another research hub, Sensis, estimates that 65% of Australian SMEs have a website with less than 20% advertising their business on other websites.
From a global perspective, independent research group Telsyte, estimates BIG's market opportunity for its range of video services at around $1.1billion .
Taking all that in, are there any companies out there currently riding the mobile marketing gravy train?
It would appear so …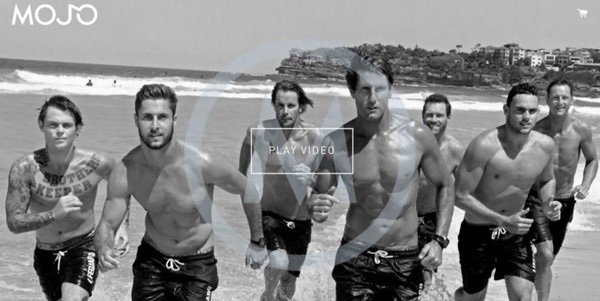 Funded and ready to grow
To ensure a healthy market entry, BIG completed an oversubscribed share placement earlier this year and is now cashed up to the tune of $3M.
These funds will be deployed to raise BIG's online profile and to develop its technology further.
One such innovation is the launch of the Big Review TV app, which places BIG squarely in the picture alongside household tech names such as Trip Advisor and Yelp.
Big Review TV app creates BIG tipping point
BIG's flagship business-to-consumer (B2C) app – Big Review TV – went live in November 2015 and is already forging an acclaimed reputation.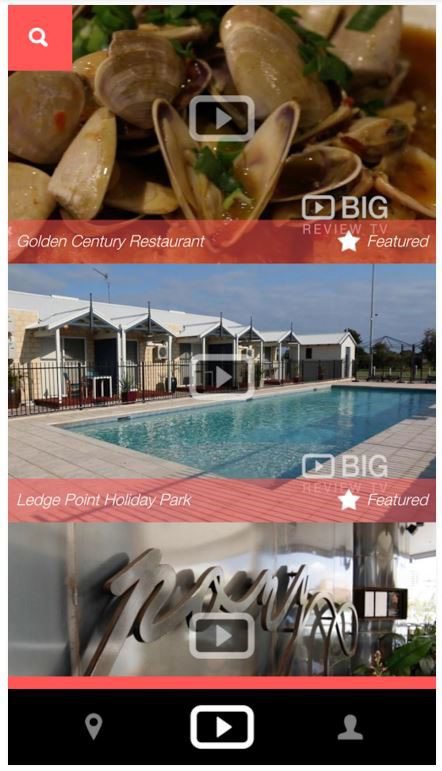 BIG's recently launched Big Review TV app
BRTV empowers users to create online video reviews with instant upload to Facebook, YouTube and other platforms. BIG brings about a whole lot more mobile phone interactivity which is a crucial factor for many of BIG's SME clients, all vying for more foot traffic and customers.
Here's a snapshot of what end-users think of BIG's BRTV app:

With the vast majority of reviews hailing BRTV as a 5-star success, BIG's app has arguably hit the ground running, although it's still early days.
It's worth remembering that BIG retains a significant first-mover advantage – there is simply no other ASX company doing what BIG is doing.
At the same time, this is a speculative tech stock, and it is recommended professional advice is sought before choosing to invest.
Big is good, large is better
BIG is a tech play with a difference.
The main difference being, that this tech company has managed to outfox the majority of its tech brethren by finding a path to generating strong revenues right from the get go.
BIG is tapping into three growing global trends – online video, peer generated content and mobile video creation.
All three are seeing immense levels of growth. Online video is pervading more and more of what we watch, peer-generated content is now being utilised in variety of ways including social media while mobile phones continue to get better and better – taking video creation capabilities to the next level each and every year.
As Wise Owl analyst Tim Morris points out in his report, BIG offers speculative exposure to the growth in demand for online video – especially from SMEs.
BIG has established a strong revenue profile, large sales pipeline in excess of 13,000 members, and a long term strategy solely focused on e-commerce surrounding video reviews.
The idea of online video remains very new despite YouTube being around for years now, so not only does BIG present a unique opportunity for exposure to online video, it also has a first-mover advantage backed by lodged patents that will ensure competitor supremacy for the foreseeable future.
All of the above are attractive qualities for a company currently valued at merely $15M, which generated $0.9M in annual revenue for FY15, and strong revenue growth becoming apparent.
It's a ground floor entry in what could turn to be the mother of all skyscrapers if online video participation (and its associated e-commerce element) continues on its upward trajectory.
BIG has successfully founded, launched and monetised the world's first socially-integrated, interactive video ecosystem at just the right time to capture the growing trend of online, mobile and video in one BIG swoop.
Have you heard about the Next Investors VIP Club?
Joining this Club will give you free access to opportunities not normally available to general retail investors – however you must qualify as a sophisticated investor under Section 708 of the Corporations Act.
These opportunities are as diverse as stock placements, seed capital raisings, IPOs, options underwritings. Plus a whole host of other high risk, high reward investment opportunities not available to the general public (careful – this stuff is high risk!).
Just fill in the form and you will be alerted to the next opportunity.
Have you heard about Raisebook?
Joining Raisebook will give you free access to opportunities not normally available to general retail investors – however you must qualify as a sophisticated investor under Section 708 of the Corporations Act.
These opportunities are as diverse as stock placements, seed capital raisings, IPOs, options underwritings. Plus a whole host of other high risk, high reward investment opportunities not available to the general public (careful – this stuff is high risk!).
Please note: Raisebook is a related entity of S3 Consortium Pty Ltd as defined in Section 9 of the Corporations Act 2001.